First and foremost: do you know what your face shape is? No? Then pull your hair back into a ponytail, look in a mirror and read this article to figure out the best hair style for you!
You have an oval face if…
…the width of your forehead and your jaw are the same and, well, obviously, if your face generally has an oval shape.
What's great about an oval face is that you can wear your hair at any length of your choice. The key to an oval face therefore does not lie in the hair style itself, but in the woman's best facial features. So, if you want to highlight your piercing eyes, get side-swept or blunt bangs. If you have a pretty face, in general, face-framing layers would be your best bet. If you have stunning cheekbones, on the other hand, get a sleek bob.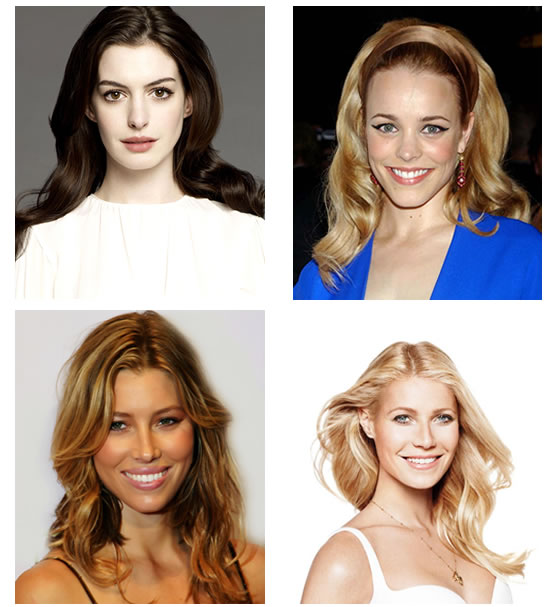 Famous celebrities with an oval face: Anne Hathaway, Rachel McAdams, Jessica Biel and Gwyneth Paltrow
Other tips:
– Take advantage of the ability of your oval face to work with any hair length by investing in flat irons, hot rollers and curling irons.
– Play with your hair part every now and then. Part your hair in the middle one day, and on the left side on the other. Mix things up any way you know how.
You have a round face if…
…the width of your forehead and your lower face are the same; your cheeks are full; and your face is shaped like a perfect circle, in general.
What's great about a round face is that you tend to look youthful overall. However, if you would rather not look like a baby doll, you can make your face seem slimmer by getting a hair style with layers that fall just below your chin. Layers, in general, can give your hair more movement and make your face look less full. Regardless of which hair style you choose, though, add the most volume at the top of your head as opposed to the sides.
Other tips:
– Avoid curly and blunt hair styles as these will only emphasise the roundness of your face.
– Avoid bangs, too; but if you really want to get bangs, make sure you keep them long and always sweep them to the side.
You have a heart-shaped face if…
…if your face is wide at the forehead, narrow at the jaw and pointed at the chin.
What's great about a heart-shaped face is that it gives you a lot of character and really makes you stand out. The best hair style for a heart-shaped face would be a simple one – sleek, volume-free, long and one-length, with or without soft bangs.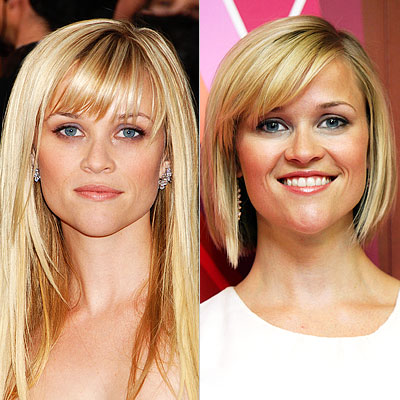 Reese Witherspoon is probably the most well-known celebrity with a heart-shaped face.
Other tips:
– Avoid blunt and choppy cuts and super short hair styles.
– To add added oomph to longer hair, add a few strategic waves or layers near your cheeks and part your hair on the side.
You have a square face if…
…you have a sharp and angular hairline and jaw.
What's great about a square face is that you will always look strong and confident. You will also get to try out more daring hair styles and get away with them. You can go short and spiky, get wispy curls or try irregular layers, for example.
Other tips:
– Avoid one-length bobs and blunt bangs.
– When experimenting with layers, make sure your layers start no higher than the jawline.
There you have it! Now that you know your face shape, it's time to go out there and get the perfect hairstyle for you!
Angeline Rodriguez
Angeline Rodriguez is a superhero, a princess, a geek, a rage monster and a single mom all rolled into one. She lives for makeup, music, dessert, yoga and the written word.