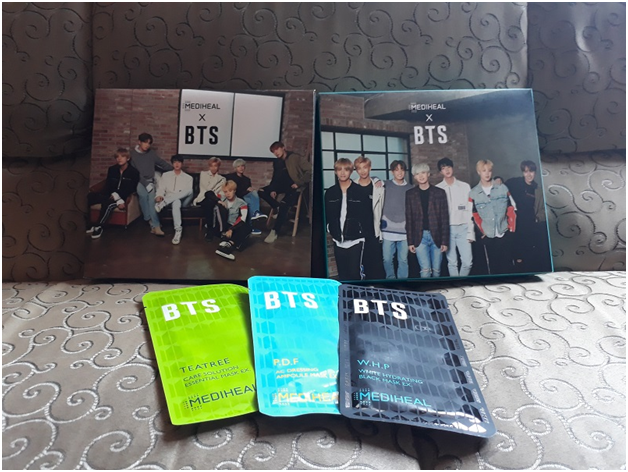 I'm a big fan of two things: Korean boy band BTS and Korean skincare products.
So you can imagine my joy when I heard about Mediheal X BTS Mask Set's release in the Philippines. Like any sensible ARMY, I flipped out.
Mediheal, popular for its sheet masks, collaborated with the K-Pop sensation for a limited-edition mask set. The brand first announced of its collaboration last December 2017 and released the products last January 2018 in South Korea.
International fans have been itching to get their hands on the special set. Some of them join group orders and pay extra fees just to get the goods.
Fortunately, the K-Pop gods heard the PH ARMY's prayers.
Watsons' and SM Beauty Store announced the release of the special box set in the Philippines. A special release event was held last March 15 at SM Makati's Activity Center. Fans were able to buy at the launch or order online. The product became available nationwide in selected Watsons' and SM stores last April 2.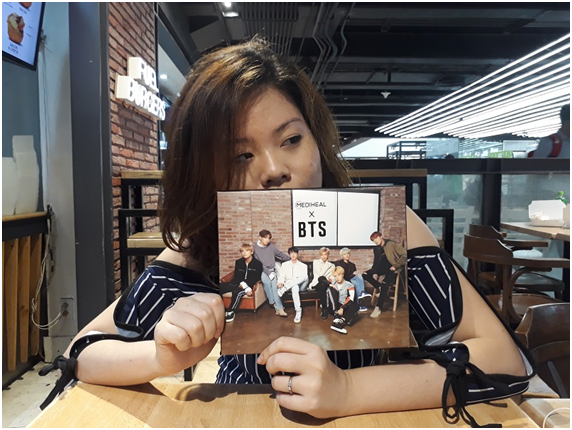 Guess how I spent my payday last March 15.
What's in the Box?
The Mediheal X BTS Set has four variants: Hydrating Care, Moisturizing Care, Soothing Care, and Brightening Care (P1,250/box). To address my oily skin and dark spots, I chose the last two.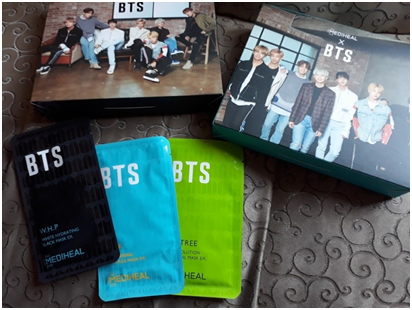 Each set includes 10 Mediheal sheet masks (5 tea tree formula sheets and five masks specific for the set). Like any K-Pop merch, it also came with photocards; each box has 14 photos of these beautiful boys.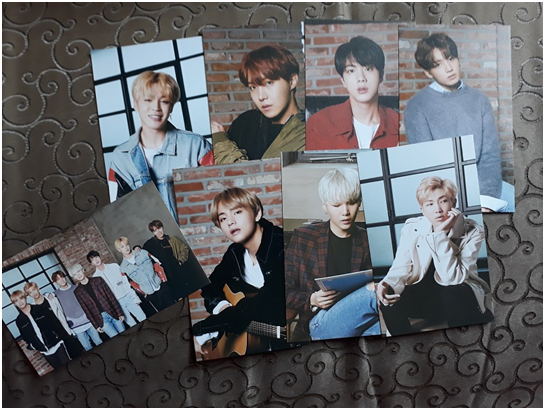 The boxes also came with a leaflet that explains the feature of each mask. You'll also know your bias' (favorite member) favorite mask.
Testing the Masks
The Soothing Care and Brightening Care sets are perfect for fans dealing with blotchy, oily, and stressed-out skin. People with dry skin can also use the set on the day their skin breaks out or feels too sensitive.
Each mask scores an A+ for the scent and texture. It felt slimy at first, but once I put it on, it fit my face well. Mediheal's mask boasts of a "clear fit," which means it transforms into a transparent gel-like mask once it touches your face.
My problem: I always experience mild acne around my cheeks, nose, and forehead, especially when my period is nearing. Mediheal claims these products can calm breakouts and (hopefully) minimize my pores.
I wanted to achieve the boys' porcelain-perfect skin, so I was excited to try them out.
Tea Tree Care Solution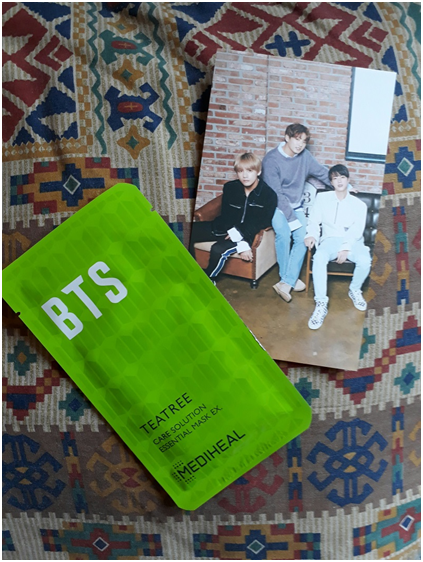 The intended effect: relax the skin and heal acne
My review: I wore this mask right after I experienced a few pimples on my forehead and chin. When I took it off, I didn't expect the acne to go away immediately (spoiler alert: they were still there). My pores were also very visible.
My skin did get better the next day. Some of the pimples dried out and my skin looked more radiant. My skin felt cleaner and more refreshed.
If you have a special event the next day, use this mask to calm the breakouts and enjoy a moisturized complexion.
P.D.F A.C Dressing Ampoule Mask EX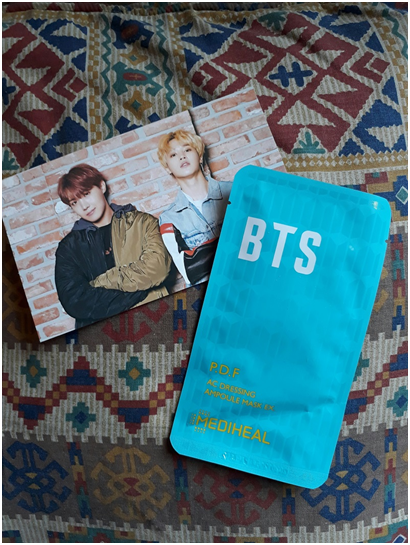 The intended effect: heal and soothe troubled and irritated skin
My review: according to some of the online reviews, this mask is perfect for stressed skin. I used it during one of those days when my workload reflected on my face. My skin was a little patchy, and its tone was uneven.
Similar to the first mask, I didn't experience any immediate effect (although it did soothe me from the day's stress). The next day, I noticed my skin looked brighter and more relaxed. The redness and the blotched appearance also lessened.
My mom told me that I achieved that "dewy Koreana" look and I wasn't even wearing makeup at that time.
W.H.P. White Hydrating Black Masks
The intended effect: improve skin tone and recover its vitality
My review: This one is my bias Taehyung's favorite, so I had a lot of expectations.
Unlike the other masks, this one is pitch black due to the charcoal content.
I didn't see immediate effects the next day either. I think this one takes time before you see the actual results. The saleslady did say it's best to use the masks at least thrice a week for the skin to brighten up. It did make me feel better right after I used it.
After the second try, my skin did get a little brighter. I had to wash off some of the substance since it was too sticky already.
Final Thoughts
My favorite is still the Tea Tree Solution. It's helpful in keeping the acne at bay, especially when PMS is approaching. The other two masks are all right. If you want to see fast results, you'll have to use them every other day.
So should you pick up a set now? If you have the funds, why not? But if you're not a fan of the group, it's best to buy the non-BTS ones since those are cheaper.
If you're an ARMY and you love skincare, this is a dream come true. Mediheal is popular for its high-quality masks, so your skin will love these. Your skin type doesn't matter; you can use any of the variants (just apply moisturizers or other products to support the healing or rejuvenating process).
ARMY, don't miss out on this gem of a fan merch! Feed your inner fangirl and love your skin at the same time with this limited edition set. For more information, visit Watson's Facebook page.
Ashley Petallano
Ashley is an awkward potato in love with words, Kpop, and corgis. She spends her free time dancing like one of those balloon things you see in malls.