Motherhood, without a doubt, is one of the hardest jobs on earth. It's also one of the most wonderful experiences a woman can have! With it emerges a new set of responsibilities, and large chunks of your personal time suddenly become dedicated to taking care of your bundle(s) of joy. This leaves you to adjust to a more limited amount of time to address your changing skincare needs.
Luckily, there are solutions out there—Pond's Miracle Mom Chesca Garcia-Kramer offered moms some simple tips in Pond's latest Beauty Must-Haves workshop on how to look fresh and radiant, despite your busy schedules! In case you missed it, here are some of the tips she shared: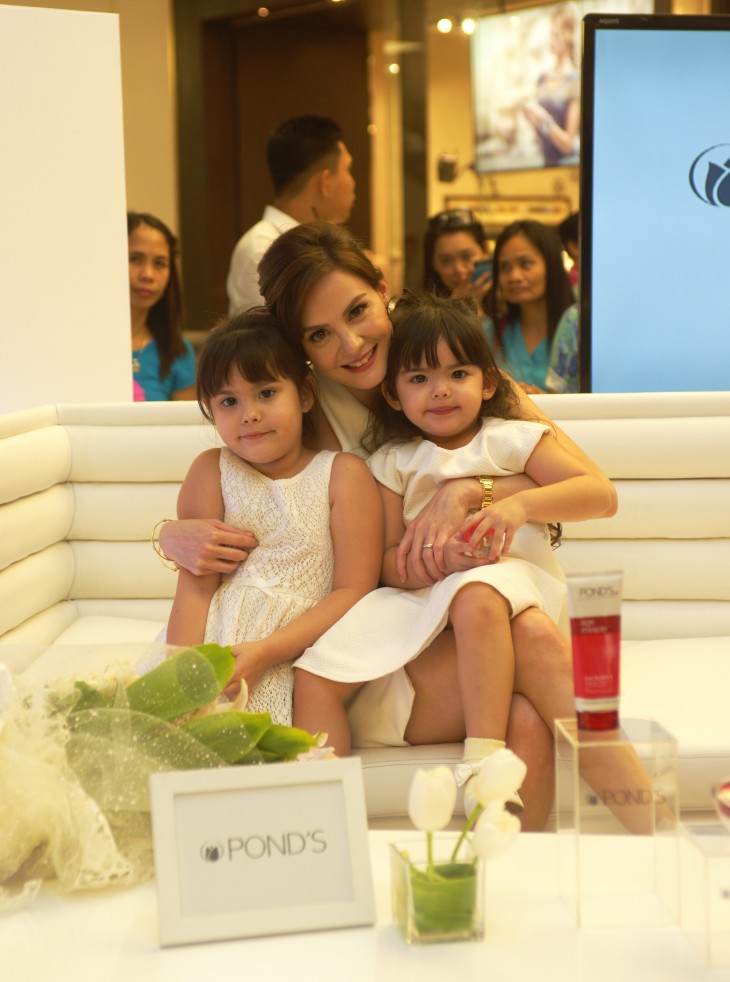 1. Begin your day with a great skincare routine.
In collaboration with Pond's and their latest products, Chesca came up with a three step routine that she highly recommends. This routine can be summed up in four words: cleanse, moisturize, conceal, and protect.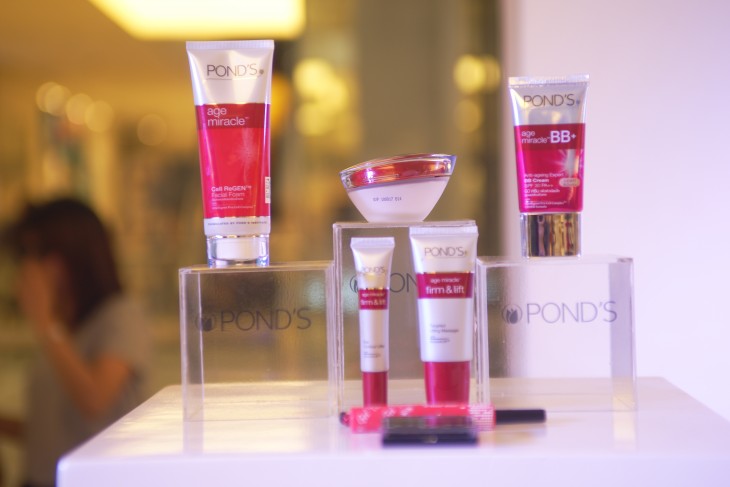 Cleanse by washing your face with Pond's Age Miracle Cell ReGEN Facial Foam. Kicking off your ritual by cleaning your face is crucial before putting on any other creams or serums, as this rids your skin's surface of any dead skin cells and excessive oil.
Moisturize by applying Pond's Age Miracle Day Cream. Apply a pea-sized amount evenly around your face, massaging it gently with an upward motion. This product hydrates, smoothens out fine lines, and contains SPF 15 PA++ components that protect you from harmful effects from staying under the sun.
Conceal + Protect using Pond's Age Miracle BB+ Cream for that overall finished look. This BB+ Cream gives you natural-looking coverage (it comes in two colors: light and beige), as well as another extra layer of protection against skin-damaging rays thanks to its SPF 30 PA++ feature. Begin by evenly dotting your face with very small amounts of this product on the forehead, nose, chin, cheeks, and around the eyelids. When you start applying this around the eyelids, go for a patting motion with your ring finger, so as to avoid tugging and pulling that could cause even more wrinkles!
For other skin problems that come with age, Chesca advocated the use of two particular Ponds products. "I've been using Ponds ever since," she mentioned, "and I would really recommend firm and lift." Being in showbiz as early as age 12, Chesca noted how her makeup habits started to change as the years passed by, as she now looks for any products that promise to "firm and lift." She then referred to the Firm & Lift Targeted Lifting Serum Massager, claiming that it truly does help improve and contour the saggy areas of the neck, while Firm & Lift Eye Contour Lifter does a great job tightening skin around the eyes.
2. Go for makeup basics.
All it takes to look good is simply 10 minutes of your time, and Chesca proved this to us by giving a makeover to a mom right on stage!
It's pretty simple; after completing your skincare routine, layer a thin film of loose powder on your face for a matte finish. Chesca pointed out that if the weather isn't too hot, you can opt to skip powdering your face for that "dewy" look. Next, add a bit of cheek tint/blush. Don't forget to fill out your eyebrows! "If your hair is your crowning glory, then on your face, it's your eyebrows," she added. Follow with liquid liner and eye shadow, and opt for shades that best go with your skin tone and eye shape. Top off your eyelashes with a few swipes of mascara. Lastly, shape your lips with your favorite lip liner, and fill them in with a light shade of lipstick for that au-natural look.
[crp]
3. Follow a good nightly regimen.
Chesca was keen on highlighting the importance of developing, as well as keeping up with a good nightly regimen as soon as you start wearing makeup. She explains how no amount of expensive cosmetic brands will ever be able to give you the same youthful look as much as a strict evening regimen will. Experiment with products that you think best suit your skin, and stick to them. Another helpful tip? Chesca advised us to avoid sleeping with our cheeks touching our pillows, because the creases of your skin follow the creases of your pillow. Face-up it is, then!
4. Maintain a kikay kit.
As mothers, not everyone may have the time to go through a leisurely makeup session before they leave the house. "Lagi tayong nagmamadali!" said Cheska. Her answer? Bring a kikay kit with all your essentials! This is a great way to put on, or retouch your makeup whenever you're ready, wherever you are. "Narrow down already everything you like," she added. Change and improve the contents of your kikay kit, optimizing it for whatever could come your way. Is this week jam-packed with meetings? Add your favorite red tint of lipstick to make you look fantastic in the board room. Heading to the beach? Throw in that moisturizer with extra SPF!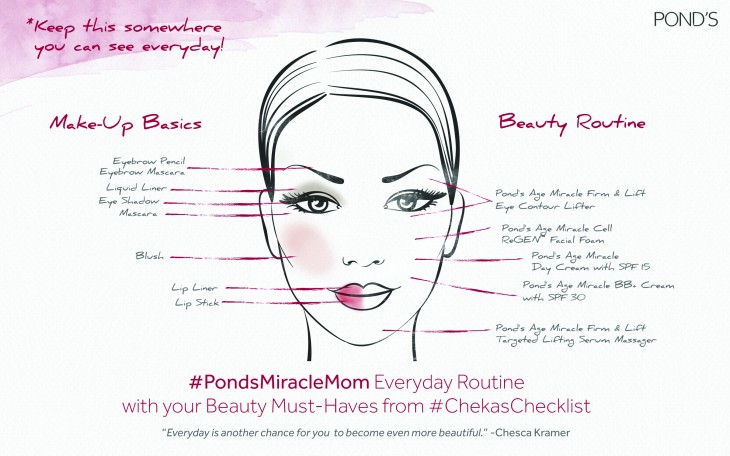 Our moms deserve the best. They have every right to take time to pamper themselves, and make themselves feel beautiful—don't you agree? Follow Chesca's tips, and you could have flawless skin in no time. If you have any other make-up tips you'd like to share with us, feel free to share them with us in the comments section!
Valeria Van Hoven
An avid lover of bagoong, philosophy, and writing, Valeria enjoys spending her free time typing ideas away on her keyboard, and listening to Alan Watts tapes. You may spot her taking long walks with her dog, Snow, while singing second voice to Disney songs. She intends to take up a master's degree in Creative Writing one day, and publish her own book!