It's 2016 and it's another opportunity to try something new! What's better than just simply trying something new is to try it with your beau. See, it even rhymed! Here are five love dares that you and your partner can do for this year: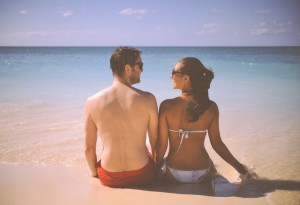 1. Discover a new place together.
Instead of having your dates in the same restaurant and the same movie theaters, why not save up and go on an adventure together? Make sure that you'll be traveling to some place both of you have never been to. Create awesome memories by getting lost in an unknown city or trying out new and exotic dishes. You'll learn more about each other while acquiring awesome life experiences.
2. Try out an activity that you and your partner would never have done.
Scared of doing extreme sports? Take courage and face your fears with your beau. You'll feel more confident as you root for each other. You can also try out classes as a couple. There are a lot of classes for new hobbies like calligraphy or baking. You can also try exciting activities like pole dancing or hiking. It'll bring you closer as you learn new things together.
3. Have a heart-to-heart talk with your partner's family members.
Spending time with each other's family is never an easy task. You have to make sure to always make a good impression and to not step on anyone's toes. However, if both of you are in a serious relationship, it'll be best to spend time with each other's family and let them know the real you. Try setting up a regular dinner date with each other's parents. You can also invite them to a trip or a short vacation. As much as possible, take the opportunity to build a meaningful bond with them.
4. Own a pet together.
What's a good test on responsibility? Adopt a pet. If you are still having doubts about your partner's capability of taking care of you, go to the nearest pet shelter and pick out a new buddy. You can take turns in taking care of them if you live in separate apartments. If you live together, you can take turns in disciplining your pet. Either way, you get to have a sense of real partnership as you become responsible for another life.
5. Take your relationship to the next level.
Whether that's going away for a weekend or moving in together, take a plunge and start taking it to the next level with your partner. Maybe the next level for your relationship is cooking for your beau. Maybe it's being friends with his/her friends. It doesn't matter if it's a simple gesture of committing to spend more time together or getting engaged. What matters is that you express your love by affirming your commitment with actions and words.
Whatever love dares you and your beau take, make sure you won't take it for granted. Take every opportunity to continue strengthening your love. Have a great year of love and adventure!
Lorey De Guzman
Lorey is a small girl with a big appetite for love, life, culture, and food. Yes, most especially, food.