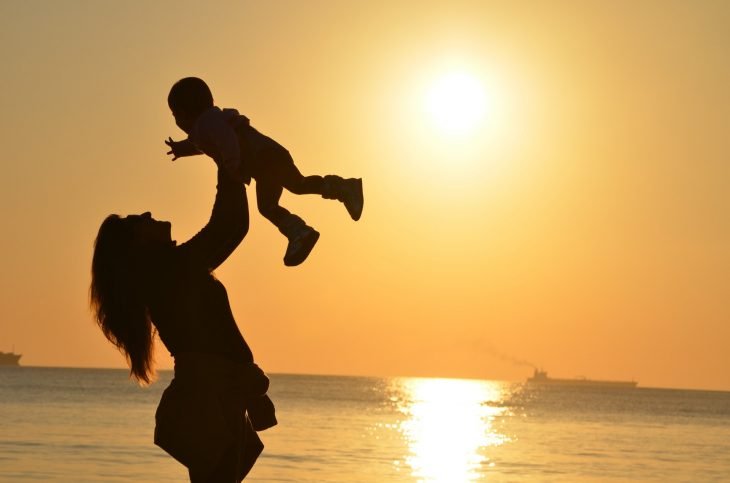 In just a few days, it will be Mom's special day again. While you scramble to find the perfect gift for your beloved nanay, some of us wish that our mothers are still here so we, too, can surprise them with a gift, bring them to the spa for a day of pampering, or have a simple celebration with them at home next Sunday.
For us, whose moms are no longer in our lives, Mother's Day can be a painful reminder of what we have lost — of that empty space in our hearts that will never be filled again. But instead of dreading May 13 to come, many of us choose to pay tribute to our late mothers by remembering our fondest memories of them.
I'll start off with how I always remember my mom: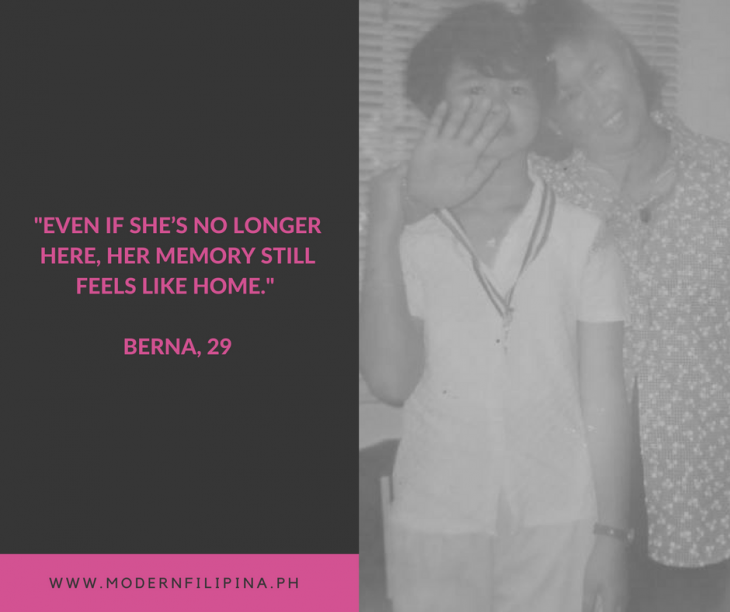 "My Mama wasn't the affectionate type. She rarely says "I love you" or gives us — her four children — a hug. I only remember a few times she embraced me: during recognition or graduation ceremonies at school and that one night in Baguio City.
"I spent my first few college years in UP Baguio. On my first day there, my mom and I spent the entire day buying things I would need in the dorm. Her plan was to help me get settled into the dorm and then she would catch the bus back to Manila at midnight. But to my surprise, she decided to sleep beside me on my dorm bed that night. She didn't say anything to me; no advice, no rules, and not a single word of encouragement. She just hugged me tight that night. I felt a bit awkward, but I let her wrap me in her rare, warm embrace.
"I figured that's her way of telling the 16-year-old me that everything would be all right. That I should never fear the days that I would be alone in a cold city, hundreds of miles away from my family. That in case I got homesick, all I should remember is that my mom-who-rarely-hugs-me would always be there, waiting for me to come home.
"Now, whenever I miss Mama, I just close my eyes and remember the way she held me that night — full of motherly love, affection, and care. Even if she's no longer here, her memory still feels like home."
Kat, 22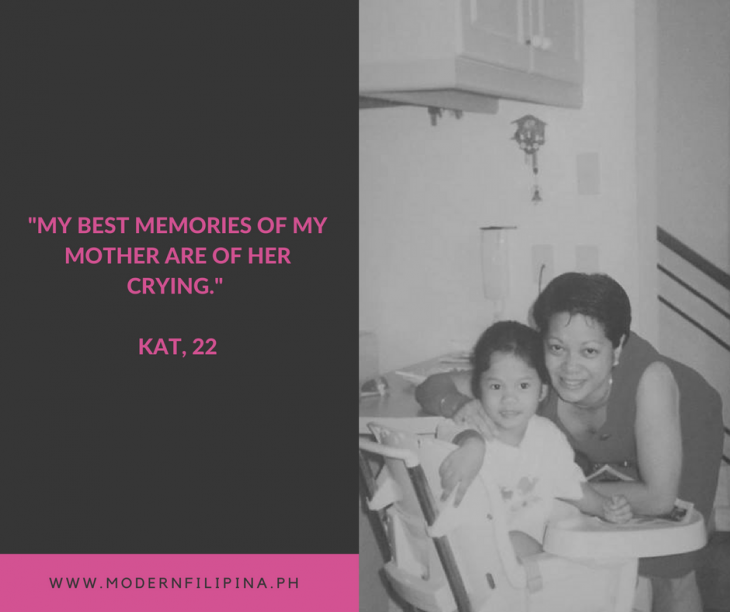 "My best memories of my mother are of her crying. That might sound like a strange thing to say, but my mother isn't a very expressive person, and I've only ever seen her cry twice in the 11 years I knew her.
"The first time was when we were watching a Koreanovela together. It was a scene of a man dying on a beach in front of his lover. The second and last time I saw her cry was when we were in bed. This was a little over a month before she passed away. We were both lying on our sides, and her tears just started streaming. I asked her if she was crying. She said she just had the sniffles.
"I looked at her thin limbs, her pale lips, her bald head. And then I knew why she was crying. I told her I loved her."
Lia, 46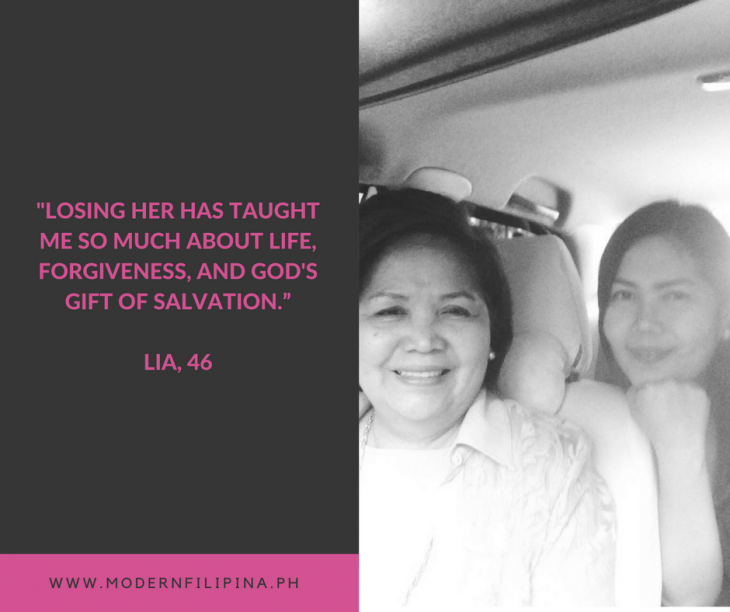 "My mom wasn't typical. She was known to people to be very strict, even grouchy most of the time. She wanted me to excel in all things. I remember bringing a not too excellent homework to class when I was in preschool. She scolded me for not asking her help so I could have done it better. I would also always get rattled 'pag PTA meetings and bigayan na ng cards. As usual, disappointing na naman ang grades na makikita nya (according to her standards).
"All my life, I have tried doing all things just to please her. Since it wasn't organically done, flopped lahat.
"But when I became a mom, she treated my daughter exactly the opposite of how she was to me. She was so tender and loving, but not to the point of spoiling my daughter. As I grew older, naging sweet na rin sya sakin.
"My time with my mother, however, was cut short and I didn't get to have her as long as I would have liked. There are still moments when I find myself looking for her to share how awesome or awful my day was. Losing her has taught me so much about life, forgiveness, and God's gift of salvation."
Sarah, 24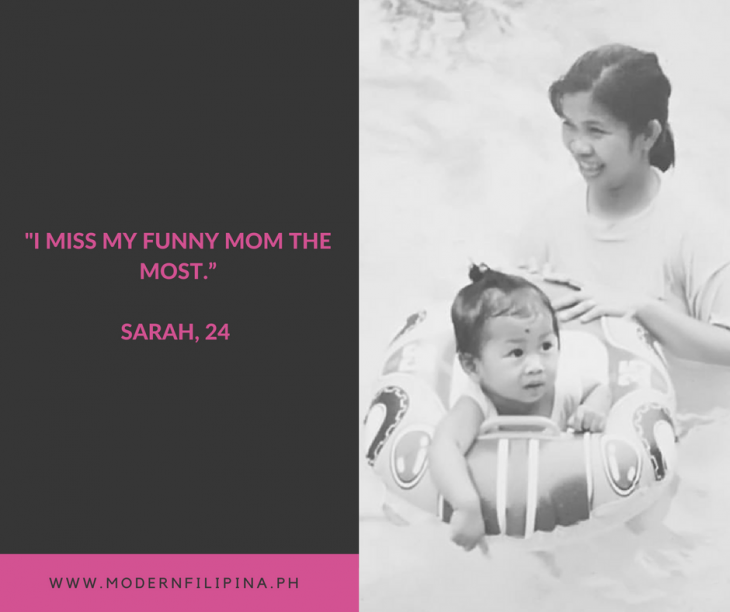 "My mom was funny. She had a dry sense of humor, but her whole existence was entertaining to me, especially now as I look back and she isn't here anymore.
"One time, my sister and I bought rabbits and hamsters and brought them home on a whim. My mom was annoyed at first, but after a while, my mom prioritized them more than me or any of my sisters. She would peel sunflower seeds and feed them first before she fed us. When one of the rabbits got sick, she walked around carrying it. When one of them got lost or died, she would cry. Unfortunately, all of them are dead now; my mom and our small zoo. I miss them, but I miss my funny mom the most."
Kat, 27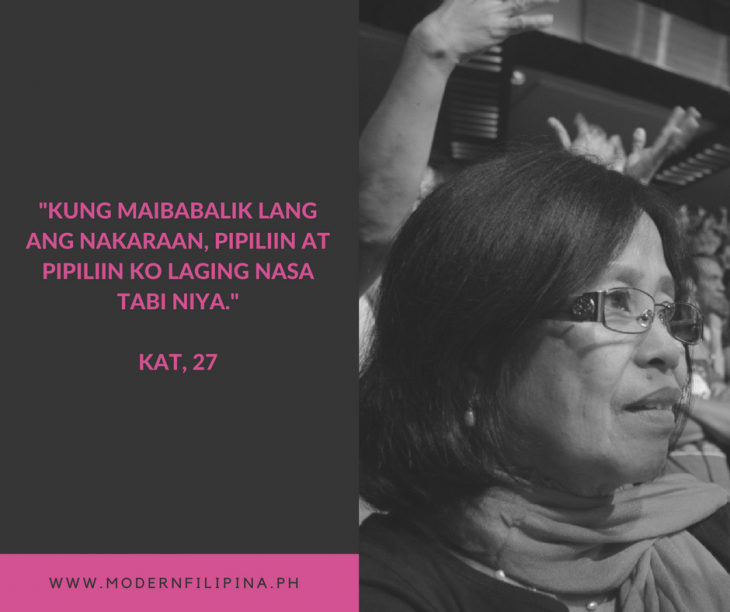 "Malinaw pa rin ang alaala ko sa mga pangyayari noong araw na 'yun.
"Nag-away kami ng nanay ko dahil nagpapasama siya na manuod ng The Ryzza Mae Show at Eat Bulaga pero importanteng araw iyon sa trabaho, planning ng buong opisina kaya sobrang pressured ako noon. Umiyak ako at nagdabog dahil hating-hati at litong-lito ako kung ano ba ang dapat unahin ko. Pero nanalo ang nanay ko, sinamahan ko siya.
"Kung maibabalik lang ang nakaraan, pipiliin at pipiliin ko laging nasa tabi niya. Gusto ko pa rin siyang makita tulad ng nasa litratong ito: buhay na buhay at kitang-kita yung mga guhit sa mukha, yung nunal, yung buhok na laging bagsak na walang nakamana sa amin at pati yung ningning sa mga mata nu'ng nakita niya si Ryzza Mae."
Lira, 29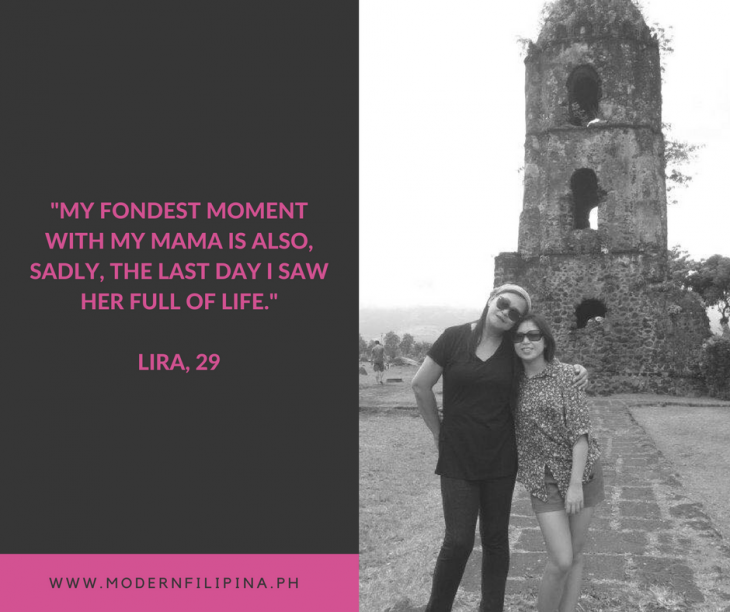 "My fondest moment with my Mama is also, sadly, the last day I saw her full of life. On the day of her brain surgery, my boyfriend (now husband) went to her room and gave her the case for her denture, which she jokingly requested. She was smiling and being goofy as usual. She said, "Kaya ko 'to, malakas ako kay Lord." I did not see any ounce of fear in her. Mama was really strong and brave, and I admired her for that.
"The nurses came and said that Mama would be brought to the operating room. She insisted on walking, but the nurses did not allow her, so we wheeled her hospital bed. Mama was a kind person who did things her way and didn't ask for anybody's help.
"My Mama had a medallion of Mama Mary pinned to her hospital gown. She was a devotee, and I keep that medallion up to now. The nurse noticed it and said it had to be removed. As I was removing it from her, the bed was moving faster. Mama, being the mother that she was, asked the nurse if we could slow down as the wheel could hit my foot, which had a second-degree burn.
"I looked at her and said "Okay lang, Ma," but on my mind, I thought "Si Mama talaga, siya na nga 'tong ooperahan, ako pa rin iniisip." That's how my Mama had always been. She would always put her children first. That's how selfish and protective she was, and that's how loved and blessed we were.
"As we neared the operating room, the nurse told us that we could only go that far. Mama was lying down, we clapped hands and I said "Aja!" the phrase she always use to cheer us.
And that was it, my last moment with her still lively and silly as ever, a moment with her still being a selfless and loving mother — and a moment I will remember for the rest of my life."
Do you have funny, tender memories for your Mom? Share them with us.
Berna Sastrillo
She's a web content writer, a playwright, and the author of the children's novel, Detective Boys of Masangkay: Ang Mangkukulam.