Joy Soriano
Joy has been a vegan for over 20 years. She's…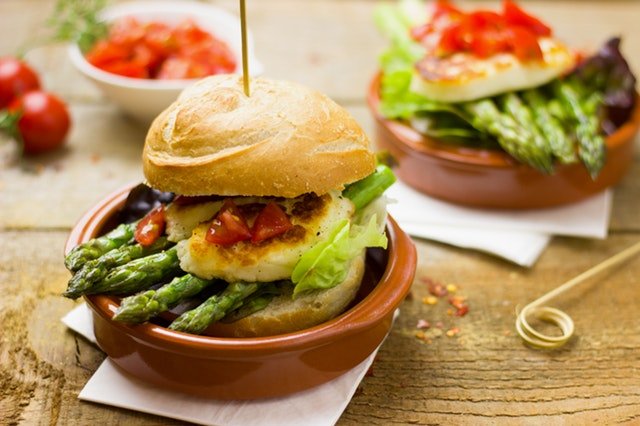 Gregory Sams. Meet the man who created the veggie burger in 1982. Sams initially made his no-meat patty with seitan and flavored it with tamari, adding beans and oat flakes. Later on, he added onions, herbs, and tomato, admitting that because he'd never had a taste of meat burger, he had to through a lot of trial and error.
When Sams finished with his creation, his pre-launch test sold 2,000 packets of meatless, guiltless burgers. Today, veggie burgers have become so mainstream that even fast food giants, like Mcdonald's in Sweden and Finland, are offering their versions of the plant-based sandwich.
Here, the vegetarian/vegan diet is catching up with the rest of the world as more and more restaurants make room in their menus for no-meat, no dairy items.
Here are just a few of the ones I've had this month:
What: Vegan Cheese Burger, P150
Where: Juicesabel, The Collective, Malugay St., Makati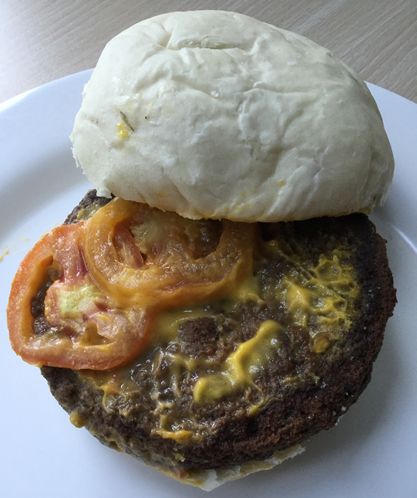 By far, Juicesabel has the tastiest, cheapest veggie burger. The patty of this no-meat lunch/snack/hangover cure is made with sugarbeets, tofu, and carrots. The cheese is made from potatoes. Unfortunately, the bread has seen better days. It used to come in ciabatta bread, but now it's just chucked in between two slabs of, well, mediocre bread.
What: Wild Thing Burger, P300
Where: Green Bar, West of Ayala Bldg., Gil Puyat, Makati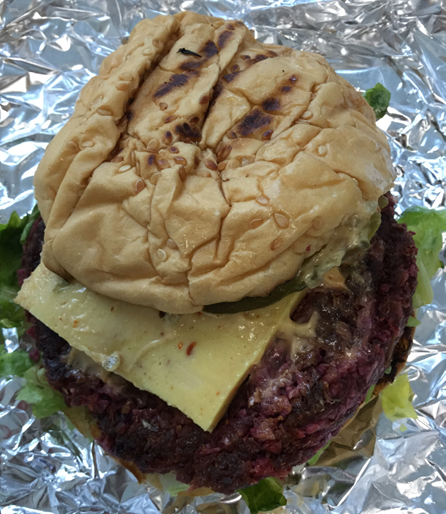 Green Bar's menu describes this pricey burger as plant-based, but an online source reveals that the patty is actually made from seitan, which is wheat gluten. And I try to stay away from seitan because it's highly processed. Also, I just get weirded out by the texture. Although the burger has a good enough flavor, with the soy pepper jack cheese, the stringy consistency of the patty made this burger not too pleasant. The half-eaten burger's still resting in the fridge. Maybe I'll have it when I'm good and drunk, and have no strength to cook dinner.
What: Lentil Burger, P295 (Vegan option, no yogurt)
Where: Mediterranean Café, Alabang Town Center, Muntinlupa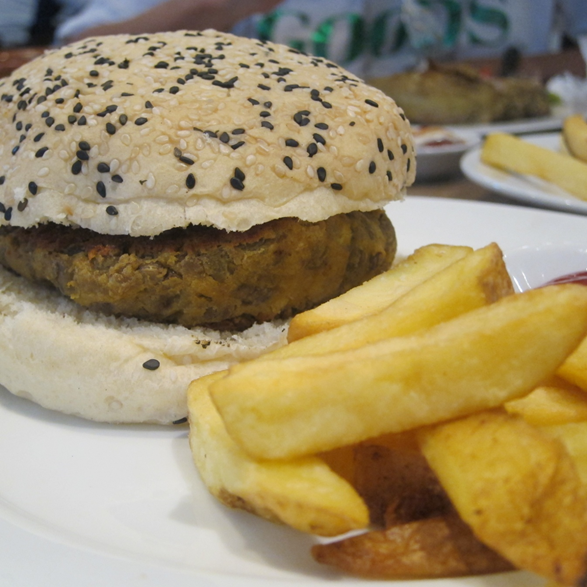 This protein-packed burger is topped with sweet onions, and it's more than enough to get you stuffed for lunch. Although the Café has improved the patty; it's denser and better constructed, the bread fails to hold the whole thing together. It felt like eating a veggie burger but with pita. Still, it's pretty tasty and good value for your incredibly shrinking peso because it's the burger that just keeps on giving.
This burger is so filling that I couldn't finish it in one sitting, so I took it to work the next day. And I still can't finish the damn thing.
What: Ultimate Veggie Burger, P590 (Vegan option)
Where: The Wholesome Table, Alabang Town Center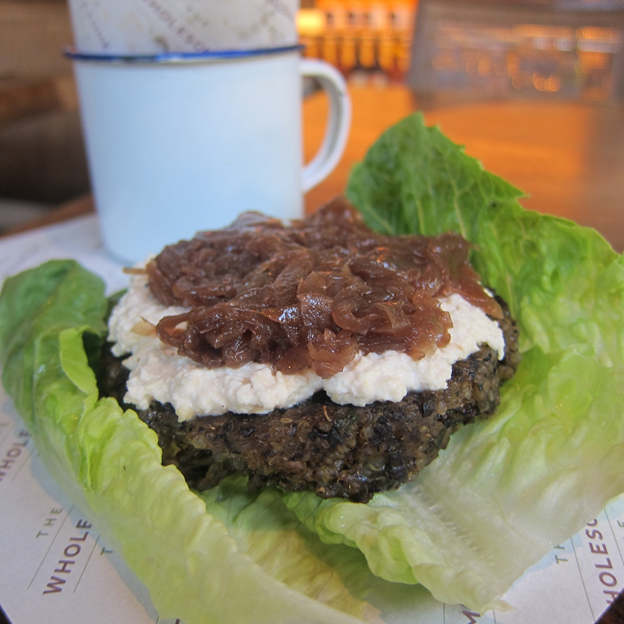 This too-rich-for-my-blood veggie burger held promise. One, it had a "promising" price tag. Two, the patty is made with mushroom and quinoa. And three — did I mention it's P590? The downer here is the patty, which had an odd, kind of metallic aftertaste. I guess that's from the mushrooms. I thought the combination of the tofu ricotta cheese and onion jam would make up for the aftertaste, but no.
Overall, the burger I'm going to keep getting would be from Juicesabel. Because it's cheap and tasty, and the restaurant delivers for free within Makati.
Joy Soriano
Joy has been a vegan for over 20 years. She's done a wide range of stories for magazines, from music and movies to business and culture matters. She continues to write professionally to this day — like, right this very minute.