Justine Lubag
Justine is a Slytherin who loves cosplay, horror fiction, and…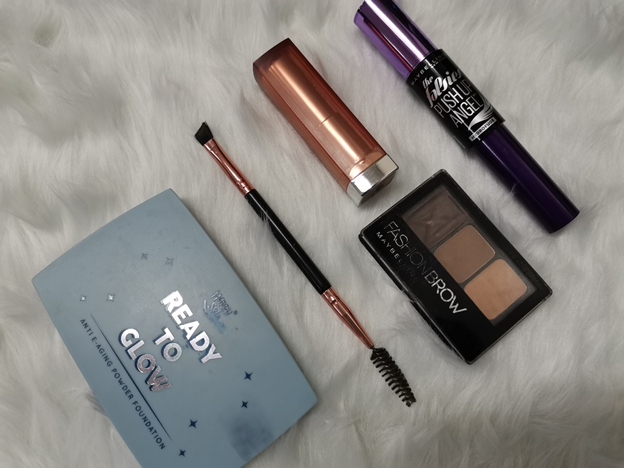 As a yuppie that isn't rolling in money, I try to save when I can, and sometimes, that means buying products at the lower end of the price range. But other times, you have to spend more money on some things when you're looking for quality and safety.
Take, for instance, a time I tried out long-wearing foundations from different price ranges. If I'm looking for something that's long-wear and works for my skin type, I'd buy Fenty Beauty again over more affordable brands even if it means shelling out P2,000 for one bottle because it's proven to live up to its word. But in that last article, I also discovered affordable makeup can be just as good as long as you manage your expectations and weigh out the pros and cons.
And because we're talking affordable, that got me thinking about the makeup section I always see by the door of every Miniso store. Because Miniso (and the other "So stores") are my go-to places for affordable gifts, I know they've got pretty good products despite the relatively low prices.
How will their makeup hold in this Miniso makeup challenge?
"Hi Ma'am, Welcome to Miniso!"
Each Miniso store I've been to always has their makeup products close to the entrance. I've never stopped to browse in this section because I would always head to the plushies section before going to get what I came there for. So I never paid any attention to the makeup and wasn't sure what kind of products to expect, though.
For this challenge, I wanted to see if there were any good substitutes for my everyday makeup products. I visited the Miniso branch in Glorietta 2 in Makati. My first impression was that there wasn't a lot makeup to choose from, as most of the boxes around the section were just different types of perfumes. There were also different cosmetic products, like nail polish, sunscreen, and makeup wipes. You won't find makeup products, like contouring kits and eyeshadow palettes, but you will find that most of the makeup here is based on popular Korean makeup trends.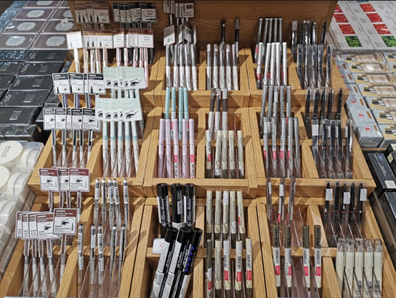 My first stop was the pencils and pens for eye makeup. I don't use eyeliner for my everyday makeup because I don't have the time, patience, or steady hands to draw lines that don't make my eyes look smaller, so I skipped looking for one even when there were a lot of choices to pick from. I also skipped the eyeshadow pens because I don't use eyeshadow except for special occasions.
I'm not a fan of big mascara wands, but my only options were down to two mascara products, neither of which had testers, so I couldn't decide which one to choose. But since this was a challenge of price, I opted to get the cheaper one.
Finally, for my eyebrows, there were a lot of brow pencils options. This was kind of frustrating for me because, back when I was just learning how to put makeup on, I found that brow pencils weren't very sweatproof which is why I only use brow pomade and brow powders. With no other option, I settled for a light brown pencil that came with its own spoolie.
I was hesitant about using an eyebrow pencil, but when I took a photo of it and published it on my Instagram Stories, one of my college friends who happened to be good with doing makeup said she liked using the eyebrow pencil I chose, so I was hopeful it would be better than the other pencils I've tried.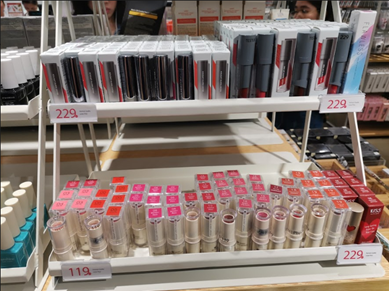 Next, I got to choose from their lipstick section. Being that type of girl who likes to swatch lipsticks nearly very time I enter a Watsons, I had fewer options than I would have liked. But seeing as Miniso wasn't a Maybelline store, I couldn't complain. Since I was going for an everyday look, I wanted to see if I could find a shade to match the lipstick I normally wear. That meant skipping all the liquid lippies at the upper shelf and looking for a dark pinkish-red lipstick with a matte texture.
After swatching nearly all the colors, I realized looking for a matte lipstick was impossible. One because all of them were labeled as "glossy" lipstick. And two because they were all glittery. The pinks were a bit too light or too magenta for my taste, so I settled for a warm red that was the closest to my everyday lip color.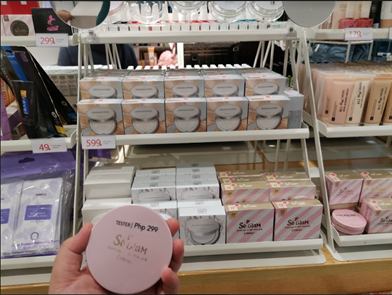 Finally, I had the hardest time looking for powder. I was looking for powder foundation, but I could only find loose powder, pressed powder, BB cream, and CC cream compacts. The only products that had the words foundation in it were liquid foundation, and the colors were too light or too yellow for my skin tone.
When I look for makeup, I'm almost always buying the lightest shade available. And I figured that if most of Miniso's powders and creams are too light for me, what more for morena girls or girls with darker skin tones browsing?
I thought I wouldn't be able to find anything in my color, but eventually I settled on a pressed powder with a light pink tone, even if it was a shade too light for me.
 My Everyday Makeup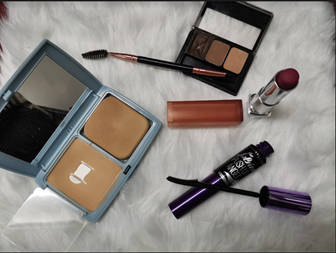 I started the week using my everyday makeup routine. Here's what I put on before leaving my house for an average day:
Happy Skin's Ready to Glow Anti E-Aging Powder Foundation in Soft Beige: P1,299
Maybelline's Color Sensational Powder Mattes in Almond Pink: P299
Maybelline's Fashion Brow Palette in Light Brown: P399
Maybelline's The Falsies Push Up Angel Mascara: P499
Total: P2,496
Most of my makeup is from Maybelline because I can swear by its quality and its products cost around the mid-range price (I swear this isn't a sponsored post). But when it comes to powder foundation, I spend a bit more for Happy Skin's powder foundation because I've found that it's one of the few brands that work well on my mixed skin type for both oily and dry skin.
On an average day, I look like this: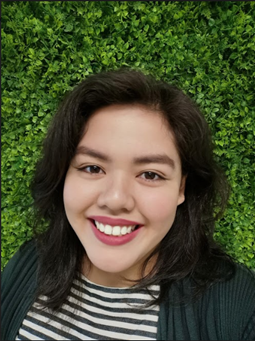 The pros of my everyday makeup are pretty much a given, since I choose to buy them all the time: the quality, the color, and the way the products complement or match the simple but fresh look I'm always going for. But my daily makeup products don't come without its cons, though:
It's expensive. Given that I'm spending almost P2,500 on this look and it takes me two to three months to use up my products, that's like spending around P1,000 each month on cosmetics. And this doesn't include my expenses for skincare and other products I buy.
For the money I'm spending, you'd think I wouldn't have to retouch anymore.
Miniso Makeup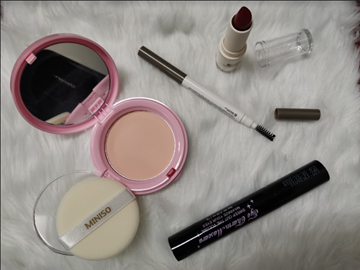 I managed to find a substitute for every makeup product I use for my everyday look. Here's what I got:
Miniso Korean Style Compact Powder in Light Pink: P299
Glossy Lipstick in Warm Red: P99
Automatic Brow Pencil in Light Brown: P119
Eye Charm Mascara: P99
Total: P616
The cost of this whole set is less than a quarter of the cost of my everyday makeup. Heck, this entire haul costs less than my typical powder foundation. I don't necessarily believe in the idea that if something is cheap, it's automatically low quality. OK, sometimes it is true. But for the most part, what's cheaper can still be better.
But when it comes to makeup you're putting on your skin, your lips, and near your eyes, it could be a risk considering the breakouts or irritations you could get because cheaper makeup might not have certain ingredients or add-ons more expensive makeup has.
How did Miniso's makeup fare? Here's what my haul turned out: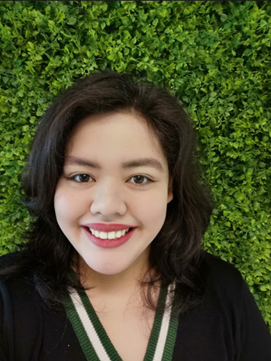 I like the eyebrows because it gave a more natural look that I want to go for that I sometimes can't really master with my brow pomade. My eyebrows aren't as dark as they are compared to my everyday makeup photo, but I prefer it because it gets the job done of hiding the sparse parts of my eyebrows. However, it didn't last as long as I'd like them to, and by the time I got home after walking in humid weather for 20 minutes, it looked as if the brow pencil had faded away.
Though the lipstick wasn't an exact match with my everyday lip color, it was still a nice shade I'd wear on a regular day. Although the color is glossy and has some glitter, you can't notice the shimmer. However, it's not like my everyday makeup where one swipe gives you enough color. I had to swipe about three layers of it on to get the full color on my lips.
Because Miniso didn't have a tester for me to open, I found that the mascara I bought had one of those big wands meant to make your lashes longer and stand out. However, the mascara's formula was still pretty good and lasted the whole day. And compared to my everyday mascara that clumps easily takes a long time to remove with micellar water, Miniso's mascara came off really easily. If I could, I'd combine Miniso's mascara formula with Maybelline's wand.
As for the compact powder, I'm not a fan of how it makes me look whiter than I really am – and I only put a thin layer of powder on my face. I wasn't really feeling this product and the only good thing I could say about it was that it had a nice scent to it.
The Verdict
I'd continue using Miniso's eyebrow pencil and mascara for my everyday look. They both have their cons, but despite their low prices, they more than make up for it in terms of quality. I've found that price isn't the best way to gauge a makeup product's quality, but if you're on a tight budget, don't be afraid to consider the more affordable products in the market. But learn to manage your expectations because, at times, you really do get what you pay for.
Justine Lubag
Justine is a Slytherin who loves cosplay, horror fiction, and puns. She is the certified favorite human of her dog, Pud.