Pia Rojas
Pia Rojas has been writing about fashion, beauty, and health…
If you've ever suffered aching feet and legs from wearing high heels or even ill-fitting flats, then you're not alone. Who hasn't experienced the need to "break in" a pair of shoes to get it comfortable enough to wear daily? It's a painful process that can lead to scraped-off skin on the back of your ankles or around your toes, and even when the shoe starts to feel like second skin after all that, it can still lack the proper support, leading to tired and aching feet and legs.
Thankfully, leisurewear is a trend right now, with girls in skater dresses, slouch pants, denim cutoffs, and skinny jeans—all paired with sneakers or even running shoes. So the sporty shoe is coming back in style with more designs, making it the perfect time to make the switch to more athletic type shoes.
Skechers GOWalk2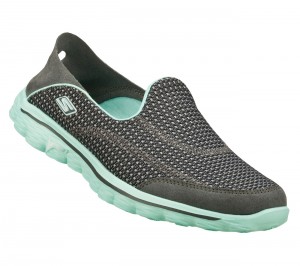 When I went to buy a pair of sporty, comfy shoes, I went to Skechers. I'd been reading about their GOWalk line, which claims to be engineered for comfort, promotes a natural walking stride, and has optimum cushioning and a wide variety of styles to choose from. I went for the GOWalk 2 Convertible Walking Shoes, which features a slip on design with a fold-down convertible heel for backless wear.
The Science
Skechers GOwalk 2 claims to improve your walk so your gait is more fluid and natural with its V-stride technology. It also helps inhibits slippage or odor so you can wear it sockless, thanks to an anti-microbial sockliner. Plus, it's built with a proprietary lightweight injection-molded compound with memory retention so it absorbs impact better, which is important for me because I lack an arch support and my feet and legs quickly ache from the impact.
The Test
I really needed a pair of good walking shoes because I was going to go on a trip with my husband and our itinerary involved a lot of walking and sightseeing. So when I tried on the GOWalk 2, it felt so comfy that I not only bought it there and then, but I told my husband to buy a pair as well. "It feels like you're walking on clouds," I told him. He tried on a pair and was convinced.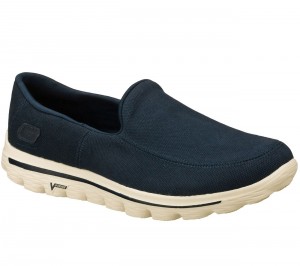 We walked every day on our trip, clocking in about four to six hours on our feet, falling in line, meandering about museums, and exploring cities. I'm always afraid of tripping because I'm flat-footed and am prone to it even in flats but with the GOWalks, I was sure-footed, comfortable, and capable of walking for hours on end. I even walked from the Eiffel Tower back to our hotel, which took me about two hours—and I didn't feel the distance because my shoes were so comfortable (and the walk was so scenic). In fact, walking became my favorite way of getting around.
My feet never tired of walking. It's been my experience that most running shoes don't even offer me the kind of support found in my GOWalks. I have only found one specialized pair of running shoes that do what Skechers GoWalk has done for me—painless and comfortable walking for hours that helped me lose weight, get fit, and see the sights of Europe.
The style was also flexible enough that I wore it with leggings, skinny jeans, tights paired with tunic tops, and with dresses. My husband wished he hadn't bothered to bring any other pairs of shoes since he wore his Skechers every day for three weeks on that trip. The only time we wore a different pair was when we had to attend a show that required more formal dress. So if I had any complaints about it, it would be that I couldn't make it pass as a pair of formal shoes. But my husband and I each plan to get another pair just because we love it so much and are wearing out our current pairs. Definitely worth every peso spent!
Pia Rojas
Pia Rojas has been writing about fashion, beauty, and health for 17 years. She's happily married with dog, and spends most of her time working and applying weird skin potions to her face.