Charlene Owen
Charlene works for a popular greeting card company, hoping that…
Finalists from across the Asia Pacific recently came together for the much-awaited finale of the Dream Beautiful contest, a Mary Kay initiative, where aspiring models and Mary Kay representatives from across the Asia-Pacific region teamed up for an all-out makeover that culminated on the catwalk of Hong Kong's Shaw Studios.
Twenty-four model-and-consultant pairs strutted their stuff before an A-list panel of judges led by international supermodel and "Queen of Poses" Coco Rocha. Out of the group, 24-year-old Filipina model Maeñuel Sabillena and Mary Kay Independent Sales Director Liberty Señierez were awarded first runners up, second only to grand winners Shu Yu Wei and Jun Liu.
Although they didn't come out at the top, for both Maeñuel and Liberty, the contest was an experience of a lifetime and the start of great opportunities with Mary Kay. In a recent interview, they both shared that more than just enjoying fashion and beauty, the Dream Beautiful contest was all about being comfortable in your own skin.
Modern Filipina (MF): How long have you been interested in fashion and beauty? How long have you been in Mary Kay?
Maeñuel Sabillena (MS): I've always been interested with fashion and beauty. I started reading fashion magazines when I was about 12 years old. While this is my first time to try modeling, I've been using Mary Kay products for years.
Liberty Señierez (LS): I'll confess that I haven't always been interested in fashion and beauty to the extent that I am now. However, I did start as a happy Mary Kay customer; I've always loved the Mary Kay lipstick and skin care products. Then my recruiter opened my eyes to the Mary Kay opportunity. At that time, I was doing full-time work as a nurse and I saw that it could help boost my family's income. All I had to do was share the products I love to other women and within an hour, I was convinced that it was a good business opportunity. But more than the profit, I saw it as a chance to change women's lives by transforming them and giving them back their confidence, which is the same thing that happened to me.
MF: Do you do this full time? If not, what do you do when you're not working on fashion and beauty? How do you juggle all your tasks and remain successful?
MS: No, this is my first time to do modeling. I'm currently working as a Flight Attendant and it's really difficult to manage my schedule. However, I always try to remain balanced by organizing my tasks and remaining true to my priorities.
LS: When I first joined in May 2013, I was still a full-time nurse and I only did Mary Kay part-time. I did my Mary Kay business before and after my hospital duty until I decided to become a full-time Mary Kay Sales Director in February 2014.
When it comes to juggling my duties, I always keep in mind Mary Kay Ash's balanced priorities of God first, family second, and career third. It was really hard at first, but I followed it faithfully and now I can say that it's the best system there is because more than achieving balance, I am also able to stay true to what's important to my heart.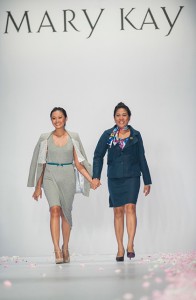 MF: How did you join the Dream Beautiful contest? What was your experience like?
MS: I've always dreamed of becoming a model since my teenage years. When Tita Liberty, my Mary Kay Independent Beauty Consultant, mentioned the contest to me, I agreed because I thought that it would be a great opportunity to pursue my dream of becoming a model. She captured a before and after makeover picture of me and registered our entry online at www.marykaydbc.com.ph.
When I learned that I would be one of the three models representing Mary Kay Philippines at the Asia Pacific Grand Finale in Hong Kong, I was ecstatic! Meeting all those amazing people from different countries, learning modeling and styling techniques from celebrities, experiencing the life of a professional model and creating bonds of friendship with my co-models, beauty consultants and mentors are truly once-in-a-lifetime opportunities.
LS: Truthfully, we were a last-minute entry because I initially had no plans of joining the contest. By chance, Maeñuel accompanied me to the Mary Kay office while I was running some errands, and everyone praised her beauty and encouraged us to submit an entry. At that time, I had little confidence in my makeup technique, so when we did our before-and-after makeover, I only applied the basic makeup techniques I knew. I was quite surprised when we became finalists – and this was out of thousands of entries! That was when I challenged myself to become a better makeup artist.
It was a huge privilege to be part of the Top 3 Philippine finalists that represented our country in Hong Kong. It was no longer just about my dreams: I was carrying my family's, Mary Kay Philippines', and our country's names. Getting to meet and befriend women from different nations and learning from the best names in the fashion and beauty industry were great experiences.
MF: What did you learn about fashion and beauty from the whole process?
MS: Having been trained by the best and brightest personalities from the modeling, fashion, and makeup industries, I really learned a lot. I learned about makeup products, proper skin care, wardrobe must-haves, how to mix and match accessories, and how to walk on a runway — just to name a few. But most of all, I learned how to be comfortable in my own skin.
LS: The most important insight I got from the whole contest was to just be yourself and let who you are shine through. You don't need to exaggerate your fashion or makeup style and you don't need to be afraid of trying out something new. Just find what you love and wear it with confidence.
MF: Did joining the contest help you become stronger, more confident women?
MS: Definitely! I became more confident and I learned to value myself more. It broadened my horizon and gave me a positive outlook towards achieving my goals and dreams. I would definitely encourage other women to join contests like this because it'll help them discover their full potential and develop their personalities. It's a chance to turn their dreams into reality. It's all about transforming women's lives – going from being shy to having full confidence and belief in one's self and one's dreams. I think that this isn't just confined to the Dream Beautiful contest but also embodied by the entire Mary Kay brand. That's Mary Kay Ash's legacy.
LS: Absolutely. Of course, during the contest, I felt nervous and anxious especially when I compared myself to the other 23 competitors. At the same time I felt that by just being there, we are already winners. The fact that we got to meet Coco Rocha and Luis Casco, that was already a huge deal. Coming back from Hong Kong as a winner, I felt my self-esteem and confidence rise. Similar to having an RN next to my name, winning the Dream Beautiful contest is a title I am proud of. It's also an incentive for me to keep moving forward and to push my career further.
MF: Congratulations on bagging first runner up! Did you have a feeling you would be one of the finalists, or did it take you by surprise? What was the feedback from the judges?
MS: Thank you! No, I didn't expect it. It was very hard to guess who would get into the Top 10. For me, all of the contestants were equally qualified to be in the Top 10. The judges said that they did have a hard time selecting the finalists.
LS: Thank you! During the contest, I did my best to keep up a "winning mindset." When they were announcing the Top 10, I remained positive until the end and sure enough, we were called as finalists. I was actually singled out by Mary Kay Global Makeup Artist Luis Casco after the photo shoot. He called me by name and told me, "You did a great job. You made your model more beautiful." His comments gave me more confidence and drove me to do an even better job during the finale.
MF: Can you offer quick fashion and beauty tips for our readers?
MS: First, to help you look pretty in photos and to avoid a shiny-looking complexion caused by a camera flash, apply Mary Kay's Translucent Loose Powder on your T-zone. Second, brighten your eyes and make them look wider by dusting a shimmery gold eye shadow like Mary Kay's Mineral Eye Color in Crystalline or Goldcoast under the brows' arches and in the little hollows next to your tear ducts. Third, it is very important to take care of your skin by creating a personalized beauty routine and using trusted and effective beauty products that suit your skin type, like Mary Kay skin care and color products. Finally, beauty starts from within so eat healthy and exercise regularly to maintain a healthy glowing skin.
LS: Match your look with the event. For example, use neutral or light colors like Mary Kay Mineral Eye Color in Amber Blaze or Cinnabar for your day look. Night looks are more dramatic so you can use blue tones like Blue Metal or Classic Navy, green hues like Jade, or create classic smoky eyes with Brilliant Black. Contour and slim your face and give yourself a glowing complexion with a bronzer like the Mary Kay Bronzing Powder. Keep your accessories it simple. Don't exaggerate or add too much. Pick one or two to accentuate and match your outfit.
MF: What about tips on being confident and reaching for your dreams?
MS: Always believe in yourself and never give up. Don't be afraid to go after your dreams; determination and hard work are all you need. Just like what Mary Kay Ash said, if you can dream it, you can do it!
LS: Trust in yourself, believe in dreams, and have faith in God. At the same time, put your dreams into action because how far you will go will depend on the effort you put in.
Charlene Owen
Charlene works for a popular greeting card company, hoping that what she writes makes some big, burly man somewhere cry. She's into MMA, and when she's not watching armbars on YouTube, she also writes for a tech blog or naps with her cat.