Mai Porras
Pint-sized Pinay. Writer by day, mermaid by night. Loves coffee,…
[video src="https://www.instagram.com/p/Bvl_duvA1Hy/"][video src="https://www.instagram.com/p/Bq8E6_JgorI/"][video src="https://www.instagram.com/p/BsxVw83h_Zp/"]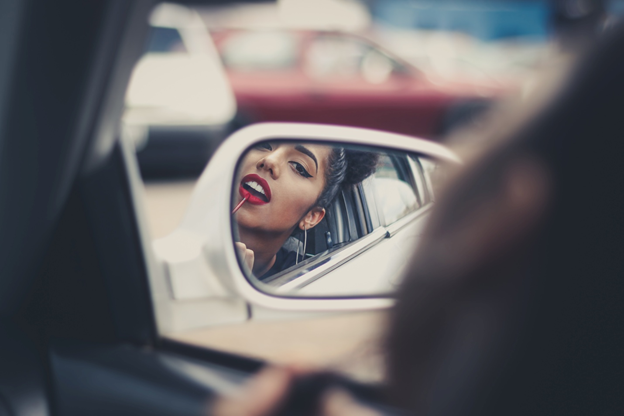 Your fave local celebs are now rushing to local lip-and-cheek tints for an instant flush – and there's no reason you shouldn't.
If you've been to bazaars, online makeup stores, or even in the makeup aisle of your local drugstore, it's easy to tell that local makeup brands are stepping up their lip tint game. Lately, local brands are making a conscious effort to offer quality lip tints at reasonable prices. And with lip tint prices ranging from P40 for cute, tiny vials to only a little over P100 for full-size (10 ML) roll-on containers, you can easily hoard tints without coming up short on the budget.
But not all lip tints are made equal.
Some are too runny; they almost always end up making tiny red splotches on your shirt (please tell me I'm not the only one). Some transfer easily; they make you look like you just downed fresh blood, some fade away too quickly you're left with bare lips after a meal, while some are too light to even add color to your lips.
Believe me, the right lip tint can be the best weapon in your makeup arsenal. You just have to know which one to stock up on.
We tried some local lip tints on the market today to help you decide:
KJMCosmetics CHEEK. LIP. (P110)
This was the lip tint that jumpstarted my lip tint obsession. Bittersweet Magenta was my go-to shade because not only does it give my lips a just-bitten look, but it also gives my cheeks a natural flushed glow. After I've tried other tints, though, it ceased to become my HG.
I realized that you need at least two swipes of the product to achieve an opaque shade. Plus, it's also a bit runny, and it hardly stays where you apply it. Overall, KJM lip tints are good for beginners and discerning users, as it bears the PETA-approved cruelty-free and vegan logo, and it's Halal-certified.
Skin Genie Lip and Cheek Stain (P80)
A friend of mine swears by this brand, but I think the Skin Genie Lip and Cheek Stain is not for me. One swipe is unlikely to give you an opaque color; unfortunately, the liquid is a little too runny, so you need to wait until it dries before you can apply another layer.
The runny consistency and its inability to stay where you applied it also cause the liquid to transfer to places where it shouldn't – like your teeth. The only thing I liked about it is its sweet, melony scent, which is a plus if you're a sucker for sweet-smelling lippies.
Sooper Beaute Lip and Cheek Rolly (P100)
I like randomly swatching stuff on my arms even if I have no intention of buying, and that's how I came to discover Sooper Beaute Lip and Cheek Rolly. I swatched all the colors on my inner arm, and I was surprised to see that some of the shades actually left stains. The next day, I hoarded and immediately bought four different shades and I don't regret it one bit.
Sooper Beaute Lip and Cheek Rolly is easy to apply, never patchy, and relatively long lasting. The shades are also natural-looking and universally flattering. I'm actually surprised at the low ratings it got on BeautyMNL, but you know what beauty vloggers say: what worked on me might not work on you.
Happy Skin Kiss & Bloom Water Lip & Cheek Tint (P 299)
https://www.instagram.com/p/BuSvdAtnp85/
I love Happy Skin lipsticks for their staying power and moisturizing effect, so I had high expectations for their lip tint. But maybe my expectations were a bit too high, because this lip tint didn't deliver. Despite being the most expensive of the bunch, its lasting power is poor, it dried out my lips, and you need more than a single layer to see some color.
Fairy Lip Tints (P70)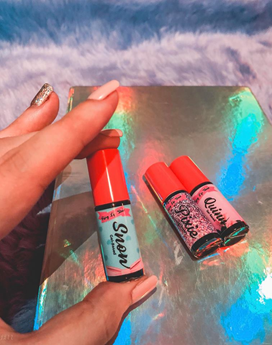 Fairy Lip Tints are the least known among the brands I have mentioned here, but they're among my favorites too 'cause they offer the best value for money. There are so many gorgeous shades to choose from, so if you want to try several shades first, you can get a Baby Tint for only PHP 40. This gives you 5ML of product contained in a teeny-tiny container with a doe-foot applicator (so extra, I lovetttt!)These tints are gel-based, so they stay on longer than regular water-based ones.
The only downsides are, Fairy Lip Tints can take some time before they dry on the lips and they also tend to bleed on to the teeth.  Also, they're only available through distributors, so you're unlikely to casually stumble upon them at bazaars.
Swatch Test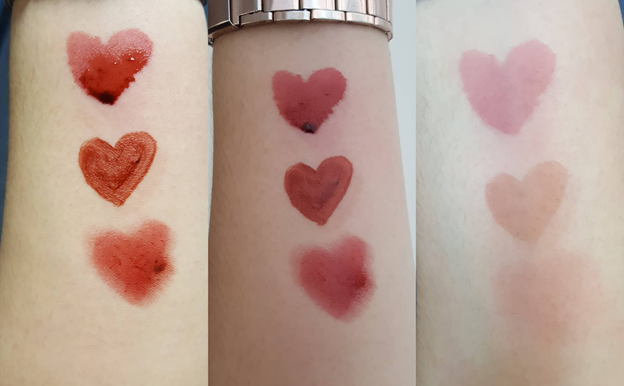 Here's a swatch of my top three picks: KJMLIP.CHEEK, Sooper Beaute Lip and Cheek Rolly in Darling, and Fairy Lip Tint in Pixie.
The first photo was taken immediately after swatching, the middle photo taken after a few minutes, and the last after I wiped them off with wet wipes.
Personally, I used to be a huge lipstick girl. Hoarding lipsticks has always been my guilty pleasure;  you can count on me to spend my few remaining pesos during petsa de peligro on a tube of lipstick I absolutely don't need.
But as I grew older (and wiser!) I realized that lip tints are actually more budget-friendly in the long-run. On particularly busy days (which is every day, in the Land of Adults), and I have zero time to nitpick on my makeup, I can simply swipe some tint on my lips and cheeks, and voila! I look instantly presentable.
With local makeup brand stepping out their lip tint game, it's easier to find the one that can be a mainstay in your kikay kit.
Tell us about your favorite lip tint brand on our Facebook page.
Mai Porras
Pint-sized Pinay. Writer by day, mermaid by night. Loves coffee, elephants, and the old book smell. Adoptive Mom to Churro, Laya, Alab, Chelsea, and Ivory, who all have four legs.