Nyj Verdadero
Web content writer. Mother to a cat named Fatty and…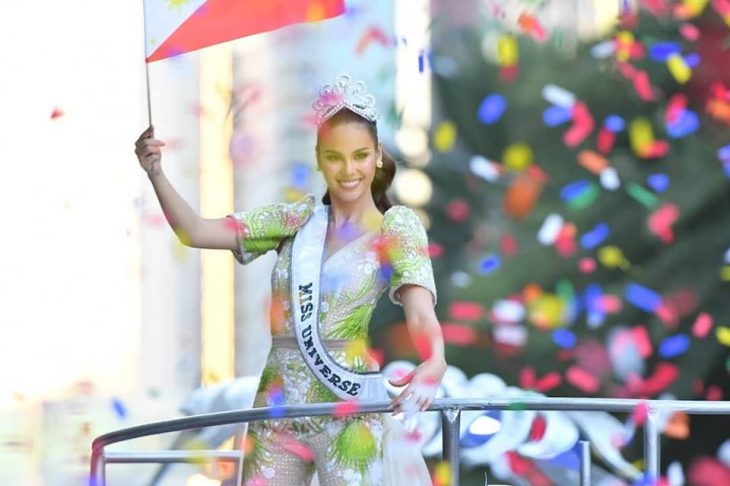 It's been several weeks since Catriona Gray graced Metro Manila's streets with her homecoming parade.
Obviously, we haven't moved on.
From her infectious smile to how generous she was with herself despite standing in heels and being under Manila's heat, her commitment to show the Filipino people her love and gratitude was so endearing.
"Mumsh, inom lang ako ng water tapos… party party na ulit!"

Posted by Bernalyn H. Sastrillo on Thursday, February 21, 2019
Talk about commitment. After taking a short break to quench her thirst our queen went back to being a lovely ball of energy eager to greet everyone. One can't help but wonder, is she is drinking water, red bull or some sort of elixir? Video courtesy of Berna Sastrillo.
Of course, no one can forget how flawless she looked throughout the whole parade.
Who still looks like that after hours of dancing around and waving to people under the Metro Manila midday sun?
Curious if mere mortals could achieve this look, we took some notes from Catriona's Vogue makeup tutorial and ABS-CBN lifestyle writer Camille Santiago's Beauty Inspo article "How To Perfect Catriona Gray's Anti-Hulas, Summertime Goals-Worthy Makeup."
From that, we crafted a makeup regime that always-on-the-go Filipinas can do and afford.
Here's what happened.
Our Methodology
We merged the tips from the sources above and combined them with our own day-to-day and special occasions makeup routines. Kat and Issa's makeup are perfect for dates or nights out. Chryss and I are wearing lighter makeup that you can use for work or on brunch dates with girlfriends.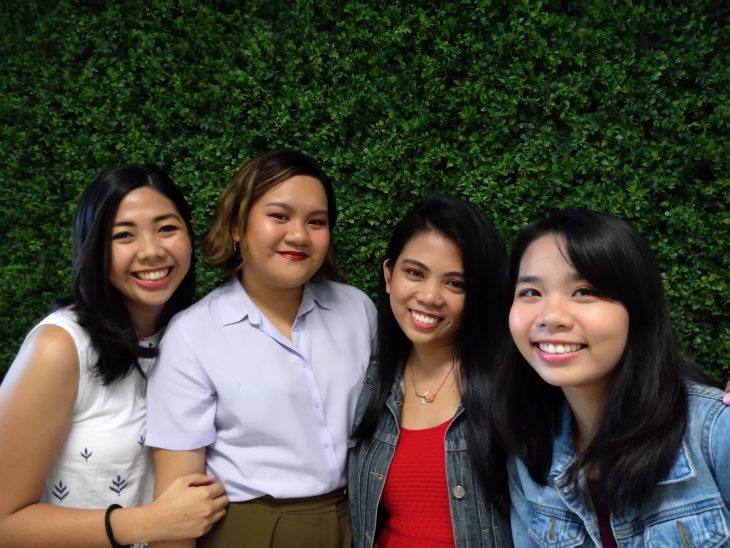 We couldn't afford most of the products Catriona uses, so our crew looked for great low-end to mid-range cosmetic products that are easily accessible here in the Philippines. Most of the stuff we got for our little experiment are products we already use and swear by, some we discovered from the country's top beauty bloggers.
Here are the steps we did along with the products we highly recommend:
Start with skin care
Having clean, healthy skin helps makeup stay longer, especially for us girls with oily skin.
Before putting on anything, our queen cleanses her face with micellar water and puts on serum for moisture and other health benefits. These steps remove the dirt and oil in our face, giving us the smooth texture makeup needs to stick to last longer. It also prevents clogged pores that could lead to acne.
To keep her lips smooth, plump and hydrated, Cat used Pawpaw lip balm. For our lips, we used our usual lip balms, like Nivea and Chapstick, and for the micellar water, we used Garnier.
The base is everything
Using primer and having the right foundation are key to great, lasting coverage and smooth, healthy-looking skin.
Many of us think that primers are an unnecessary step to makeup routines, but our girl Chryss swears by it. Good primers lock in makeup, helping it stay on the whole day, no matter the weather. Plus, primers help protect skin by creating a barrier from environmental stressors like pollution.
Liquid foundation provides great coverage and is easier to apply and blend – a great boon for beginners. They also create a luminous finish and look great on camera.
We used:
Primer – Maybelline Baby Skin Pore Eraser and Quick FX
Foundation – L'oreal Infallible Matte Pro and Maybelline Fit Me Matte + Poreless Foundation
Get creative
This is where we start adding color! We just did our own makeup routines where we put eyeshadow, eyeliner, lipstick, blush, bronzer, highlighters and whatever we felt like in whatever order we usually do.
We used:
Eyeshadow – Colourpop Yes Please! palette
Eyeliner – Maybelline Hyper Glossy Liquid Liner, The Body Shop
Lipstick – NARS Audacious Lipstick in Jeanne, lip stain from Revlon in Crush Beguin, Yves Rocher
Blush – Lip and Cheek tint from BLK Cosmetics in Red, Cheek stain from Colourette in Dione, NYX
Bronzer – Stila
Highlighter – Essence
Let it set it in
Setting sprays and powders promise to lock in makeup to make it last the whole day. Of course, not all products keep that promise. So you really have to find the one that works for you. Our gang used the Wet n Wild Natural Finish Setting Spray, which prevents cracking, smudging, fading, or creasing.
We weren't too crazy about having liquid squirted on our face, and I was scared the spray would melt the makeup off my face. We weren't sure how to apply it on our face either so we asked each other to give one another a spritz or two. After the first few seconds of shock, however, the liquid dried and it felt like nothing happened.
Check and blot
Blotting paper and powder helps you keep your oil, shine and pore size in check without having to add another layer of foundation. We personally use usual drugstore blotting papers and Chryss uses Innisfree No-Sebum Mineral Powder. But for this experiment, we didn't do any blotting or touch-ups.
The test
Obviously, we didn't have our own homecoming parade where we had to wave and dance around while exposed to Manila's heat and humidity. So what did we do to put our makeup to the test?
We walked for a kilometer from our workplace along Ayala Avenue going to Music 21's Chino Roces branch. We then spent about three hours full of revelry. After going home, we all took selfies to see how much makeup was left on our face and if we were able to stay looking fresh.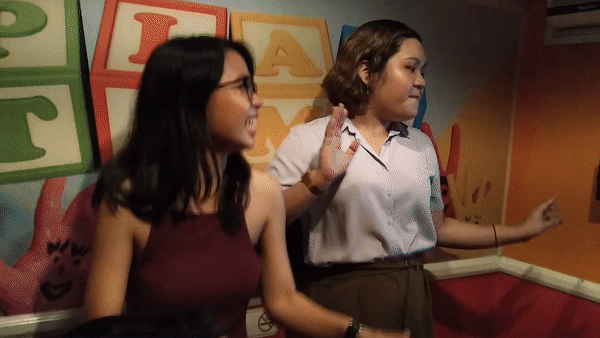 The Results
We took the Before photos around 5 pm and took the After photos around 11 pm. After our little experiment, I asked the girls if they observed any difference and if they were considering adopting Catriona's routine or incorporating some steps to their usual routine.
Here are our answers.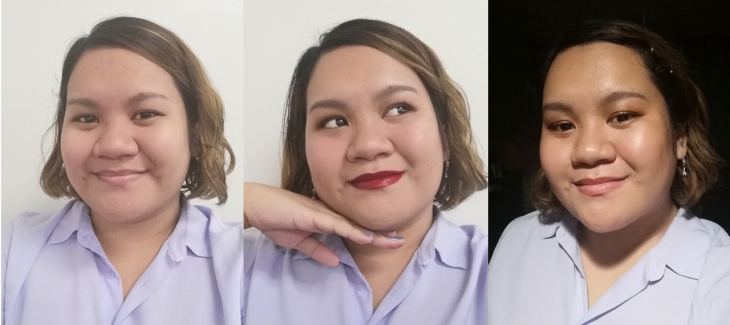 Kat's observations: Well, the micellar water made my face feel really clean and easier to put makeup on. It was like a baby's bumbum. There was no difference with the longevity of the makeup, but my face really was less greasy at the end of the day.
Her verdict: I would consider adding maybe the primer, because it really does smoothen out my face, reduces the texture on my cheeks and forehead.
I wouldn't do it every day, but I do find it fun to do! So I'd definitely do it if I have a party to attend and want my makeup to last hella long.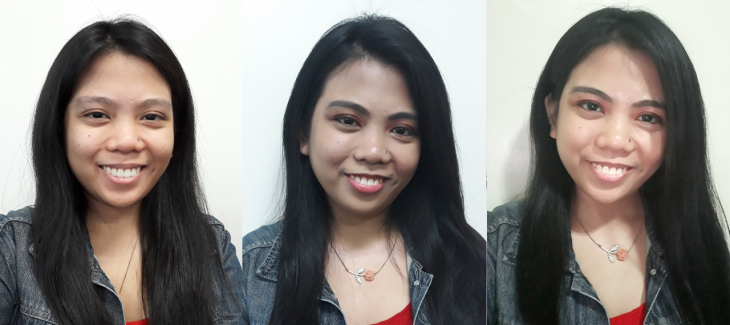 Issa's observations: Meron naman. I have oily skin, but it gets worse when I have makeup on and I don't retouch. I noticed yesterday that it wasn't like that.
I didn't have to touch up my makeup once. I think it was a combination of the primer and the spray. Since the primer covered my pores, I didn't get that oily. And the setting spray kept everything in place.
Her verdict: I liked the primer. I wanna see more of how it works. The setting spray, I kinda wanna test out setting powder instead. I want to see the difference . . . I don't mind spending extra time on skin care.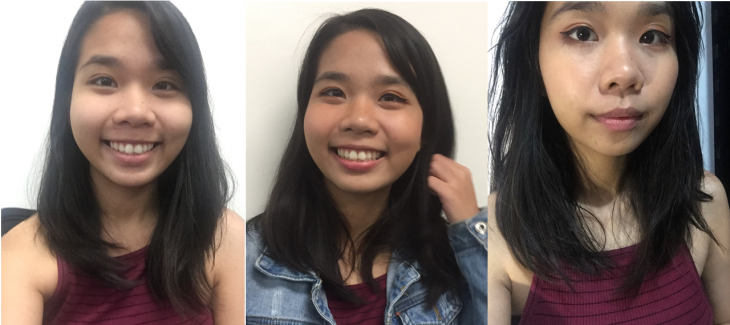 Chryss' observations: Yup, for me may difference. Naturally oily yung skin ko pero na-reduce [nung routine] yung shine kahit na naglakad tayo papuntang karaoke and nagpawis ako nung actual karaoke. Hahahahaha.
Her verdict: I think if for everyday office makeup, hindi siguro. Pero for dates, parties, meet-up with friends, other special occasions, maglalagay na me ng setting spray. Hehe.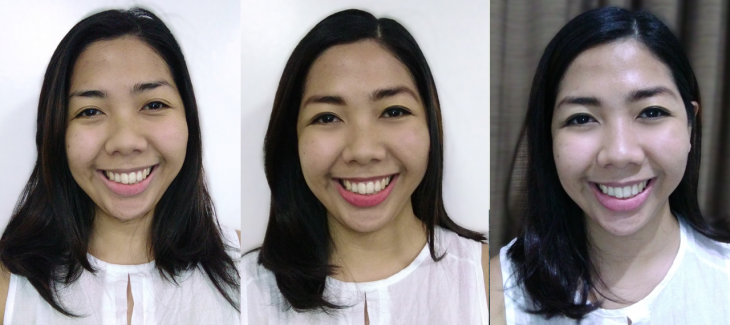 My observations: I love Maybelline's primer! It made my skin feel really smooth and my ginormous pores looked significantly smaller. For the whole routine, I was pleasantly surprised. My face can get really oily especially, on humid afternoons, so I just thought it is what it is and that no product can help. I was happy to see that I didn't look oily after our 1km walk. Looking at my after photo, my lipstick faded after all the eating and drinking, but I think I can claim I look decently fresh.
My verdict: As someone who has a 4- to 6-hour daily commute, I like just slabbing BB cream on my face before I leave for work. If I have extra time, I use moisturizer before the BB cream. So I don't think I want to squeeze in primer and setting spray into my daily routine. But for special occasions or weekends when I feel like looking cute, why not?
Thanks to Queen Cat, our little gang had a fun night out and we learned a lot about makeup. We now know a great way to make makeup last longer – a piece of information that is particularly useful now that we'll be looking into summer makeup looks soon.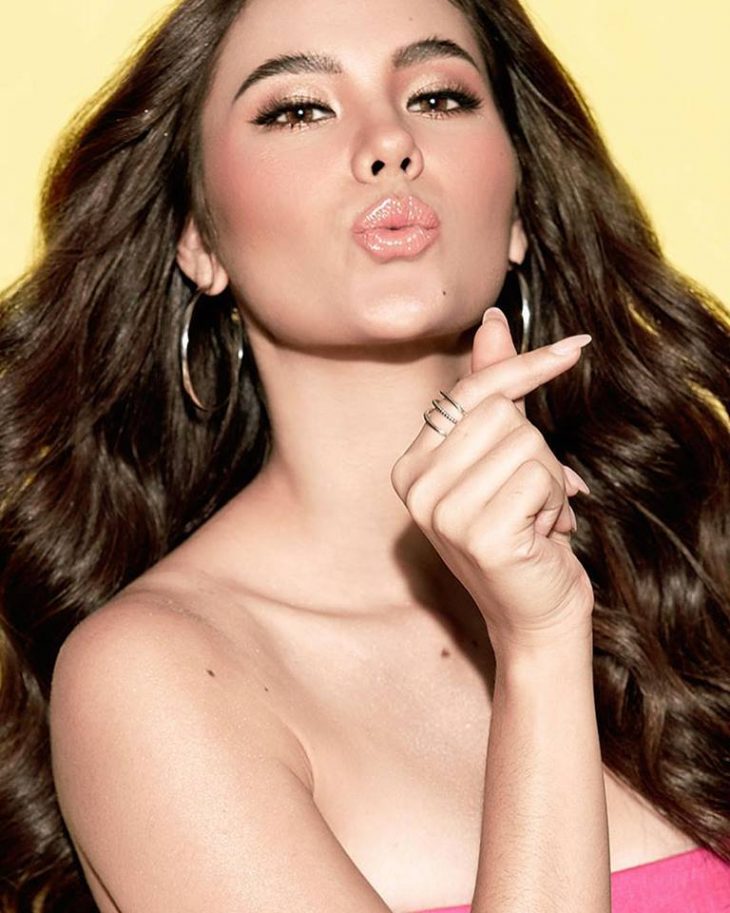 This little experiment is also proof that a lot of research can compensate for not being able to afford celebrities' makeup favorites. We can all look great with makeup on a budget as long as we're sure that it's safe and suited to our skin.
Nyj Verdadero
Web content writer. Mother to a cat named Fatty and a basil named Herby. Dreams of going off the grid and running an animal shelter with her wife.