Katrina Tankeh
Writes, eats, and dances with an incomparable vigor but is…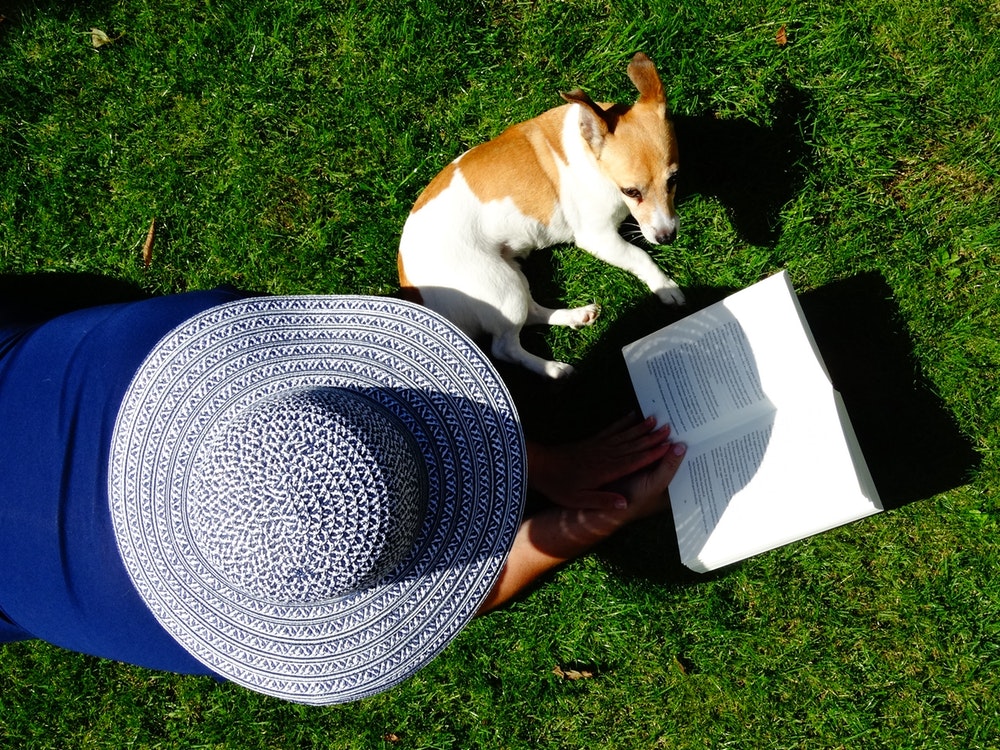 We may be celebrating Mother's Day next month for all the mothers and mother figures in our lives, but where's the love for all the fur baby moms?
For a lot of us, pets are family. It feels about right to dedicate a weekend to them just to show how much we love them back.
If you want to try something new this year to celebrate your pet motherhood, here are four events that you can enjoy throughout the month of May:
Summer Dog Pack Walk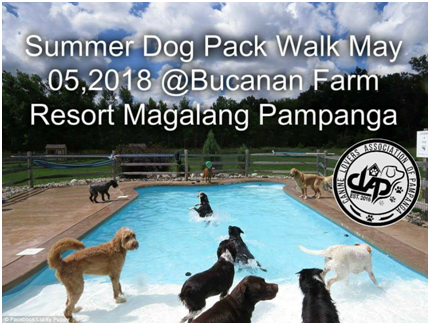 What: If you and your dog want to beat the summer heat, head out to Pampanga for the
Summer Dog Pack Walk. Organized by the Canine Lovers Association of Pampanga, the Summer Dog Pack Walk is where you can let your dogs run wild in the grass. Your fur loves can swim in the pool, too. This event is a great way to meet other dog lovers while enjoying a relaxing vacation outside the city. Make sure to bring food and drinks for a potluck as well as a tent if you want to spend the night.
When: May 5; 8 AM onwards
Where: Bucanan Farmland Resort, #240 Brgy. Bucanan, 2010 Magalang, Pampanga
Registration: Entrance fee is Php50
Summer PAWty: CARA Adoptables Meet and Greet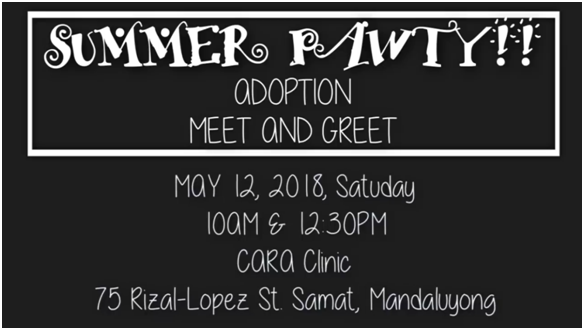 What: Are you looking for another addition to your fur family? Adopt a pet! CARA Welfare Philippines is hosting an adoption event called "Summer PAWty: Cara Adoptables Meet and Greet" to help rescued pets find a new home. You'll meet three adorable cats named Shimmy, Pebbles, and Orange, as well as three adorable aspins named Pandan, Polly, and Troy. When you choose to adopt, not only do you stop supporting puppy mills – you also save a life.
When: May 12; 10 AM to 12:30 PM
Where: CARA Welfare Philippines, Lopez-Rizal St., Mandaluyong City
Registration: Slots are limited so be sure to register ASAP. Click here to sign up today.
Pooches & Purrs (A Pet Portrait Watercolor Workshop)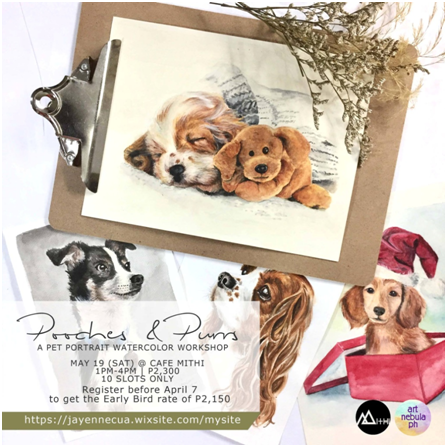 What: If you're a crafty fur baby mom who wants to try her hand at painting, this workshop is for you. In it, you'll learn the basics of watercolor painting by using a photo of your pet as a guide. The workshop aims to teach you the art of shading, adding dimensions, and creating textures to your artwork. By the end of the class, you'll have a framed portrait of your adorable pet. Jayenne Cua, the host of the workshop, will provide instructional guides, practice sheets, food, and light refreshments. There are only 10 slots so make sure to sign up as soon as you can!
When: May 19; 1 PM to 4 PM
Where: Café MITHI (131 V. Luna Ext. Sikatuna Village, Quezon City
Registration: Php2,300 and includes a painting kit (2 round synthetic brushes, Sennelier Artist Watercolour paint, and a palette, all from ArtNebula); Php1,800 if you bring your own materials
Run for Love 2: Run with Pets & Dog Fashion Show
What: The Run for Love event, in its second year, is the perfect way to get active with your best furry friend. From 6 AM onwards, you'll get to run with your beloved dog down the wide streets of Paniqui (just make sure you train well before the event). Afterward, there will be a fashion show at 10:00 AM where you can dress up your dogs in their snazziest casual and evening wear outfits. Walk your pets down the runway to get the chance to win Php5,000 cash!
When: May 19; 6 AM to 12 PM
Where: Paniqui Public Oval, Paniqui, Tarlac
Registration: To register, visit the Petstacular Pet Clinic at Carapdapan Street or call 09987910875. Pre-Registration Fee is Php150; On-site Registration Fee is Php250
Whether you're a proud dog mama or a doting feline mom, celebrate Mother's Day with your furry loves. After all, you've worked well enough to take care of your pet. It's time you got into the spirit of this event, too.
Katrina Tankeh
Writes, eats, and dances with an incomparable vigor but is only really good at one of those things.