If you're feeling slumped, watch these movies to cheer yourself a little more. Let go of the baggage that's keeping you from totally enjoying life. Move on, move forward! These quotable lines from movies are here to remind you of that:
1. 10 Things I Hate About You
 "Don't let anyone ever make you feel like you don't deserve what you want."
Here, Cameron and Patrick are talking about the girl that Cameron likes. Patrick tells Cameron to go for the girl. Meanwhile, this quote is also applicable to people with partners who seem to be dragging them down. Partners are supposed to cheer you up, inspire you, and make you better or feel better.
2. He's Just Not That Into You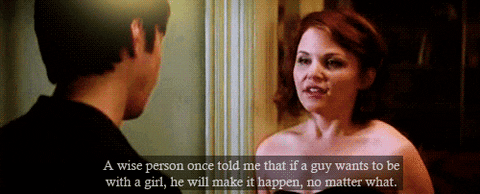 "If a guy wants to be with a girl, he will make it happen, no matter what."
The truth hurts, but you don't need to prolong the hurt (and make yourself look desperate) by denying what is already obvious and by trying too hard to be liked by people who couldn't care less. Not all the people you like will like you back. Devote your time more to people who love and appreciate you just the way you are.
3. The Lion King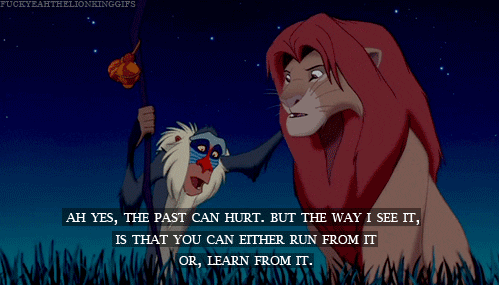 "Ah, yes. The past can hurt. But the way I see it is that you can either run from it or learn from it." 
Rafiki couldn't be more right when he told this to Simba. We cannot do anything to change the past as it is already done, but we can do many things at present to make our future so much better than the past. No need to be afraid of the past, it belongs there as it should be.
4. That Thing Called Tadhana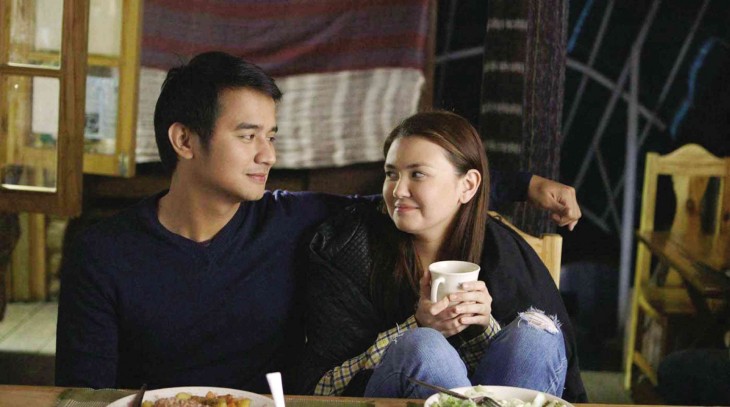 "'Yung ganyang kalaking pagmamahal, ganyang overwhelming love, imposibleng walang pupuntahan, e. May mababalik sa'yong pagmamahal. Not necessarily sa taong pinagbigyan mo, pero sigurado ako, mababalik 'yan sa'yo."
Ah, this is just one of the hugot quotes from the latest much-loved movie of the sawi and self-proclaimed "tatanga-tanga sa pag-ibig"! It might not be the best relationship and it is not what you hoped it would be, but don't lose faith in love. In time, with the right person, loving will be as easy as breathing and will be one of the best feelings in the world.
5. My Amnesia Girl
"Dapat wala ka nang pakialam. Kasi the fact na nagagalit ka pa, ibig sabihin may pagmamahal pa."
When you let go of a person, learn to let go of all the feelings you shared, both good and bad. It's difficult to forgive someone who has hurt you very much, but as they say (and based from experience), moving on starts with forgiving the person who hurt you. Forgiving him means you're ready to leave the burden and start anew happily. 'Pag naka-move on ka na, kebs na!
[crp]
6. It Takes A Man and A Woman
 "People change. Nothing stays the same forever. Change is bound to happen."
That is the course of life, so we adjust, adjust, and constantly adjust. We cannot (must not) let one setback define the rest of our lives.
7. The Perks of Being a Wallflower
 "We accept the love we think we deserve."
We have the last say on who we love. If you think you deserve the best, then let go of people who hurt you again and again. It's just really up to you to save yourself from heartbreak. Love smarter.
8. English Only, Please
"Darating din 'yung tao na 'di ka iiwan. Siyempre, magkakamali ka at mag-aaway kayo, pero nandiyan lang siya para sa'yo."
An on-and-off relationship is stressful. It shouldn't get the best of you. There is someone out there who is better than the man who keeps on breaking up with you every time a misunderstanding or a fight stirs up. A committed and sincere man knows how to compromise.
9. Big Hero 6
"It is okay to cry. Crying is a natural response to pain."
Don't think about what others say. Be honest with yourself, that's what matters more. After you've let go of the pain and heavy feeling inside you, you'll start to feel more ready to move on.
10. Celeste and Jesse Forever
"Do you wanna be right or wanna be happy? Sometimes the end is just the beginning!"
When something concludes, we bring with us new lessons that we can use in the beginning of something new.
Which of these quotes are your favorite? Are there quotes that have touched you that you would like to share? Leave a comment!