Sometimes, we think we are in love with someone, but it's really just infatuation; we're just in love with the idea of being in love. When this is the case, it can be hard to know for sure. Things can always change, and maybe you'll grow to love him, right? While that may be true, sometimes, a guy just really isn't the guy for you, and here's some signs to look out for that show he's not the one.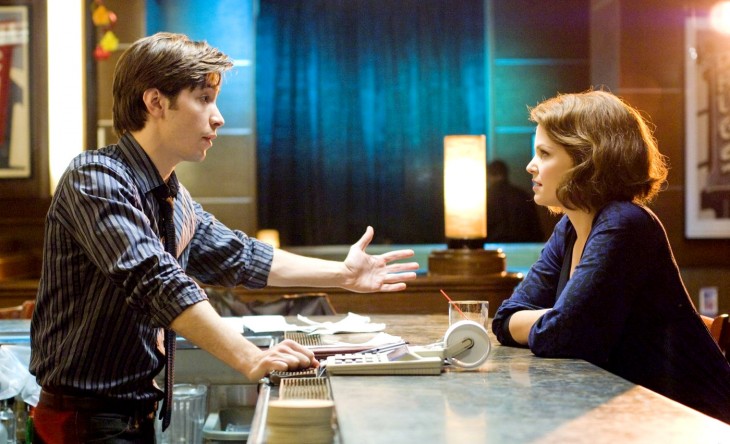 1) He's just your boyfriend, not your friend.
Any lasting relationship has to have more than romance and chemistry, there has to be a friendship there as well. If he's the guy for you, you should be able to just hang out with him sometimes; every moment shouldn't just be about PDA. If you don't consider him your friend on any level, just a boyfriend, then he's probably not the guy for you.
2) You're not attracted to him.
Just as important as friendship is in a relationship, so is chemistry. A good relationship will have a solid friendship to grow on, but there also has to be sexual chemistry and compatibility. Attraction is what turns a friend into a boyfriend. If you feel as sexually attracted to your guy as you do to your platonic best friend, or if you love him like a sibling, he's not the one.
3) He makes you feel judged.
If your guy is The One, you should feel comfortable with him and able to be true to yourself without any judgement. If your guy has you constantly rethinking things you want to do or say because you're worried how he's going to react, then he's definitely not the one for you. The right guy will like you for who you are.
4) He's got flaws that you can't live with.
Stop thinking, "I can change him," because you won't, and you shouldn't. Just as your guy should accept you for who you are, if you're with the right man, you're going to love him, flaws and all. If you find yourself too bothered by what you consider his flaws and faults, it's not fair to either you or him because clearly, he's not the guy you want to be with.
5) He's not the one you go to when you need comforting.
A boyfriend should be more than just arm candy; he should be the person who knows how to comfort you when you're upset and offers his support when you need it. If your man isn't a person you want to turn to when you're feeling down or have something on your mind, he's not the right guy for you. The right guy will be someone you never hesitate to go to with your worries and concerns.
6) Your morals and beliefs are too incompatible.
Sure, they say that opposites attract, and that can be true, but there is such a thing as too opposite. If you want kids and he doesn't, if you never want to get married but he does, if one of you is hardcore religious and the other refuses to set foot in a church. Some of these things can be worked out, but if there's just too many major conflicts, he's probably not the right guy for you.
7) He doesn't make you a priority.
If he's the right guy for you, and if you're the right woman for him, you should have enough respect for each other to put your relationship and each other's needs ahead of certain things. If he's always making plans to go out with his guy friends but never seems to have time to hang with you, or if he cancels plans you already had when something else comes along, he's not prioritizing you like you deserve.
8) You don't trust him.
Trust is one of the most essential components in a relationship. Even if he's never been caught doing something to break your trust in him, if you have this constant paranoia that he's up to something sketchy or he's hiding things from you, you should listen to your gut. If you can't trust your guy, trust your gut and get rid of him because when you're with the right guy, trust shouldn't be an issue.
9) He won't talk about the future with you.
If you're with the right guy, it should just feel right. The right guy won't be afraid to discuss a future with you, or to make long-term plans, even if it's just daydreaming about the future and not necessarily set-in-stone. If your guy doesn't like to talk about the future as a couple, then he likely doesn't see one with you, and that's a pretty clear sign that he isn't the guy for you.
10) If you're reading this article, he's probably not the one.
If you're having such doubts about your guy that you feel it's necessary to read articles like this one, he's probably not the one for you. If you were with the right guy, you wouldn't have to second-guess it, you'd just know. If you're having real doubts and misgivings about your relationship with him, you're clearly not happy.
If you find that way too many of these things resonated with your guy and your relationship, it may be time to start thinking about whether the relationship is worth pursuing any longer. If you're just in it for the fun times and good memories, great, because that's probably all you'll get out of a relationship where too many of these signs describe it.
Featured image from Reality Bites courtesy of United International Pictures
Janessa Abigail Hizon
Abby is from the USA and moved to the Philippines to be with her husband, David Christopher Hizon, who also happens to be her photographer for most of her writing endeavors. A gamer, a bookworm, an animal lover and a self-proclaimed foodie, she is passionate about everything that she does and hopes that will come across in her writing. Follow her at http://facebook.com/WritersInTandem & http://www.thewritersintandem.wordpress.com