Grisel Garcia
A writer and wanderlust. Likes coffee, but loves tea. Lives…
Italy suffered the worst from the COVID-19 pandemic among European countries, and recorded one of the highest number of fatalities globally.
Although many people sent love and messages of hope, travelers expressed deep sadness from hearing the misfortune of one of the world's most loved destinations. Reports are coming out that they're seeing a flattening of the curve, but it will take a while before we can hop on the plane to visit the country again.
I'm one of those lucky enough to travel to Italy before the pandemic plunged the world into chaos.
But one article is not enough to tell you about all the places and wonders it has to offer, so I'll focus on one city I really came there to see: Florence.
A Flourishing City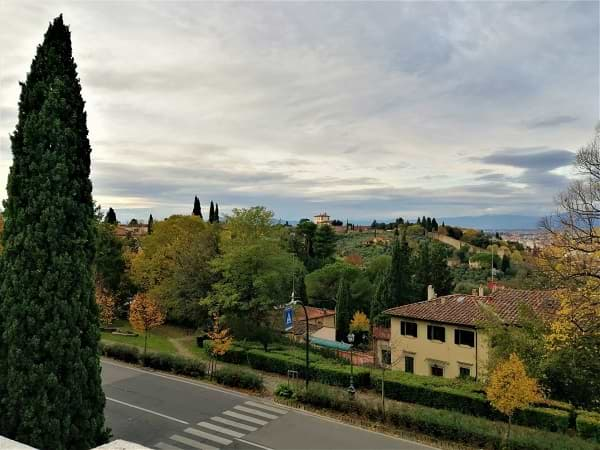 "Don't you agree, that on one's first visit to Florence, one must have a room with a view? " — New Lucy, A Room with a View
I didn't have one. Alas, budget constraints and logistics forced upon me a more practical option. But that didn't put a dent on the whole experience.
I chose a small hotel that was a 5- to 10-minute walk to everything. Close to the Stazione Santa Maria Novella, the city's main train station, and the bus terminal because I had planned some day trips out of the city.
The Cattedrale di Santa Maria del Fiore, or the Duomo, was about 10 minutes away, so were the galleries, museums, and the Ponte Vecchio on the Arno river. So I didn't miss the view at all. The city is walkable, and walking along the ancient cobbled streets and old buildings was a genuine pleasure.
They say everything in Florence is old. Being there gives you a glimpse into a rich history and tangible treasures of this once (and still) flourishing city.
The Cradle of Renaissance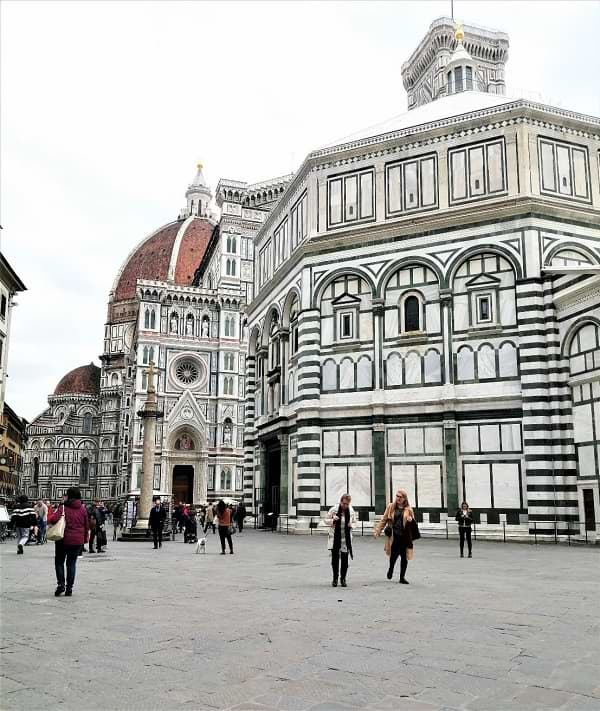 There are so many things to do in Florence, you'll seriously need to make a list.
Upon arriving, the first thing you would want to see is the Duomo. It has been the heart of the city since it was completed in 1436. The dome was designed by Filippo Brunelleschi and was financed by the Medici family who were great patrons of the art and ruled Florence for about 150 years.
The dome alone stands at 376 feet, making the cathedral the highest structure in the city. Today it is also known as Brunelleschi's dome.  The interior of the dome is equally interesting. It features the biggest fresco inside the cathedral, The Last Judgment, by Giorgio Vasari.
Right in front of the Duomo is the Battistero di San Giovanni. The baptistery enjoys almost equal attention for many reasons. There are the Eastern golden doors (actually made of bronze) known as the Gates of Paradise after a famous quotation by Michelangelo. And inside is the magnificent octagonal ceiling featuring mosaics of The Last Judgment created by a Franciscan friar, Jacobus. Not to be confused by the fresco inside the Duomo. In those times, artists liked to visualize the end of time.
A visit inside the cathedral is free, but you'll need a ticket to tour the museum, climb the tower and the dome, where you'll have an amazing view of the city, and the enter baptistery. You can buy a pass for €18 (P996.09, at current exchange) for all of these.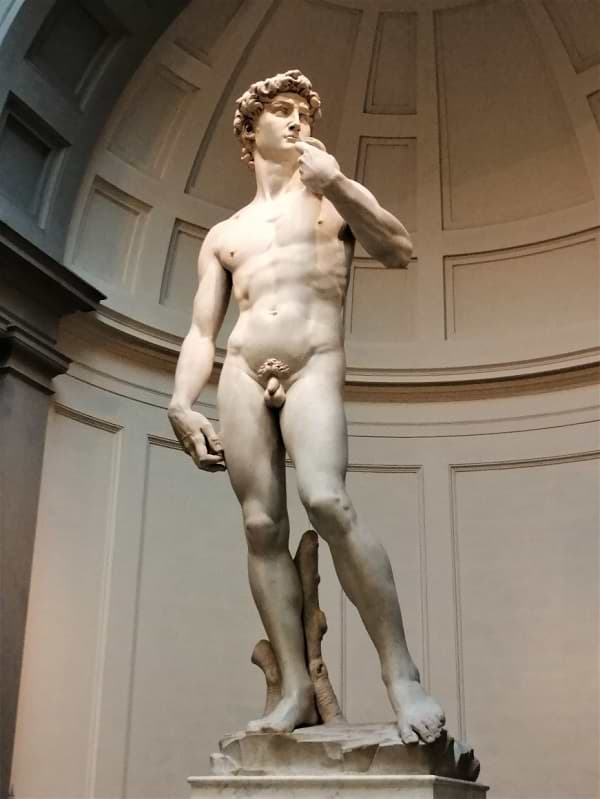 It's fair to say that you go to Florence because you want to see the art. Therefore, the next items on your itinerary should be the two great art museums: Uffizi Gallery and the Accademia. 
The Accademia is home to Michelangelo's original marble sculpture of David, along with important works by many Renaissance masters. It's smaller and less crowded than the Uffizi, which houses over 2,000 works of art. You will find here Florence's most loved masterpieces, like the Madonna and Child by Fra Filippo Lippi; Leonardo Da Vinci's The Annunciation; and, of course, Sandro Botticelli's Primavera and Birth of Venus.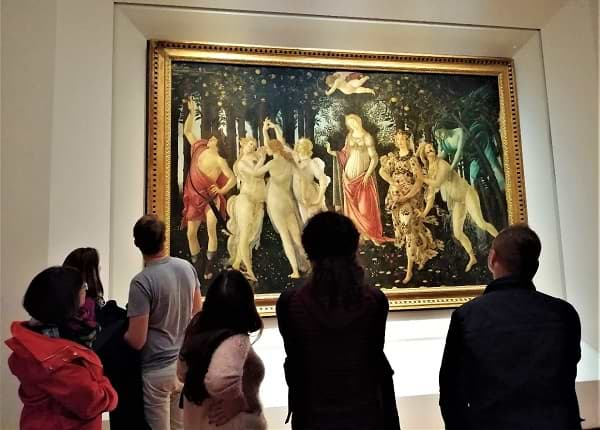 It's best to book your tickets online in advance as the lines can get long. Tickets are at €16 (P885.41, at current exchange) each and allows you to skip the line when you get there. There are many other museums in Florence so if you have the time, try to see as many as you can.
Beyond the Arno
From the Uffizi, you're a stone's throw away from Ponte Vecchio, which connects the historic center to Oltrarno (literally means beyond the Arno).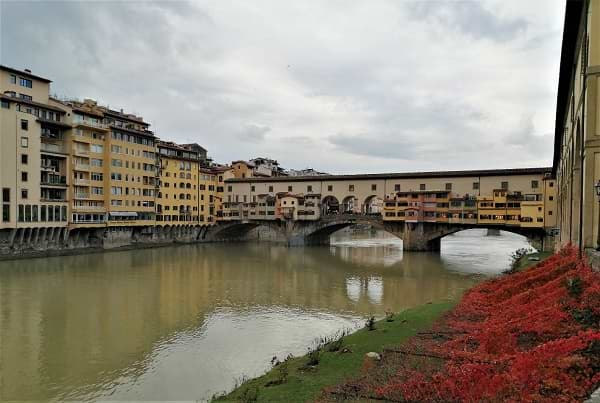 Oltrarno is less busy and where you can find authentic osterias and quaint shops, many have been there for centuries. Some say you go here if you want to mix with the locals. You'll also find here some points of interest, like the Palazzo Pitti, a former Medici residence, then behind it is the vast Boboli Gardens.
A short walk away is the Basilica di Santo Spirito and a small piazza in front where you can relax in the cafes and restaurants. Inside the church is another Renaissance jewel. One of Michelangelo's early works, a wooden crucifix, made when he was just 18 years old.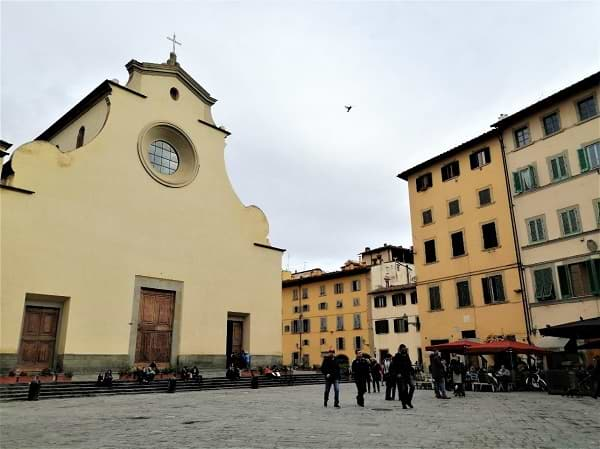 The highlights of your wandering across the river are the hilltop views that give you a panoramic sweep of the historic center. Hop on Bus no. 12 that will take you to San Miniato al Monte, a basilica standing atop one of the highest points of Florence, and the popular Piazzale Michelangelo.
Bus no. 12 has a stop near Palazzo Pitti, but the easiest stop to find is in front of Stazione Santa Maria Novella. You can buy the ticket (€1.50, or P 83.01, at current exchange) at the bus, but sometimes they run out. So it's best to get them at the bus station (SITA) just near the Stazione. Each ticket is valid for 90 minutes of multiple rides, but I decided to purchase several tickets, so I didn't have to worry about time running out and paying the fine.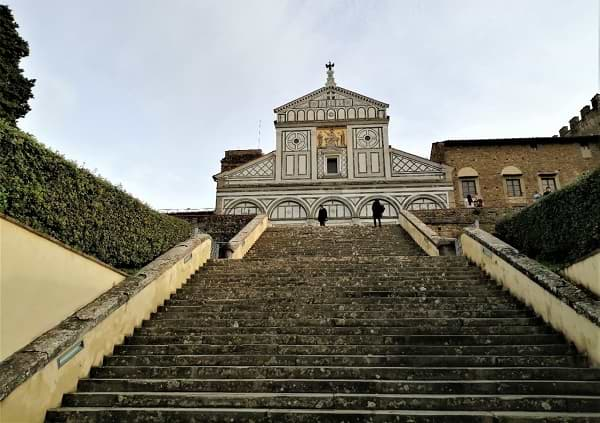 Don't forget to validate your ticket at the machine upon entering the bus, if you don't they can also slap you with a fine of up to €50 (P2,766.90, at current exchange) if an inspector happens to be doing his rounds. From Piazzale Michelangelo, take Bus no. 13 to go back to the city center.
Monuments, Churches, and Where to Eat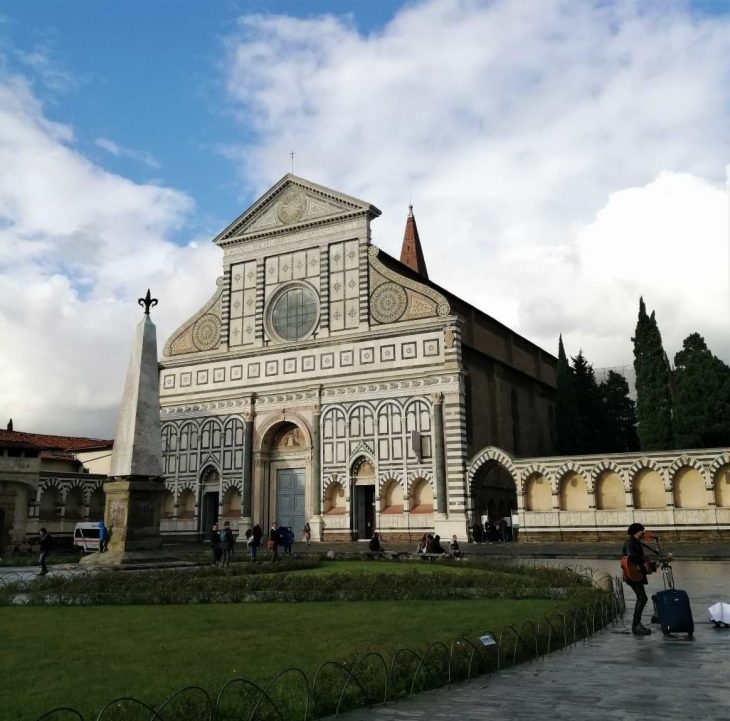 Back at the center, there are tons more to explore. I made Florence my base for my Italy trip; I dedicated five days to the city alone and still wasn't able to fully see the entirety of it. It's not that big either, it's just that the city is teeming with art, monuments, and galleries.
Florence is home to about 70 churches. Yes, at every turn you will find one. Other than the Duomo, there are a few must-visit ones, like the Church of San Marco that is adorned by frescoes by Florentine artists; the Santa Maria Novella (my personal favorite) with its Gothic design housing classic works by great masters, including Filippino Lippi and Ghirlandaio; the San Lorenzo, a monumental complex for the Medici family and where you'll find the family tomb with sculptures by Michelangelo; and Santa Croce, which is also the burial place for Michelangelo, Galileo, and Machiavelli.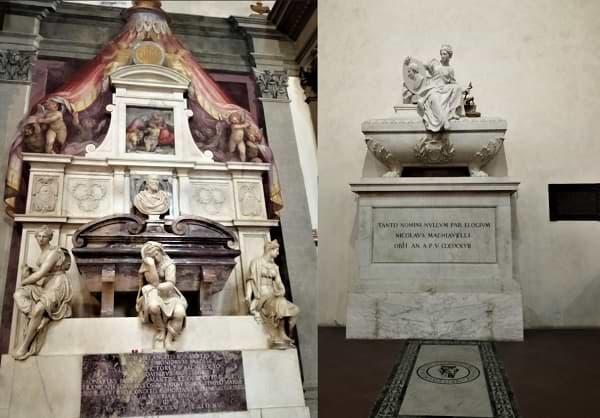 A couple of museums I regretted not visiting was the House of Dante Alighieri and the Leonardo Da Vinci Museum, which features an exhibition of his inventions and prototypes, like the Flying Machine.
For affordable grub, buy them from the small food trucks or sandwich shops. Most recommended by travelers is the All'Antico Vinaio, but the lines are always too long so I opted out. Florence has hundreds of other sandwich shops and hole in the wall restaurants, you won't go hungry.
Locals and visitors alike would usually go to Mercato Centrale. The first floor is for raw meat and produce and where you can buy cheese, coffee, and olive oil. On the second floor is a big food court that offers a good selection for a fair price.
Gelato is a big attraction all over Italy, and in Florence you won't miss them. Unfortunately, I was there in late autumn, so I didn't crave much for frozen treats. But I did try some and you'd be happy to know that our local gelaterias here pretty much got the formula right.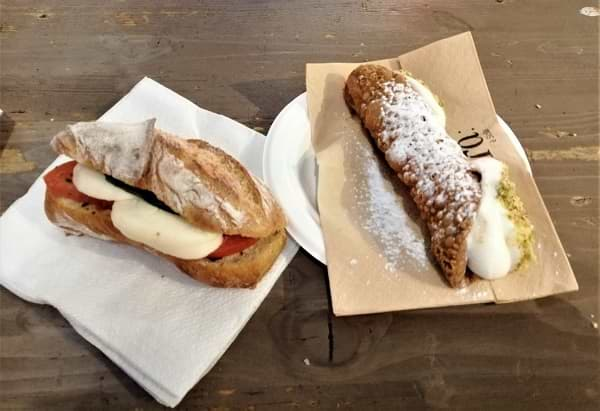 If you like steaks, I urge you to splurge at least once on the bistecca alla Fiorentina, Florence's favorite dish. It will cost you at least €25 (P1,383.45, at current exchange), but it's about 2-3 fingers thick and weighs approximately 1 to 1.5 kilo. Therefore, it's meant for sharing and you can split the cost with a friend. Pair it with red wine and your meal is perfect.  Just ask for the house wine, so it's not expensive; you're in Italy, you won't find bad wine here.
More to See, Next Time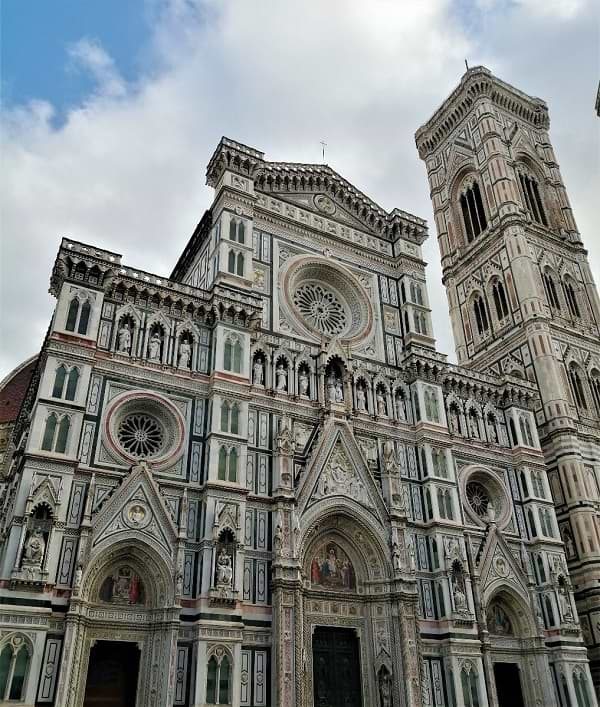 My itinerary was full but flexible. I was on holiday, after all. I didn't want to cram too many activities that at the end everything would just seem a flurry of events I could barely remember. No, I was going to absorb every bit of detail. 
When the coronavirus pandemic ends, Italy would be on everyone's travel list. I, for one, am planning to return to Florence. Soon, its deserted streets will come back to life and lure every art-loving visitor again.
Ciao, for now.
Grisel Garcia
A writer and wanderlust. Likes coffee, but loves tea. Lives on good food, good books, and wonderful conversations.