Daphne Bual
A lover of stories, parks, animals, rainy days, and hot…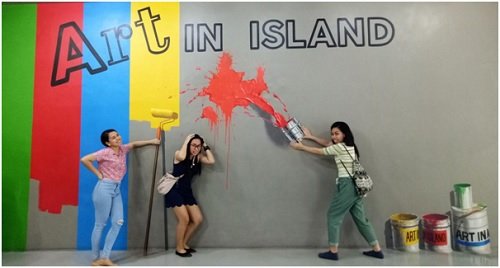 Filipinos love to take pictures, but I daresay we like to pose for them even more! Whenever there's a photo-worthy background, whether it's an overlooking view or the signage of a famous tourist spot, someone would likely say, "Picture tayo!"
So when I learned about this 3D, interactive museum in Cubao, I immediately wanted to go. I'm not fond of taking selfies and prefer to take pictures of objects rather than people, but this place just screamed, "FUN!" so I was all for it.
Asia's Largest 3D Museum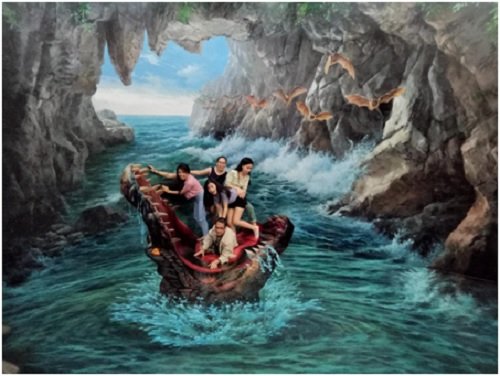 Art In Island opened in December 2014. Its CEO and founder is South Korean Yun Jae Kyoung, and a team of Korean painters created its 3D artworks. There are over 200 art pieces (that's at least 200 pictures if you're going to pose for each one!) and all of them are interactive. They also cover every inch of the place. Before you know it, you're flat on your belly, crawling on all fours, and clinging on the walls.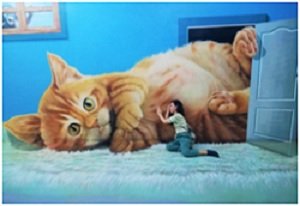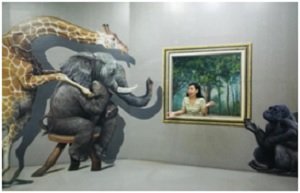 The museum has several themes, like underwater scenes, jungle animals, framed portraits, ancient ruins, religious icons, European sites, and wintery Christmas.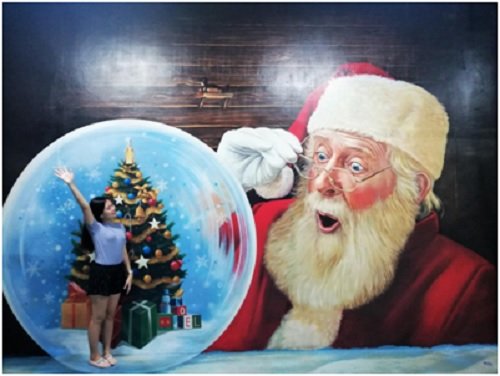 The realistic paintings created an illusion of depth when viewed from certain angles. All you have to do is follow floor markers that show the angle and distance that let you take the best photos.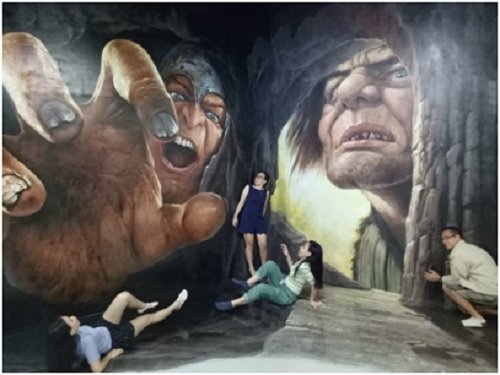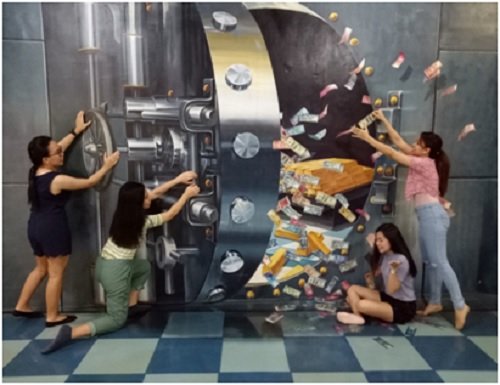 I went to Art In Island with my family at 11 in the morning. We spent almost three hours inside, skipped lunch and all, and we didn't even realize it! We had so much fun running from one 3D art to the next and coming up with the most outrageous poses.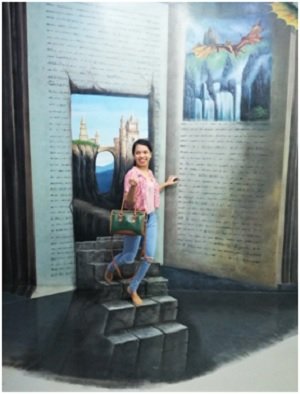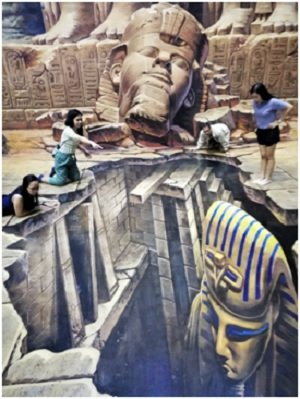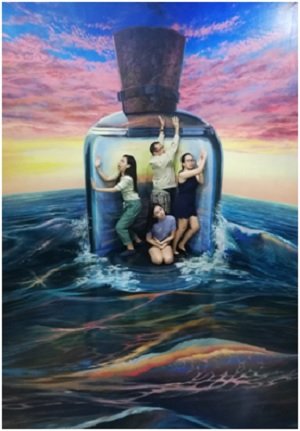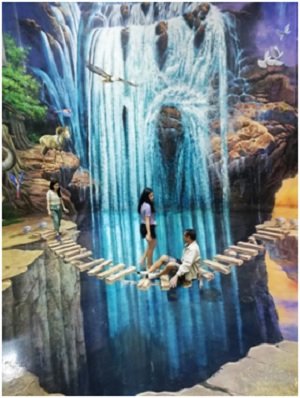 Here's a cheat-sheet for those who're going to the museum for the first time.
Entrance Fee
P500 regular, P400 for students and senior citizens (a bit pricey, yes, but you'll be spending hours in the museum, and leave with tons of pictures and happy memories). The museum doesn't accept credit cards, by the way.
Things to bring
A fully-charged phone or camera and a powerbank.
What to wear
Comfortable clothes that let you move freely. Avoid wearing skirts here, ladies! You'll be asked to take off your shoes, too, so wear socks. It's more comfortable gliding across the floor with covered than walking barefoot.
When to go
Mornings are the best time to go to Art In Island. There are fewer people around, so you can take pictures and linger.
How to get there
From Mandaluyong, we rode the MRT to Araneta station and then booked a Grab to Art In Island. Commuting all the way to the museum can be tricky because jeepneys don't pass right in front of the place.
Upon entering
Besides your shoes, you'll also be asked to check-in large bags. Food and drinks aren't allowed inside, too.
3D Art + Media Art: Art In Island's Light Show
At designated hours of the day, the staff will usher everyone into the main hall for the media and lights show. It is one of Art In Island's main attractions. The show, which happens in the cavernous main hall, combines the wall and floor artworks with projection mapping and sound effects. It is a must-watch, so make sure to find a good seat.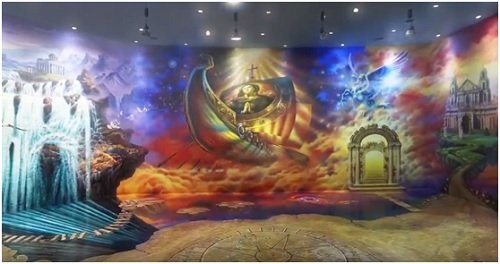 Art In Island is an ideal bonding place for families and friends. Tourist or local, young and old, everyone will have a great time taking posing and taking pictures here. You can be as wacky as you can (the crazier, the better!) and no one will judge or make fun of you. It's the perfect place for frustrated photographers, models, and people who enjoy taking fun photos with family and friends. I highly recommend it to tourists who don't have time to explore or go beyond Metro Manila.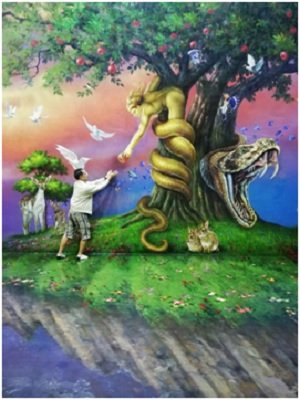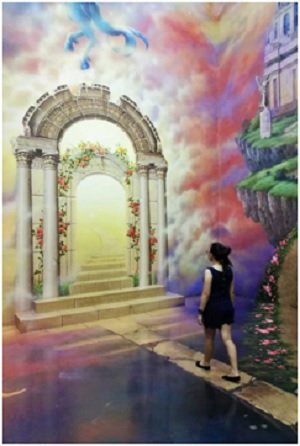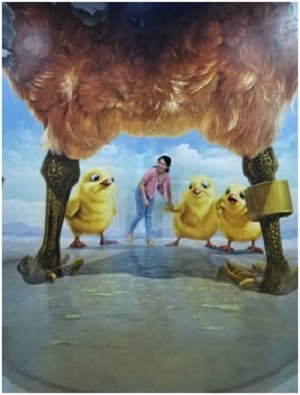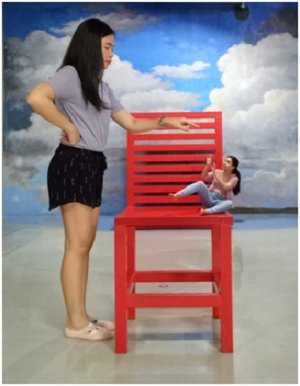 At Art In Island, you don't have to be a graphic artist or Adobe Photoshop expert to create ethereal, imaginative, and out-of-this-world images. You only have to unleash your inner kid and let your creativity flow.
Art In Island is at 175 15th Avenue, Brgy. Socorro, Cubao, Quezon City. Visit their Facebook page for updates and other information.
Daphne Bual
A lover of stories, parks, animals, rainy days, and hot chocolate, she believes that the best remedies for bad days are three servings of french fries and one whole rainbow cake.