Bea Mandac
Bea loves East Asian pop culture, and watching figure skating…
[video src="https://www.instagram.com/p/BsAiyPKjc4F/"][video src="https://www.instagram.com/p/BuccnRwjzHV/"][video src="https://www.instagram.com/p/BoWJ1K_HzFH/"][video src="https://www.instagram.com/p/BtoAm1ngj7N/"][video src="https://www.instagram.com/p/Bv84raRjeYW/"]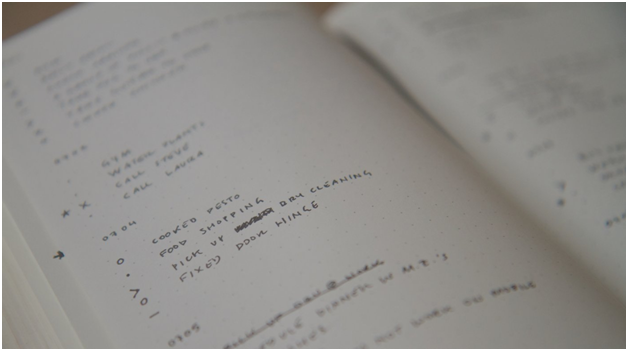 It's always necessary to keep track of things — what we've done, what we need to do, and what we aim to do. Plenty of productivity tools (think: planners) and apps help make sure we remember stuff, cross items off our to-do list, and keep us in progress with our future goals.
Sometimes, though, these tools are not flexible enough to meet all of your needs.
For example, a fitness app can track your weight loss journey, but not your meal plans. You might have a long to-do list, but your planner may accommodate only a limited number of bullet points.
Enter: the bullet journal method.
What is a Bullet Journal?
Founder Ryder Carroll describes a bullet journal as "an analog system for the digital age." Unlike other planners or productivity apps, a bullet journal is whatever you want it to be: a calendar, to-do list, sketchbook, or meal planner.
The bullet journal uses familiar organization methods used in productivity tools, such as page numbers, page titles, and bulleted lists. The difference is how they work together. Like Legos, the methods can be combined or are interchangeable. You pick and choose the methods based on your needs, or better yet, you can create your own methods.
Why Bullet Journal
I stumbled upon the bullet journal system in 2016. I was juggling my full-time job, a master's degree, and a couple of passion projects. With my comprehensive exams coming up, I needed to make sure I schedule my time wisely so that I'm productive in all of my activities.
Someone on my Twitter feed recommended I check the #studyblr tag on Tumblr, which led to the #bujo ("bullet journal" for short) tag, and the rest, as they say, is history. I've become a full-time bullet journalist since then.
Since it launched in 2008, the bullet journal method has helped a lot of people, and several bullet journalists have contributed to creating systems to track fitness goals, monitor stress levels, track savings, and observe mental health. These are five common reasons why people find bullet journaling effective:
It consolidates everything you write down.
When you keep notes in various places — on a notebook, on your phone, on sticky notes, or a Twitter thread — a bullet journal makes it easy for you to remember what you've written. It helps to have a combined space to write anything you can come up with instead of keeping them in your head.
It's an effective productivity tool.
A bullet journal lets you note down work-related tasks, chores like doing your bed, the music your friends recommended you to listen, and the TV shows you plan to watch over the weekend. Noting them down gives you a concrete plan to do them and check them off, encouraging you to persevere with your tasks.
It encourages you to add whatever you want.
A bullet journal is essentially a blank notebook, and it's up to you what you want to add in it. You might be tempted to add new sections, such as a weight loss tracker, a to-read list, a travel log, or a savings tracker. The possibilities are endless.
It boosts creativity.
Aside from being a productivity tool, the bullet journal also serves as a creative outlet. You can use stickers, highlighters, and washi tapes to make your notebook unique. Because the notebook doesn't constrain you with pre-made designs, you are free to color-code sections and doodle on pages.
It keeps you accountable toward reaching your goals
Whether you want to go to the gym more often, bond with loved ones,or take care of your mental health, a bullet journal keeps you accountable. When you make a space in your journal for these items, you have a more tangible way of keeping track of the small tasks that allow you to reach your goal.
Getting Started
Most of the bullet journalists you'll find on the Internet are more likely to use a set of brush pens, colored markers, washi tape, and other stationery. If you're just getting started, there's no need to go all out at first. In fact, all you need to start a bullet journal is a notebook and a pen.
The easiest way to start is by following the original bullet journal system. Be familiar with how his system works before you start experimenting. Here's the basic guide to bullet journaling:
Once you've gotten the hang of bullet journaling, feel free to seek inspirations on Instagram or Pinterest. You can also watch flip-throughs and Plan WithMe's, in which popular bullet journalists like Kara from Boho Berry and Amanda Rach Lee demonstrate how they create their spreads for the month:
Eventually, you'll move on from recreating spreads of other bullet journalists to coming up with your own style. You might change the style every so often or stick to what makes you comfortable. Maybe you'll decide you want to make more doodles, focus on tracking fitness habits, or check the progress of a novel you're working on.
And that's the beauty of bullet journaling. You're not restrained to fixed designs in a planner. It's all about figuring out what your goals are and how you're going to meet them. And if you decide that going for a minimalist design or adding a splash of color helps do the trick, then do it.
The world of bullet journaling is overwhelming at first, but it's a fun place to be in once you dive in. It's an effective way to improve productivity, creativity, and organization. The best part is you get to decide how you want to meet your goals without going around the constraints of a traditional planner or organizer.
Just remember: Your bullet journal doesn't have to be perfect. No bullet journal is perfect. But it is all you — and that's what matters.
Bea Mandac
Bea loves East Asian pop culture, and watching figure skating competitions and musicals. She's also KStreetManila's Writing Head.