Jules Ruizol
Jules' main passion lies in performing, whether it's singing, dancing,…
[video src="https://www.instagram.com/p/BkadgUKHZKR/?taken-by=inseouciant"][video src="https://www.instagram.com/p/BkadtkanCdf/?taken-by=inseouciant"][video src="https://www.instagram.com/p/BkcJwEanf9u/?taken-by=inseouciant"][video src="https://www.instagram.com/p/BkaeDfGnpLG/?taken-by=inseouciant"]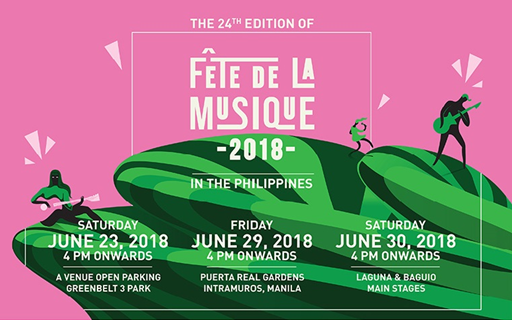 Since the late '90s, local audiophiles have looked forward to the third week of June, which is what they refer to as "Fête season."
Fête de la Musique, which translates to "music festival," is an international event celebrated in over 100 countries and organized by each country's respective French cultural centers.
What makes Fête de la Musique special is that it is a city-wide festival that happens in different venues, all at the same time. This year's edition, for example, had two main stages and 37 pocket stages all over Makati. Each pocket stage hosted a different kind of theme or genre.
I first heard of the festival in 2016. Being an avid music lover who enjoys a wide range of music styles, I have always wanted to experience hopping from one bar to another and see as many bands of different genres as I can.
Like scenes from "Nick and Norah's Infinite Playlist," I finally had the chance to put my bar hopping skills to the test.
Poblacion Leg
The rainy weather held me back from getting started as early as I planned. I ended up starting my Fête journey at 5 PM. I was set on only visiting the pocket stages knowing that the crowds at the main stages in Greenbelt and A. Venue would be packed. The performers at the main stages were also names that I have already seen live many times, and my goal at Fête was to experience different genres and discover new bands (I did find a way to see a favorite band toward the end).
Blues/Soul/Funk Stage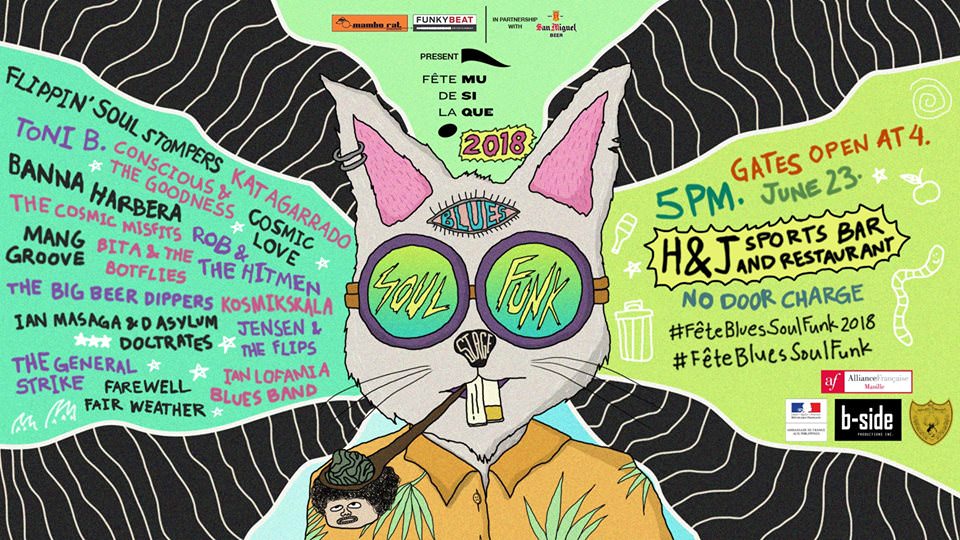 My first stop was at the blues/soul/funk stage at H&J Sports Bar and Restaurant in Poblacion and met with my date who was my partner in crime for the night.
From such seemingly mature genres, I had expected to see music from bands well into their 40s. To my surprise, I was greeted by the music of a young band upon entering the band. Another group of young musicians followed with a solid blues set reminiscent of the Dire Straits. Of course, the soul stage would not be complete without one of Manila's most popular soul acts, Farewell Fair Weather.
It was a pleasant treat to find out that Manila's blues, soul, and funk scene is active and vibrant, and it is even more impressive to find out that young bands are breathing life into it.
His and Her Favorites – Ska Stage and Shoegaze/Dream Pop Stage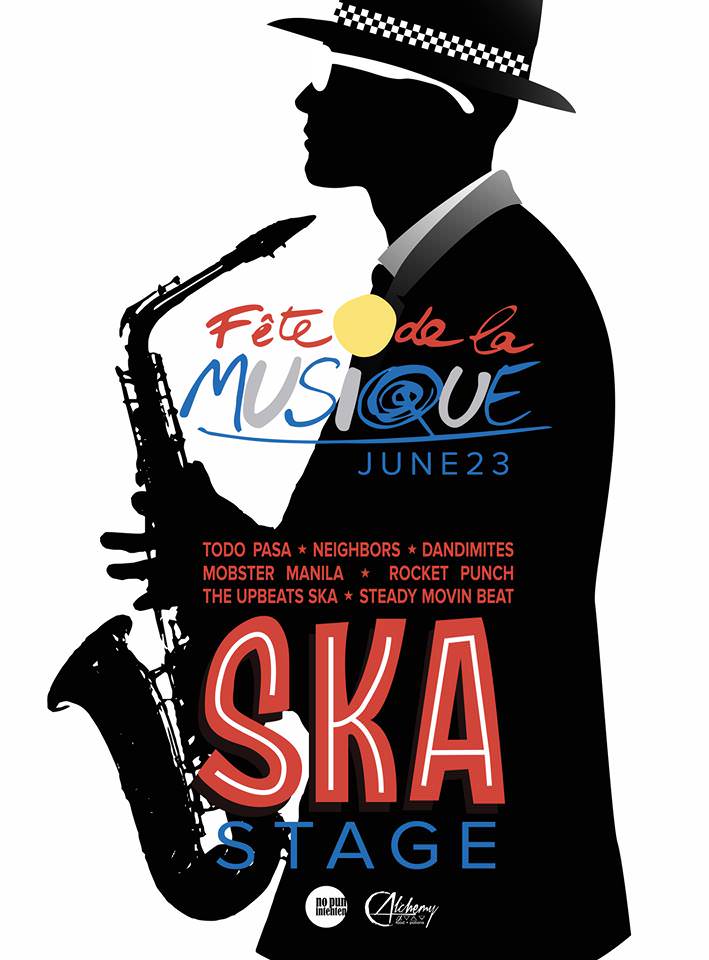 After seeing three bands, I had to decide which stage to go to next. I used the official Fête app, which compiles all the Facebook event pages of all 39 stages and has a map.
Upon discovering that there is a ska stage, my date suggested that we go there since it is one of his favorite genres and he's curious about Manila's ska scene. We went to Alchemy Bistro Bar, which is only at the opposite block. The crowd was much older and more laidback. Ska is not my cup of tea and not something I would willingly listen to, but I definitely liked what I saw.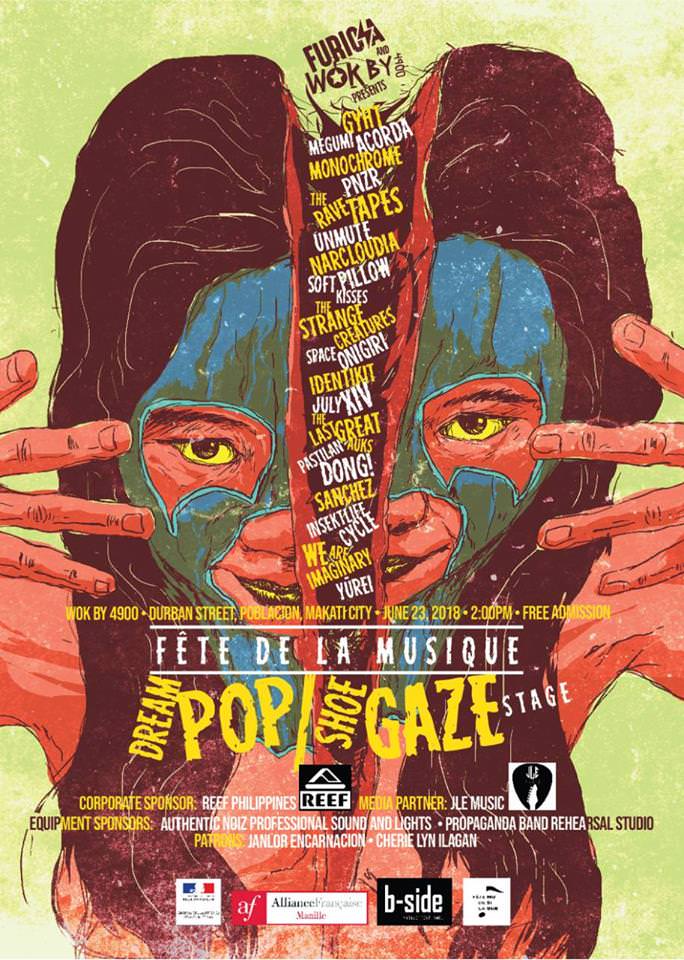 Right in front of Alchemy was WOKby 4900 where the shoegaze/dream pop stage is happening. Shoegaze and dream pop are two of my favorite genres, and I was excited to see that there is a stage dedicated to these bands.
I jokingly and fondly referred to the shoegaze/dream pop stage as the "Mow's stage" because many of the acts were regular performers at Mow's in QC. The overall experience was similar to being at Mow's, too – the young and aloof crowd, the air conditioning system that struggles to cool a small packed room, and the same familiar wall of sound and ambiance that shoegaze/dream pop bands are known to create.
The Grand Finale – Post-Rock/Math Rock Stage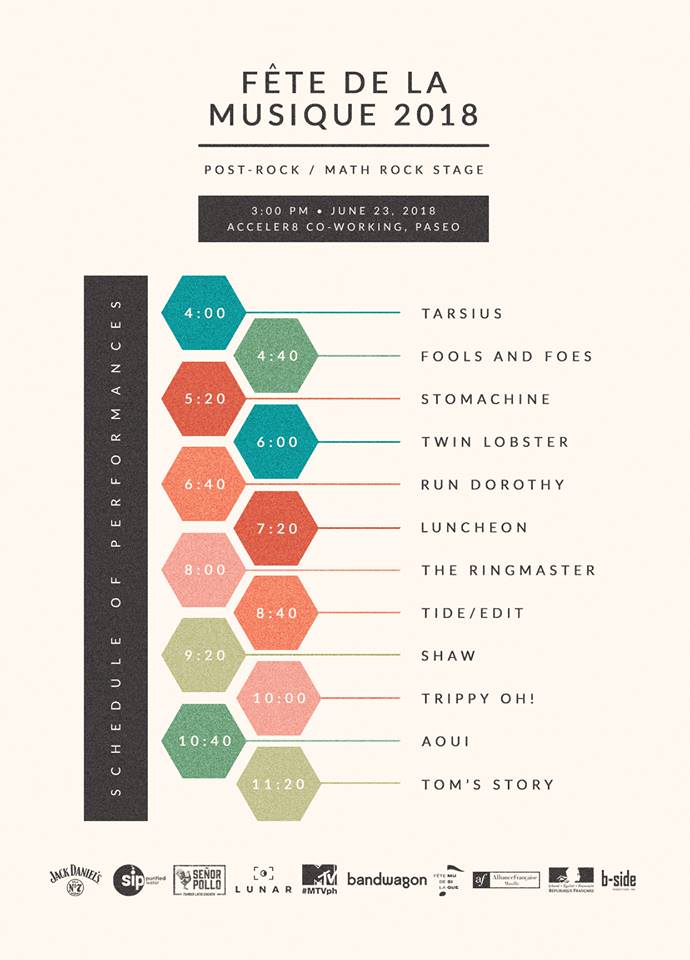 My date and I wanted to see more, but our feet can only handle so much walking. So I thought if we were going to end the night, we should at least end it at one of the best stages.
We made a beeline to Legazpi Village for our final stop at the post-rock/math rock stage at Acceler8. Since most of the stages started at around 4 PM, we caught the last three acts of the lineup, and they were all solid. The place was packed, which only shows that Manila has a great roster of post-rock and math rock bands.
Closing the stage was my favorite local band Tom's Story. As usual, they gave the audience more than what they wanted. Not only did they play crowd favorites, but they also wowed everyone by switching up their songs with effects and improvisation. Tom's Story capped off the stage with their lyricless anthem and set everyone chanting and headbanging the night away.
Four out of 39 stages are not so bad for my first Fête, and I commend anyone who went to more stages.
Jules Ruizol
Jules' main passion lies in performing, whether it's singing, dancing, or acting. Her music preference ranges from obscure indie bands to addictive KPop acts. She balances being girly and geeky with her obsession with makeup and tabletop games. Wes Anderson is the only director that matters.