If you're a coffee drinker in the Philippines, it's likely you know Christmas is fast approaching once Starbucks Coffee rolls out its red cups and planner promotion. Well, this year, that day comes on Monday, November 2. And apart from its signature holiday beverages and planners, the coffee store will also be launching new Starbucks Cards, food items, and merchandise perfect for treating yourself with or gifting to others. Keep reading to see what's on offer.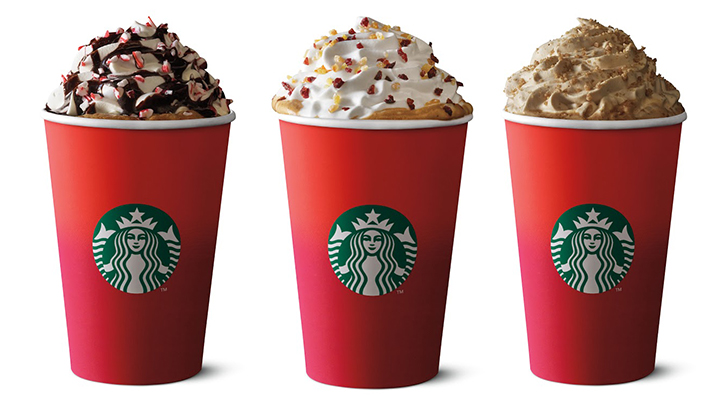 Holiday Beverages
As per usual, two of the Starbucks holiday drinks are returning favorites: Peppermint Mocha and Toffee Nut Latte. While last year, a few tweaks were made to the recipe, Starbucks is returning to the classic recipe this year. The Peppermint Mocha adds peppermint notes to your standard mocha and is topped with whipped cream, mocha drizzle, and red and white candy bits. The Toffee Nut Latte starts with a basic espresso with steamed milk, but Starbucks adds on some toffee nut syrup, whipped cream, and toffee nut sprinkles.
Then of course there's the new holiday beverage for the year: a Christmas Panettone Latte, which starts with a base of roasted espresso and steamed milk, with bread and butter flavors topped off with whipped cream and dried fruits.
All holiday beverages are available hot or over ice for P155 (Short) / P165 (Tall) / P180 (Grande) / P190 / Venti. However, they are also available as Frappuccino blended beverages for P175 (Tall) / P185 (Grande) / P195 (Venti).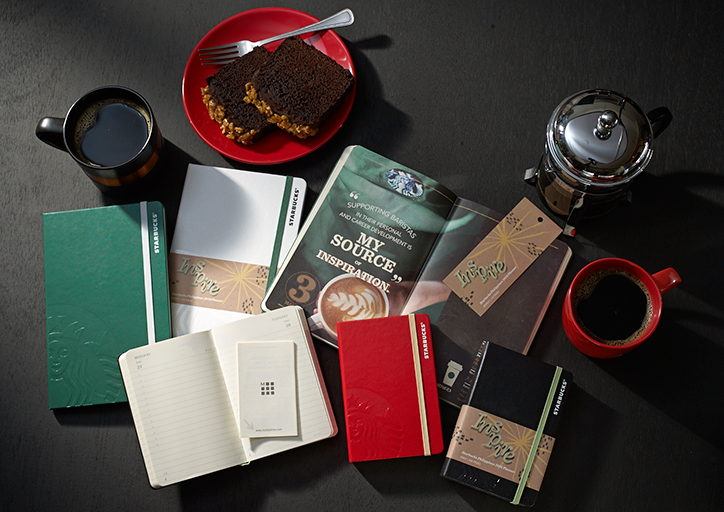 Limited Edition Starbucks by Moleskine 2016 Planner
It's a collaborative year-end celebration for Starbucks this year, as this year, Starbucks has teamed up with three world-renowned brands to add extra oomph to available merchandise and cards. First up is the Limited Edition Starbucks by Moleskine 2016 Planner, which is a collaboration with notebook and journal brand Moleskine (famously used by Vincent van Gogh, Ernest Hemingway, and more). The planner also tied up with nonprofit organizations Teach for the Philippines (TFP) and Philippine Educational Theater Association (PETA), so you'll be able to help them support their advocacies when you avail of and use the planner.
Here's how it works: Avail of a Starbucks Christmas Traditions Promo card from November 2, 2015, to January 7, 2016, with no purchase required. Purchase Starbucks handcrafted beverages during the promo period to collect stickers and fill up the card. You'll need nine Holiday Featured Beverage stickers and nine Starbucks Core Beverage stickers for a fully completed card. You will be allowed to combine up to two (2) promo cards to avail of the planner.
Planning on going Christmas shopping for Starbucks coffee products and merchandise? A single-receipt bulk purchase of food, merchandise, whole-bean coffee, and Starbucks VIA amounting to P7,000 or more entitles you to one Limited Edition Starbucks by Moleskine 2016 Planner. Note that bulk purchase of Starbucks Card load or gift certificates will not be considered for this promo.
Sticker collection is from November 2, 2015, to January 7, 2016. Planner redemption is from November 2, 2015, to March 7, 2016.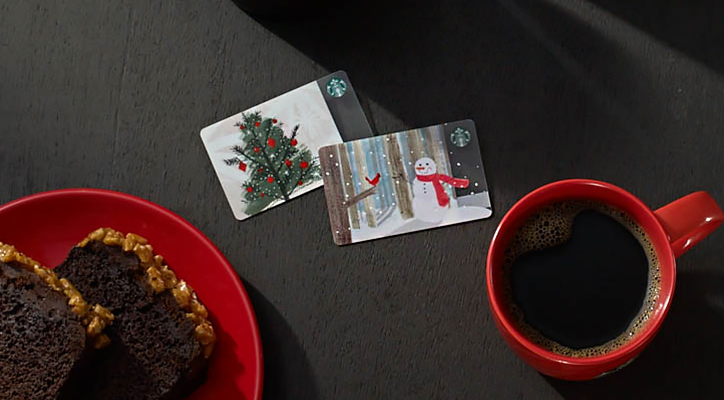 Starbucks Cards
Starbucks will be rolling out a total of six Starbucks Cards over the next few months. Shown above are two of the returning favorites, the Holiday Tree and Snowman cards, which will be available beginning November 2, 2015, for a minimum initial load of P300.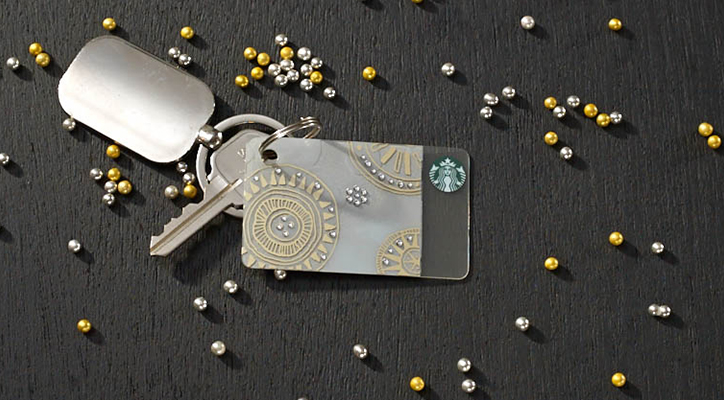 The special limited edition Holiday Mini with Swarovski Crystals card is the product of another of Starbucks Coffee's year-end collaborations. The Starbucks x Swarovski Card features 29 Swarovski crystals in a gold-and-white design that's perfect for the holidays but will remain gorgeous all year round. The card will only be available at a select number of stores beginning November 2, 2015, with an initial consumable load amount of at least P2,500.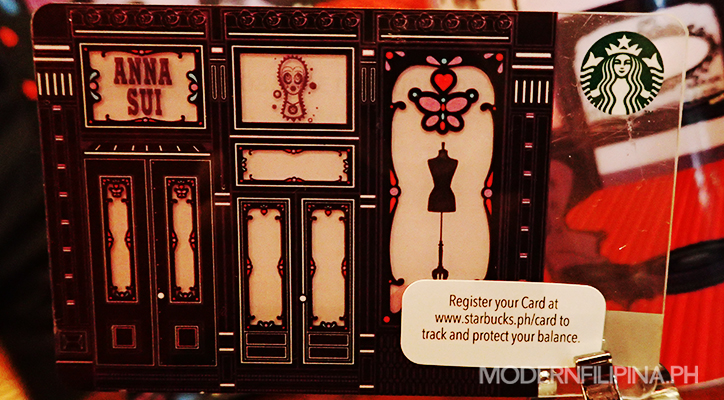 Starbucks has teamed up with another global design brand for the card shown above. The limited edition Starbucks x Anna Sui Card will be available beginning December 1 for an additional consumable load of P1,000. Additional Anna Sui merchandise will also be available; keep reading for more on these items.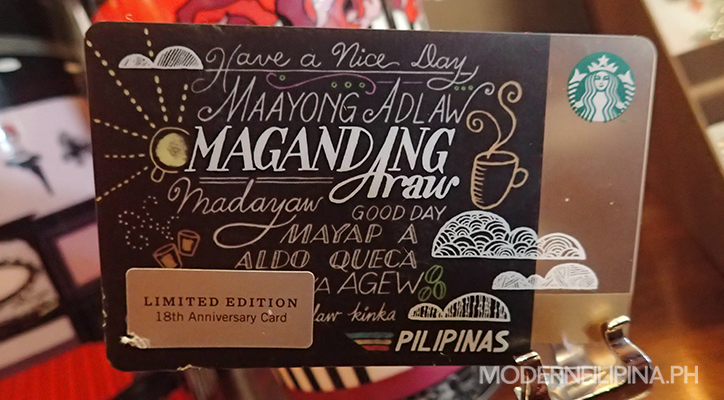 As Starbucks celebrates its 18th anniversary in the Philippines, they are launching another special Philippine-themed card, which they're calling "Dialects," as it features the local translations for the phrase "have a nice day" in all the regions of the Philippines that feature Starbucks Coffee stores. The chalk-art inspired Starbucks Philippines 18th Anniversary Card will be available in stores starting December 4 for an initial consumable load amount of P300.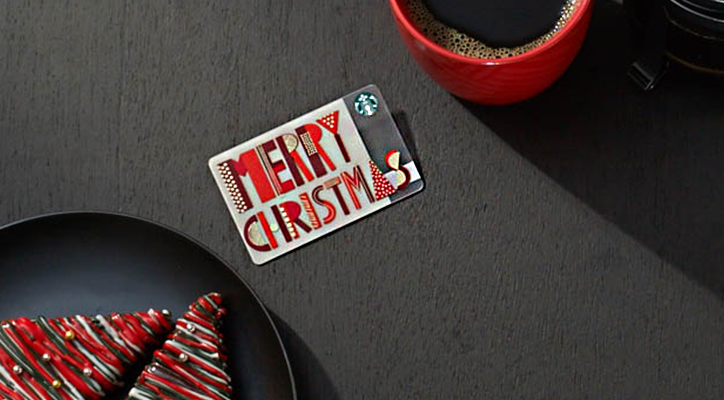 Of course, Starbucks is also offering you a new way to share holiday cheer with your loved ones with a very giftable Merry Christmas card, which will be available beginning December 15 for an initial consumable load amount of P300.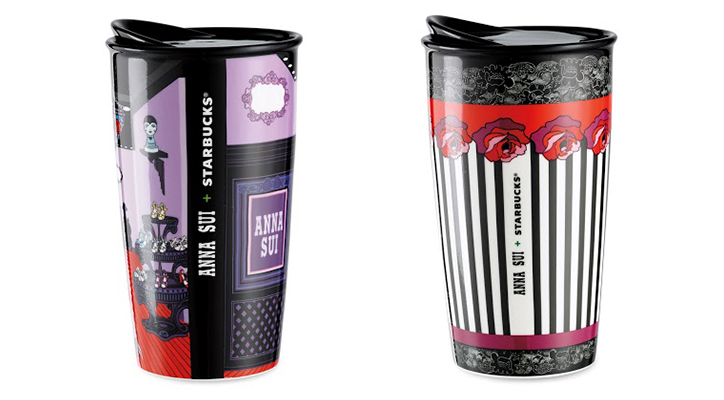 Anna Sui x Starbucks Collaboration
As we've already mentioned, Starbucks has collaborated with fashion designer Anna Sui for some of its year-end merchandise. Apart from the Starbucks card, there is the Starbucks Boutique Double Wall mug shown above, whose design features Anna Sui's iconic boutique artwork and a  replica of one of her dresses, which was inspired by Marie Antoinette. Also shown above is the Starbucks Rose Stripe Double Wall Mug, which "reflects vintage royal elegance mashed up with a cutting edge rock 'n' roll aesthetic."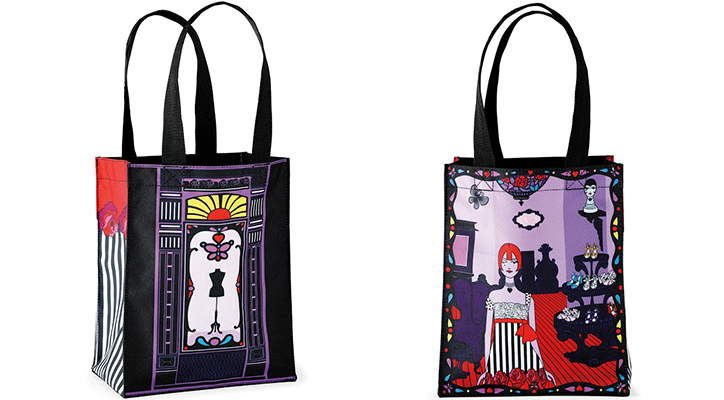 But that's not all. To match the mugs, Starbucks Tote Bags featuring Anna Sui's designs will also be available.
Wondering what the fashion designer thinks of the project? Starbucks shares this quote from Anna Sui: "Aside from the fact that Starbucks is my go-to place for coffee and snacks, I really pursued this partnership because I consider this as a 'designer's dream.' Starbucks gave me an opportunity to design a product that I have no capability of doing. It is a wonderful learning experience for me while still being able to express the Anna Sui iconic brand."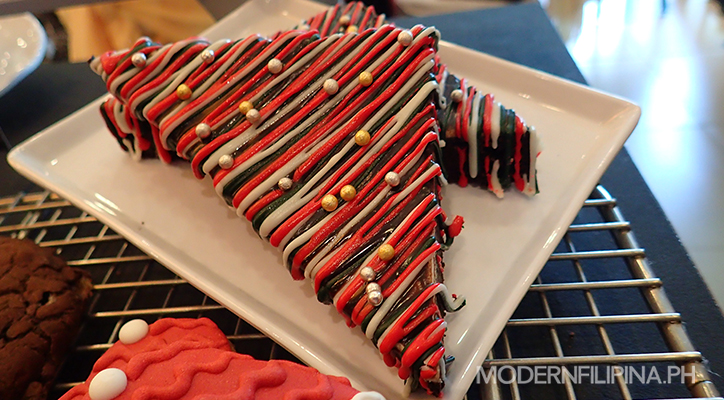 Starbucks Food Items
All these designer items are well and good, you might be thinking, but what about putting some food in our bellies? Of course, Starbucks' red cup season wouldn't be complete with the full complement of new menu items and returning favorites. Shown above is, of course, the Peppermint Brownie (P75), which is a moist chocolate brownie filled with peppermint cheese and topped with chocolate ganache. Keep reading for more details on other food items.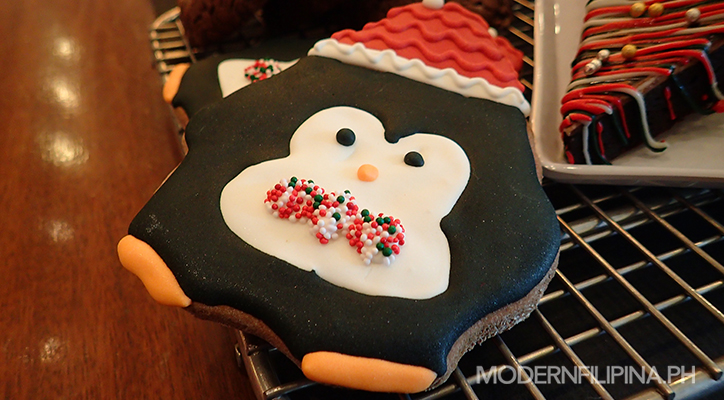 This year's Gingerbread Cookie featured a sugar icing penguin design.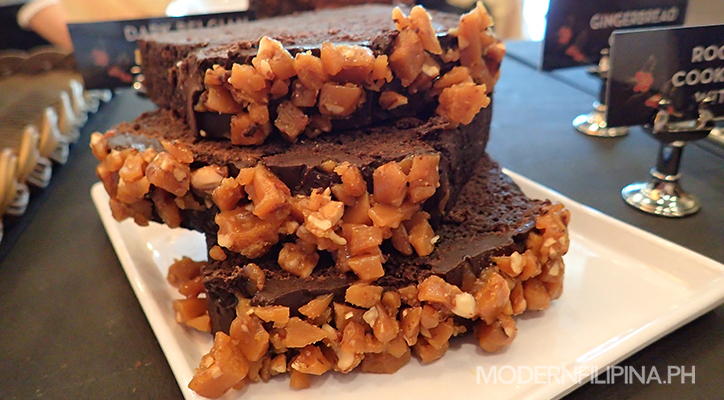 Another annual favorite is the Chocolate Toffee Nut Loaf, which is a moist chocolate loaf topped with chocolate and toffee. Of course, it pairs wonderfully with the Toffee Nut Latte.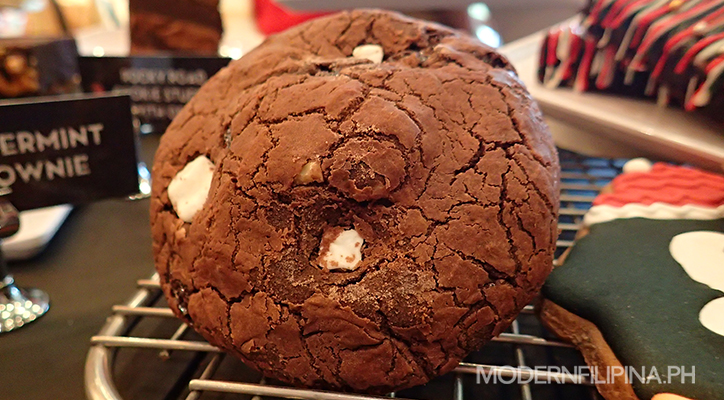 A new sweet treat is the Rocky Road Cookie Stuffed with Oreo, which is a chewy double chocolate chip cookie with walnuts and marshmallow and stuffed with Oreo.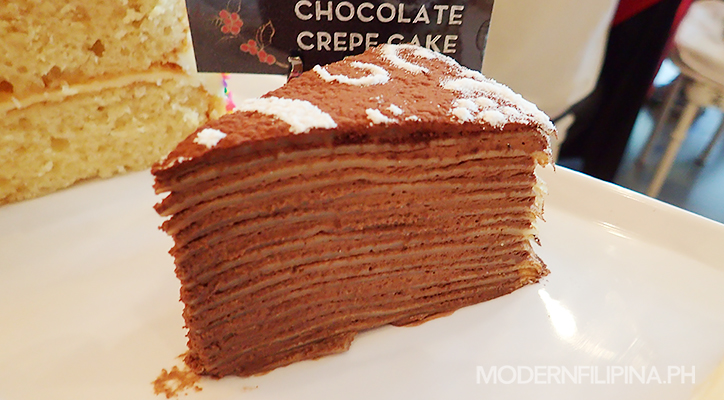 Chocolate Crepe Cake, P130 (slice) / P1,150 (whole)
Crepe fiend? Give this Chocolate Crepe Cake a try; it's got 17 layers of crepe filled with Belgian chocolate cream.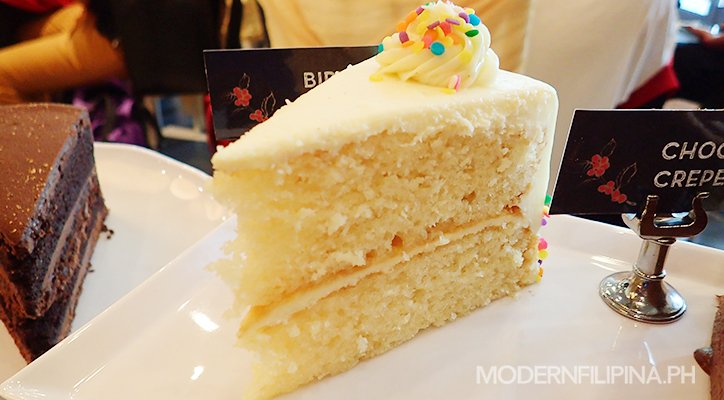 If you got a birthday coming up, you might want to celebrate with this moist and light vanilla cake with cream cheese frosting and pastel-colored sprinkles.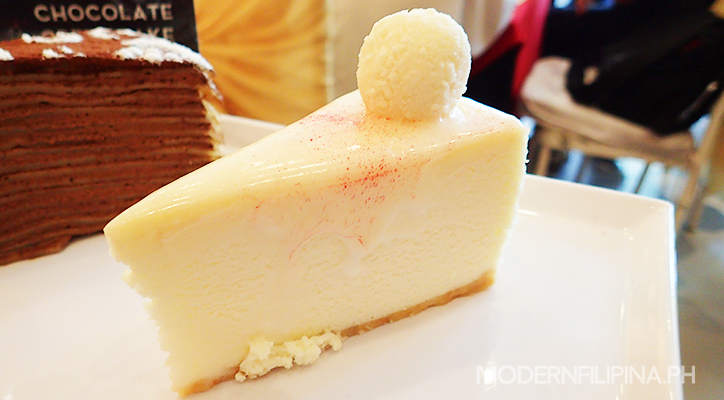 And if you're looking for something a little more decadent, try this White Chocolate Truffle Cheesecake, which is a velvety white chocolate cheesecake on a graham cookie crust.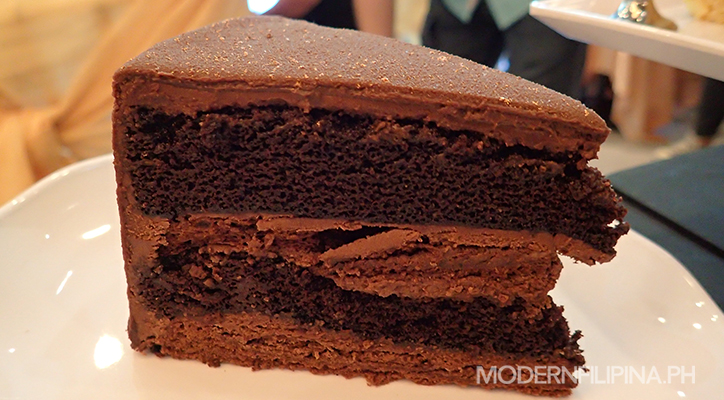 Chocoholic? The Dark Belgian Chocolate Cake is made with layers of dark Belgian chocolate cake, mousse, meringue and frosted dark Belgian chocolate with gold powder dusting.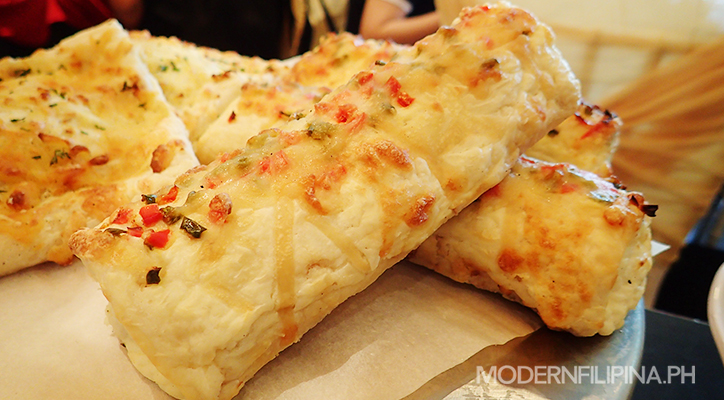 If you're looking for a savory snack, though, another returning favorite is the Chicken Fajita Roll, which has Mexican-flavored chicken breast fillet strips wrapped in a tortilla covered with peppers and cheese.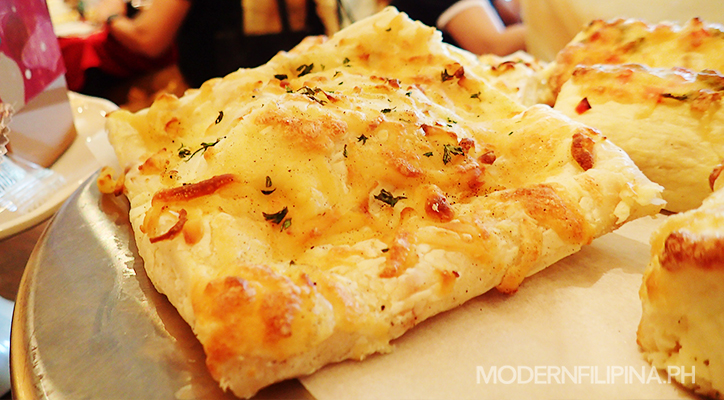 This new menu item is Starbucks' version of a pizza pocket, a flour tortilla filled with pepperoni, sausage, olives, mushroom, bell pepper, tomatoes, and cheese.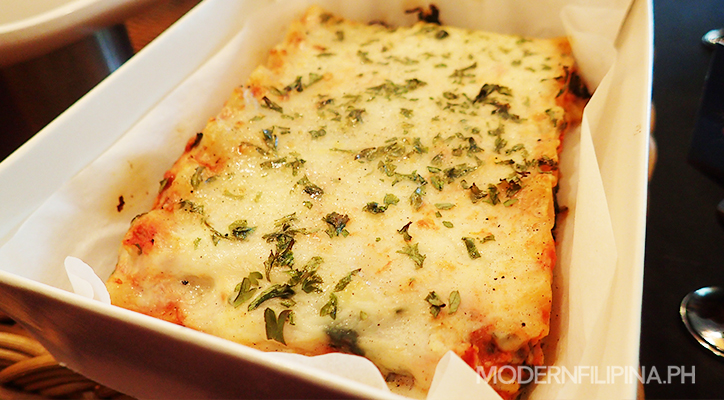 We're loving that Starbucks is offering pasta this season! The Spinach Lasagna has layers of lasagna noodles with creamy tomato spinach filling.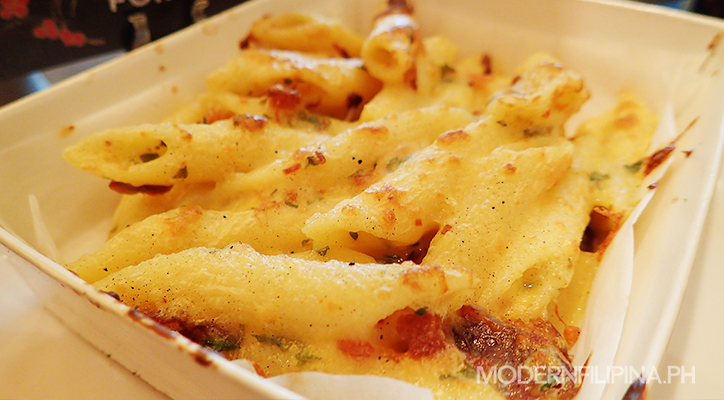 The Penne Al Formaggio is great for kids and adults alike; Starbucks has mixed al dente penne pasta with creamy and sharp cheese sauce made with three types of cheese—cheddar, Parmesan, and mozzarella.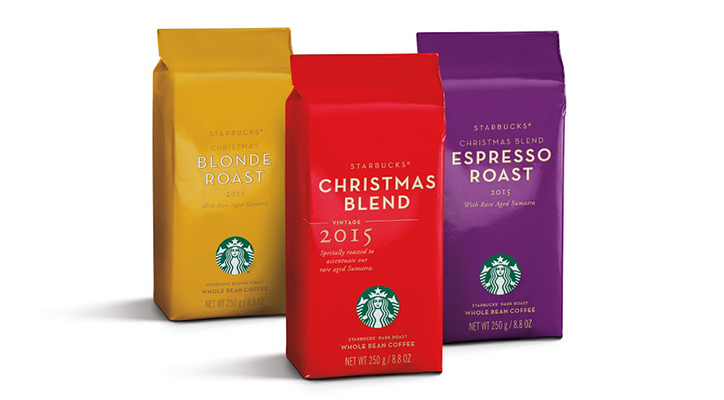 Starbucks Whole-bean and VIA Coffees
Starbucks offers three types of whole-bean coffee during the period from November 2, 2015, to January 7, 2015. Starbucks Christmas Blend "combines lively Latin American beans with mellow Indonesian coffees and rare aged Sumatra" for a spicy-sweet flavor and aroma. The Starbucks Christmas Bonde Roast "is roasted for a shorter time, bringing out the warm, woodsy aromas and flavors of brown sugar, sweet oranges and all-spice." Starbucks Christmas Espresso Roast is a mix of Latin American beans and Indonesian beans from Sumatra for an herbal and spicy effect that combines aspects of both the Christmas Blend and Starbucks Espresso Roast.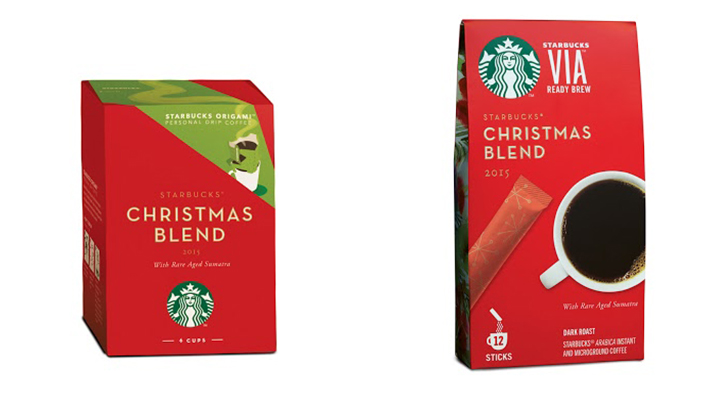 The Starbucks Origami Christmas Blend is a single-use fresh brewed coffee product that uses the same beans used in whole bean coffees. You can get a free pack between December 1 and 15, 2015, when you purchase any Christmas mug.
Starbucks VIA Christmas Blend is an "artful blend of the finest aged Sumatra, lively Latin American and mellow Indonesian instant and microground 100% Arabica coffee" and is a great treat to bring to your home or office or to gift to a coffee-loving friend or family member. Get a complimentary Starbucks VIA blend stick when you purchase any Christmas tumbler between November 2 and 15, 2015.
Liana Smith Bautista
Liana Smith Bautista is an article writer, web content manager, manuscript copy editor, and blogger—and she thinks it's awesome that she earns her living marketing on her love for the written word.