Katrina Tankeh
Writes, eats, and dances with an incomparable vigor but is…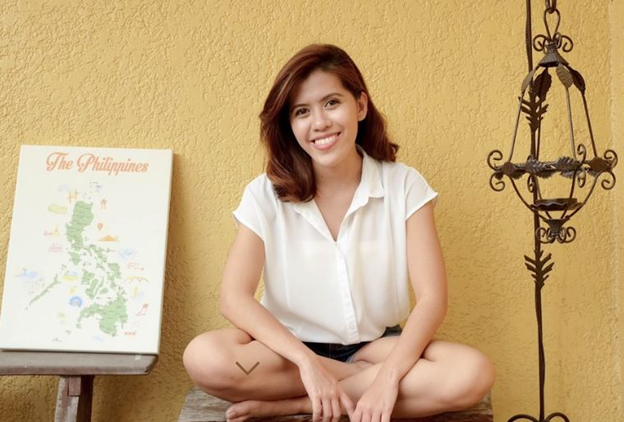 For Sasa Bacani, it all began at home. Sasa grew up in a house that resembled a United Nations hub that had a vast array of trinkets from different countries. Her parents shared with her their love for travel and she, in turn, channeled that joy into her creative pursuits, one of which is Daydream Republic.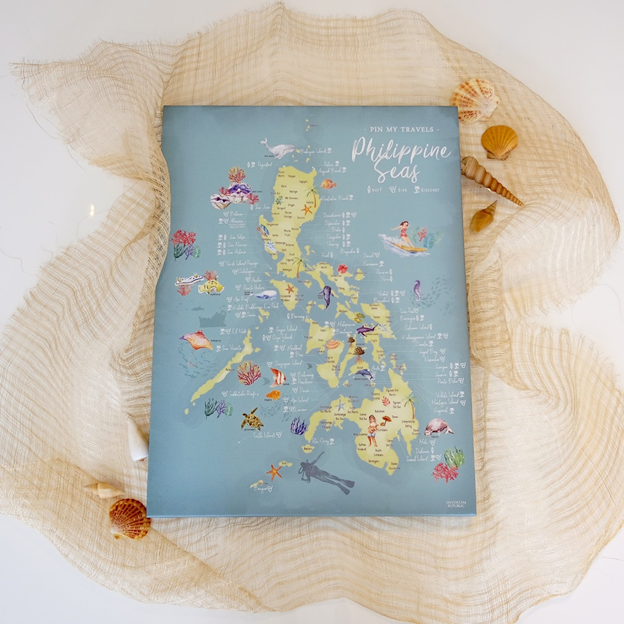 Daydream Republic was initially a side hustle, but has now blossomed into a full-time passion project. Moving on from the corporate life, she dedicated all of her time to growing Daydream Republic into the business that it is today, one that helps people make their bucket lists a reality.
Kat: Daydream Republic is a business that promotes traveling, both within the Philippines and overseas, with your collection of Pin My Travels boards as well as from the influence of your parents. Tell us more about that.
Sasa: Pin My Travels is actually the first product of Daydream Republic. I was just trying to look for a pinboard map for my room, but couldn't find any ('til now I believe we're still the only local business creating ready-made pinboard maps). I've always been so conscious with aesthetics, and I didn't want to just want to buy a map from the bookstore and put it on a corkboard (you have no idea how many of my customers have done this, and how horrible they said it looked like *laughs*). I was looking for a map that looked like an artwork, framed like those gallery pieces, and, of course, pinnable — no more DIY steps. I think this is exactly what we achieved! I'm really proud, too because all our maps were designed from scratch and produced locally.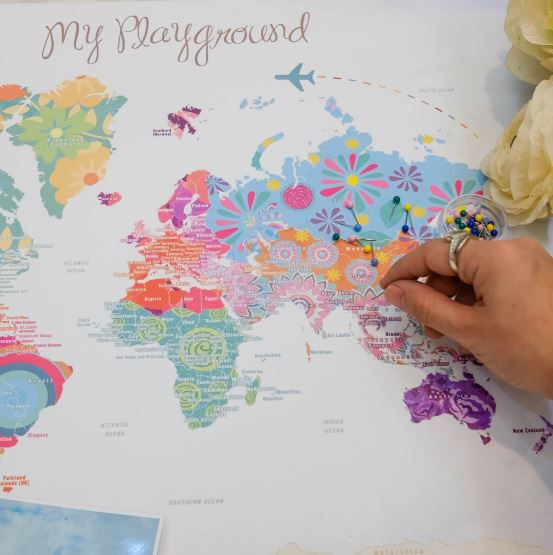 I still get kilig whenever the product gets featured by press, gets consigned in a curated store, or make people stop on their tracks during bazaars. One of the best compliments that I get is when people tell me that this is such a good gift idea for people who really matter to them, or they will give this during special events, like a wedding. As a purposeful brand, that is the greatest achievement — for people to find meaning and value in your products.
Now that Daydream Republic has other travel-themed merch, Pin My Travels will still be at the forefront because we can really say this is unique to our brand. And as a travel brand, what else could be a better product to represent your journey than a map?
K: When did you realize traveling would become the driving force for your business? And how did the impact of travel manifest on your life early before you started Daydream Republic?
Sadly, (my mother) is not with us anymore, but the brand is also my way of commemorating her. The aesthetics of Daydream Republic is very similar to how she designed our home. In fact, a lot of my product shoots were done in our home, and I almost never bought props. I can just get stuff around the house, and it works! Those small details make her still part of my Daydream Republic journey.
K: How often would you travel?
S: Probably in a year, I'll have one or two major trips with the family, and two-three local trips with friends. I wish I could travel more, but as a start-up, I need to be conscious how I spend. The dream is to be able to create a business model where I can work from anywhere in the world. Some business owners dream of having their own team, their own store, their own office etc. For me, the most ideal scenario is to have a team of freelancers, who I can work with digitally.
K: What's the most memorable place you've been to in the Philippines?
S: The most memorable and eye-opening trip I had was in El Nido when I was 10 years old. There were no developments yet, just you and nature. It was truly majestic! I can vividly remember asking myself always if I was in a postcard because it was that beautiful. It was really wonderful to be able to snorkel even just in the shallow parts of the ocean because of how alive the marine life was. It was that trip that really made me realize how beautiful our country is.
When I went back to El Nido February of this year, 18 years since my first trip, I was somehow looking forward to having that same experience. Unfortunately, it was heartbreaking to see that a lot of the corals were dead. It really hit hard on to think that in a couple years, we might not able to enjoy El Nido as we know it.
Let that sink in a bit . . . imagine a Philippines without El Nido's beauty!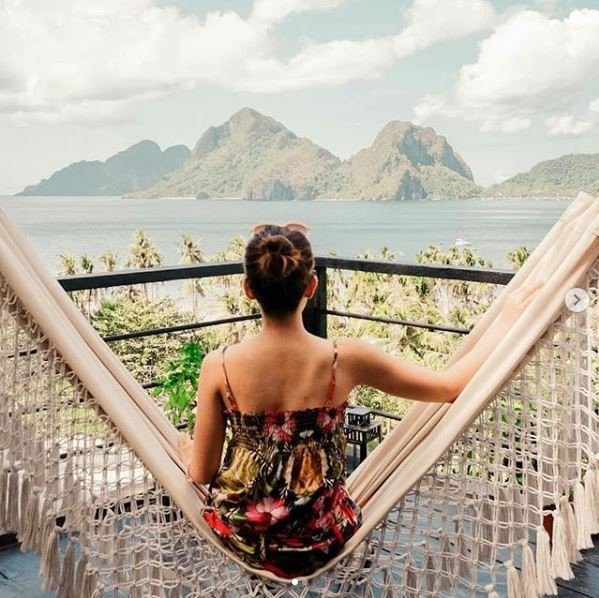 Once I got back to Manila after that trip, I decided to take my zero-waste efforts seriously. I was trying to at least bring a metal straw with me wherever I went, but I always forgot. Then I realized that I was unsuccessful in my attempt to start a zero waste lifestyle because I was lacking a concrete "why."
That second El Nido trip gave that, and it's pretty simple. I love nature trips, and I want the next generation to still have the privilege to fall in love with nature, too. I believe that if you call yourself a passionate traveler, you should be more obsessed in preserving the beauty of the world.
K: I cannot agree more. I'm also actually very interested in how you can manage living the Zero Waste Lifestyle, because as an environmental advocate myself, I know it can get pretty difficult. What are its biggest challenges?
S: The whole zero-waste lifestyle may seem, at first, overwhelming, impossible, and, honestly, a hassle. But I am really fueled by my "why," and I also feel I have the moral responsibility to influence and educate the community I have formed in Daydream Republic since we are all passionate about traveling.
For anyone who is starting to transition, remember that this is a process. It's not an overnight switch. Be kind to yourself, and remember that every effort counts.
A lot of the zero-waste switches are about forming habits, and we all know how hard it is to develop even just a single habit. So what I did was to just introduce one zero-waste switch per month, and I wouldn't be adding another item until I have gotten the hang of the current one. So I started with a messy kit, then moved to eco bag, then moved to tumbler, then moved to menstrual cup, etc.
It also pays to know some plastic facts so you'll feel guilty whenever you're tempted to go for single-use items. I mean, a sanitary napkin would last for 500 freakin' years! That to me is insane, so I was really motivated to master using a menstrual cup (P.S. I know that some ladies are mortified by this product. That's me included before. But seriously, it's not scary. It's a lot cleaner and makes you forget that you have your period!)
K: Menstrual cups truly are Earth troopers, aren't they? Now, let's talk about the perks of the zero-waste lifestyle because I'm sure you can name many.
S: There were a lot of surprises as I slowly transitioned to zero-waste living:
It gives you a different high! It really feels so good whenever you would whip up a reusable item from your bag. I can enjoy my morning coffee run to the café better because I don't feel guilty about drinking coffee for 30 minutes from a plastic cup that would rot in a landfill for longer than my lifetime.
It's NOT a hassle to bring all these reusables. Take it from a girl who has a tiny bag! When I was building my zero-waste arsenal, the litmus test is it must be travel-friendly. If I can bring it during my travels, it would be so much easier to consistently bring it while I'm living in the city. That's why all my reusables are compact and light. This is actually the reason how I accidentally started selling some zero-waste travel products.  I got tired of bringing bulky tumblers and eco bags big enough for groceries. So I took it upon myself to find solutions.
Saves you money. Now, I always think about the longevity of a product. A zero-waste or a quality product requires initial investment, but saves you money in the long run. Also, the first rule of zero waste is to REFUSE what you don't need. Less stuff, less waste, more savings! It's that simple.
You use healthier and natural products. At first, I thought I was just going to reduce my plastic consumption, then I realized that if you're going to go deep into this lifestyle, a lot of the products that come in plastic packing are processed or filled with chemicals. From your chips to makeup to shampoo, etc. It also makes you wonder how we allowed these companies to fill our bodies with all these toxins and trash.
The '50s is really the golden era! A lot of the zero-waste products and habits were already done before. Slow fashion, bulk buying, milk in glass bottles, safety razors, reusable sanitary pads, etc. And yes, a household's trash is (sic) a lot less than compared to today's. But the message is, it's very doable because our lolos and lolas have lived this lifestyle.
K: Where are you currently in your Zero Waste journey?
S: I am still VERY far from living a zero-waste lifestyle, but I think in a few years I can get there. I'm glad that I have influenced a couple of others in my community in Daydream Republic to start this journey as well, and offer product solutions to make the transition easier (even prettier!).
Some people may think the effort would be useless because there are still a lot of people choosing single-use items out of convenience. For now, it's probably true. But the Zero-Waste movement is getting a lot bigger with ultra passionate people behind its recent mainstream acceptance. Businesses would eventually need to adapt to greener practices just to survive because consumers are already dictating it. So really, not even your small efforts will go to waste.
Katrina Tankeh
Writes, eats, and dances with an incomparable vigor but is only really good at one of those things.