This article has been updated on November 28, 2019 to include new information, with additional reporting from Karol Borja.
Weddings in the Philippines prove that the road to forever doesn't come cheap. Even for a simple, intimate celebration of about 150 guests, you could end up spending more than P300,000.
The truth is, it's nearly impossible to establish the perfect budget for your dream wedding until you get into the nitty-gritty of things. But if you know what you and your fiancé want, and you don't easily get caught up with society's expectations of weddings, you can tie the knot without tying up your finances. 
Here are some budget wedding ideas if you're tying the knot in the Philippines.
Budget Tip #1: Identify, decide and plan all your wedding requirements, needs and wants months ahead
To determine your budget, make a list of what you want in your wedding. Identify which are non-negotiables and the ones you can scrimp on. This is a critical first step to planning because scrimping on something will allow you to splurge on other things, like food and ambience, or your wedding gown.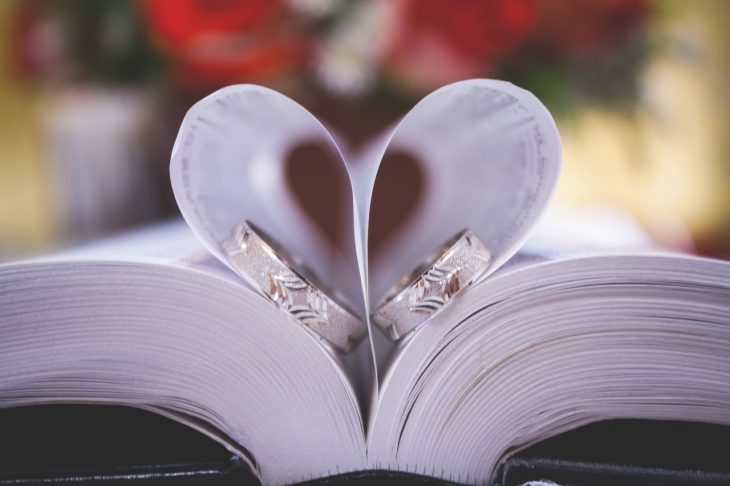 Basic Wedding Requirements in the Philippines
Before anything else, get the basic wedding requirements for weddings in the Philippines and church fees out of the way. Here's how much you'll spend for these:
Original and photocopies of documentary requirements – Budget: P3,000 to P5,000
Secure the following documents as soon as possible:
Marriage license
Certified true copy of NSO birth certificate
Parental consent for individuals between 18 and 20 years old
Parental advice for individuals between 21 and 25 years old
Certificate of Singleness from the NSO
Community Tax Certificate (Cedula)
Barangay Clearance
Marriage license application form
Certificate of Attendance in a marriage counseling or family planning seminar
Wedding Ceremony (church fees) – Budget: P5,000-P20,000
If you plan to have a church wedding, ask your parish church about the available schedule. You might be able to score special discounts on a weekday or on off-season dates.
Budget Tip #2: The best and affordable wedding venue exists within and near Metro Manila
Estimated Budget: P20,000 to P80,000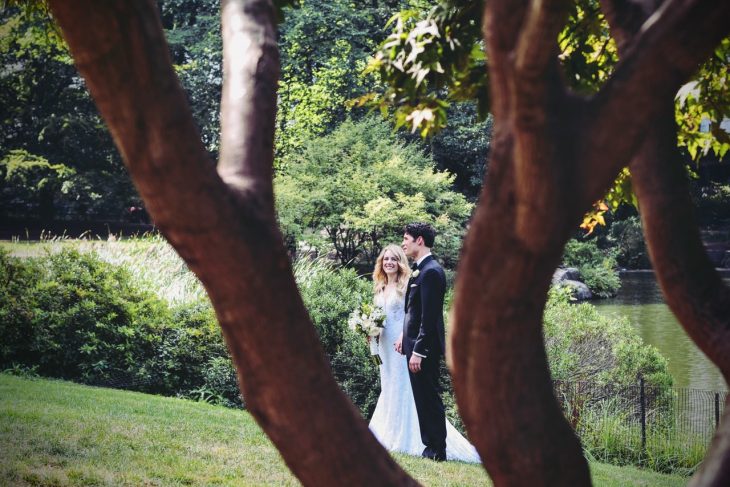 If you're dreaming of a romantic, garden oasis for a venue, the obvious destinations are Batangas, Rizal, and Tagaytay. They're not too far from the city, so you won't need to spend much on transportation. Though if you're going this route, be prepared to limit your guest list to 50 to 100, or risk spending over a P150,000 for the venue alone.
If you want more people to attend your big day, choosing a wedding venue in the city is ideal.
If you look hard enough, you'll find a number of idyllic garden venues in the city within your budget. The Casa Manila patio in Intramuros, for instance, offers that quaint Old World charm and elegance for only P18,000 (new rate since February 2018). Just make sure to book way, way ahead to secure a date as it's become quite a popular choice. You'll save even more if you hold the ceremony and reception in the same venue. These wedding venues within Metro Manila are also worth considering.
Another alternative is to set the reception in a restaurant. Spot.ph gives a rundown of restaurants that offer wedding reception and catering services at affordable rates. They are great for intimate weddings, plus you can control the menu and have the food served warm and fresh.
Budget Tip #3: Know where to look for the perfect wedding dress within your budget
Estimated Budget: P1,000-P35,000
Can you have your dream bridal dress on a budget? Absolutely! As you can see, I've put a wide price range to show you that you can get a decent dress no matter your budget. You can find the cheaper ones off-the-rack in malls or specialty wedding stores. Or you can go to a couturier and check out some of their RTWs on display. A P20,000 to P35,000 budget can already get you close to an elegant, elaborate gown if you know where to look. This bride got hers done at a shop in Divisoria and it sure is an eye-catcher.
Remember that the gown can be the highlight of the wedding, or not. Whether you want to look like a princess or you just want to blend in with the rest, it doesn't matter. Most of the time, it's more about the girl than the dress. Take Kitchie Nadal's word for it.
Budget Tip #4: Negotiate to food and catering businesses for a custom wedding reception menu to cut down on cost.
Estimated Budget: P50,000 to P150,000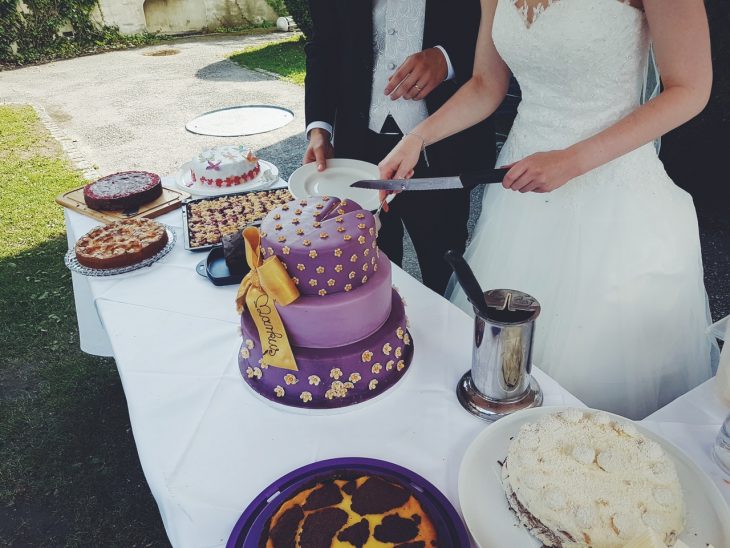 There's really no strict rule when it comes to serving food at your wedding. Of course, you want to give your guests a good time, and one way to do that is through food. Skip the basic buffet of cold, bland dishes – plan your menu and look for caterers, cooks, or restaurants that can deliver what you need. If you want food to be the highlight, don't be afraid to splurge on this, as long as you scrimp on the other details. Check out these packages.
Food aside, no celebration is complete without some booze. There are ways you can cut down your alcohol budget without killing the buzz.
How to budget your wedding drinks:
Choose which drinks to serve
Sure, champagne is the signature drink for traditional toasts. But you don't have to follow tradition if it's going to put a dent in your wedding budget. Try delicious yet affordable options like prosecco (which is sparkling wine made in Italy; champagne is sparkling wine made in France). You can also go for wine you love as a couple or a cocktail specifically made for your wedding.
Negotiate with different suppliers
Working with one supplier might seem easier, but you may find more cost-effective options elsewhere. Narrow down the suppliers that could give you a huge discount, and if possible, free delivery of drinks on your big day. Then, tell your chosen supplier to have the drinks on consignment, so you can return and get your money back on unopened bottles.
Consider getting a mixologist
You may think that a mixologist is just another factor you can tick off your wedding list, but they can actually help you budget the drinks served at the reception. If you'd rather take on the task yourself, dedicate most of your drinks budget to the crowd favorite and spend the rest on carefully chosen quality drinks.
Get the family involved
Weddings are a celebration of two families joining together. What's a better way to make this statement than to get the crew involved? Maybe your uncle has a collection of aged bottles they would want to gift you. Or maybe you have a future brother- or sister-in-law who is legendary with the bar. Ask them to help you out.
Budget Tip #5: Hire a DJ instead
Budget: P4,000-P12,000
Skip the string quartet or live band if your budget doesn't allow such luxury. Hire a DJ instead, and curate your wedding playlist, from the entourage to the reception. So long as there's music, good food, plenty of booze, and a carefully-planned program, you won't need to splurge on entertaining your guests. They're already grateful enough to be part of your special day.
Budget Hack 6: Find Your Flowers and Giveaways at Dangwa or Divisoria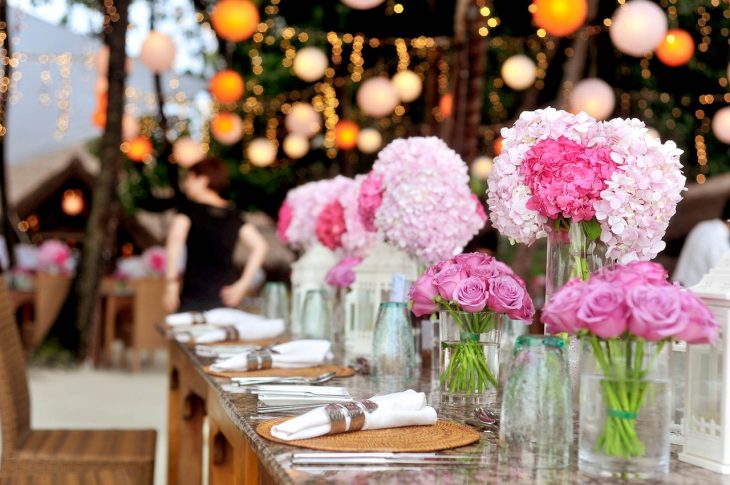 Ideally, if you're on a tight wedding budget, these are two items you should scrimp on. Indeed, swanky flower arrangements can make your wedding stand out, but that's not really the priority here. Use local ferns and flowers in season, instead, to save money. Look around Dangwa and arrange with a florist to do your bouquets and other floral needs.
For giveaways, there's no better place to go but Divisoria. There, you'll find a smorgasbord of pretty things for customizing your giveaways. The only limit is your imagination. If you're not the artsy type, assign this task to your maid of honor instead, or to anyone who's willing to volunteer. Remember, we're being frugal here, so choose your giveaways wisely. Go for items that may be useful to your guests.
Other DIY Wedding Tips:
No wedding car? Book a Grab car, instead. There's no need for fancy rental cars to make an entrance.
Plan way ahead (one to three years before the wedding) so you can save or pay in installments.
Wedding invitations can also eat up on your wedding budget. To save on the cost, you can send the Save the Date and invitations via electronic means. There are also many DIY wedding programs websites to find a good design for your invites and other creative needs.
It's OK to say no to or not take advice from family and friends. Sometimes, the peer pressure can be overwhelming, and can affect your plan and budget. Only consider suggestions that are reasonable. It's your day after all, and you should have it on your own terms.
Ask your bridesmaids and entourage to do their own makeup.
If you can find cheaper options for what you want in your wedding, go for that instead. Only spend within your means. There's no use taking out a loan on something you might regret.
Attend bridal fairs and supplier expos so you can shop around, get inspired, or book vendors at discounted rates, or browse portfolios of budget suppliers.
If you want hassle-free documentation for your big day, shop around for same-day edit photo and video packages specially customized for weddings.
Consider all-inclusive wedding packages for a worry-free experience. For as low P85,000, you can get a complete package inclusive of on-the-day event coordinators, catering for 100 or more guests, elegant bridal car, wedding cake, sound system, souvenir, desserts, photo and video coverage,  hair and makeup, flower arrangement for the bride and groom, and more.
Always put everything on paper and read the fine print. Verbal agreements with suppliers are not enough. Protect yourself from hidden fees by signing a contract with your suppliers. And before signing, make sure you agree on everything that is written on the contract.
These wedding packages offer great value for your money:
Running on a tight budget for your wedding can be stressful. But know that you're not alone. Your friends and family, and the love of your life, are there to help you plan and afford the wedding of your dreams. The trick is to set realistic expectations from the get-go and get creative when maximizing your budget. More importantly, don't be afraid to communicate this restriction to guests so they don't make unnecessary demands.