Ana Valenzuela
Ana Valenzuela graduated with a degree in AB Literature from…
The rainy season is in full swing, but that doesn't mean we're going to let it dampen our style. After all, girls on the go will never let a little storm stop them from going to the office or to a hot date. Here are 5 tips on how you can fashionably stay dry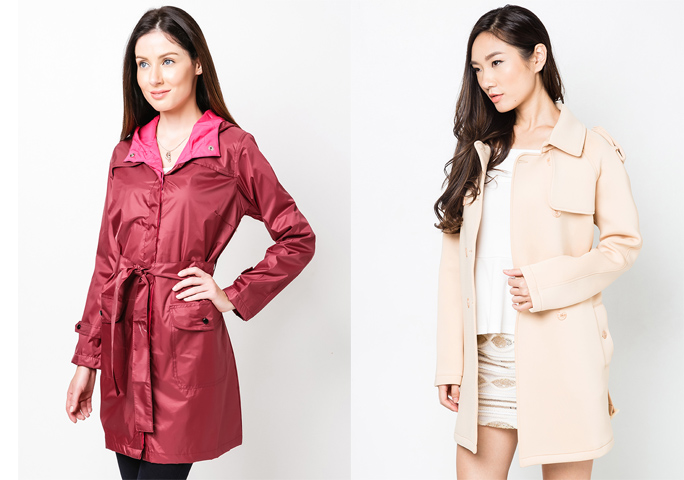 1. Start with a top or a dress.
Tops and dresses sound off your style and can warm you up during the cold rainy season. Knits are prime cool weather clothing, but you could also turn to other fabrics like neoprene and wool.  Wear long-sleeved tops to keep you warm, or turn to layering if you're lamigin.
2. Layer on some outerwear.
If you want to safeguard that printed blouse or that pretty little dress against the rain, invest in durable  outerwear–especially  if you will be doing a lot of walking and commuting. Go for hoodies and pullovers if you are more of a casual kind of gal. If you like dresses more, we suggest that you go for longer jackets or cardigans.
3. Bottoms up: pants and shorts
With strong winds swooping up the metro, it would be best to ditch the A-line skirt for a pencil cut one. You could also go for shorts and pants if you think you'd have to traverse deep waters during your commute.
4. Tote it.
Most fabric absorbs water when they get wet, leaving your stuff moist or drenched. Leather and canvas are water resistant, but only to a certain degree. Nylon is waterproof fabric, but water could still seep inside between the weaves if you're sporting a nylon bag. On that note, never use your bags as a make-shift umbrella, as you will regret what will happen to your things afterward.
5. Invest in waterproof footwear.

Our streets get easily flooded, so it would be best to wear waterproof footwear. Although rubber is water resistant, the upper material of your shoes might be made from synthetic materials that could gt easily soaked. Go for jelly sandals or rain boots and just change into office-appropriate footwear when you're already at work. You can stash a pair of pumps in your cubicle, or you can always carry one.
Ana Valenzuela
Ana Valenzuela graduated with a degree in AB Literature from UST. She has written for several media outlets. She is currently taking her Master's from UP.