Women love to shop. Who doesn't? But how can you save on space and be your own style icon at the same time? Simple: learn to curate your own wardrobe.
The Fashion Inquiry
We usually search on Google for certain looks that will help us build our image towards others. Then, we build our wardrobe with the myriad of photos that we find. Then, we rebuild our closet, buy new clothes, and wish for everything to be used. Then, at the end of the year, due to stress and other priorities, we end up with wasted space and unused clothes. With fashion virality, we are also easily swayed by PR-pushed trends. Now that the first half of the year is done, it's time for us to invest in classic pieces and learn to mix and match looks that can withstand both day and night.
Personally, I have always trusted the basic must-haves. Knowing your personal style and combining it with the knowledge of  how 'must-haves' can easily help you sustain a wise and practical way to have fun with fashion.
Importance of Curation
Curating your clothes is like picking the right art pieces and photographs to put in your room or in your house. It saves on space. The concept is to buy quality clothes instead of buying tons of clothes from fast-fashion brands. Not that there is anything wrong with buying into trends. The problem lies in constantly buying clothes that don't end up on our backs and thus never end up having their fashion moments.
What you therefore have to do is focus on making calculated strategies on the number of ways you can wear such ensembles and make each piece look fresh and new. It's an act to prevent you from becoming a fashion victim. Learning how to develop your closet can make dressing up rituals a cake walk. This could even be your one-way ticket to becoming your own style icon. Being effortless and versatile are the key goals of closet curation.
Before heading to the mall and buying new sets of clothes, ask yourself the following questions:
– How many times will I wear this?
– Where can I wear it?
– Does it suit my personal style?
– Can I mix it up with other pieces?
If you have a number of answers per question, it means that you can keep it. These questions will help you decide whether to finally toss that one-time piece of clothing that you've had stuck in the back of your closet for a while now.
Developing this habit is also a practical way to keep your budget and your personal style in check. After all, if you don't have a solid plan with certain clothes from the start, chances are that they will be nothing but a waste of your time, money, and effort.
The Four Cardinal Pieces of Clothing
For Pinays, there are 4 articles of clothing that should be invested in. The good ol' skinny jeans, the little black dress, the white v-neck shirt, and the pencil skirt. This is the set of 4 that every Pinay should have, considering the lifestyle that we have at the very least. They are so versatile that you can wear them from day to night. These are also the pieces that will save you from lazy days and high pressured periods of dressing up.
The regular washed skinny jeans should be on top of the list of Filipina must-haves. Why? Jeans have two things Pinays are looking for: subtle sexiness and comfort. Plus, they work with a lot of style sub-genres and are versatile pieces that you can be chic in or get down and dirty with.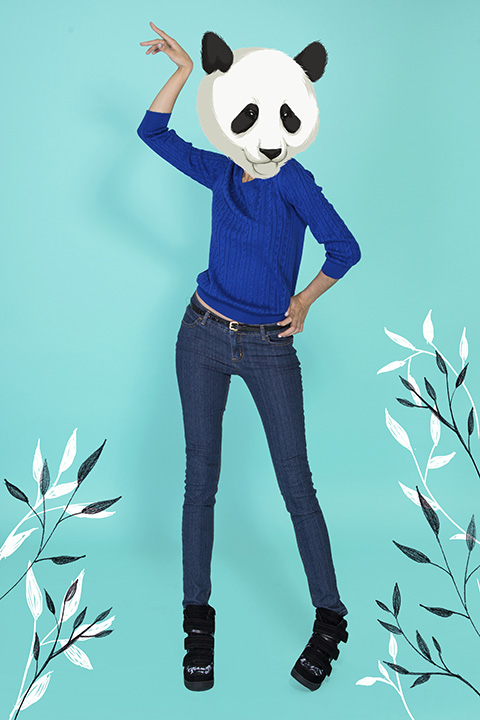 A good daytime look for skinny jeans is to pair them with a classic sweatshirt and sneakers for an on-the-go preppy ensemble.
On Kelsey: Blue sweatshirt and skinny jeans from SM Girls' Teen Wear, skinny belt and wedge sneakers from Aldo.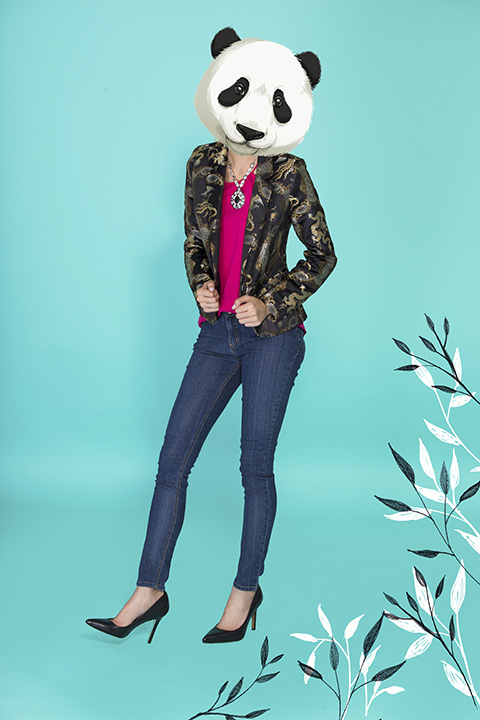 To update the look of skinny jeans for a night out, complement them with a blazer, statement jewellery, and basic black pumps.
On Kelsey: Black and gold printed blazer from Folio of SM Womenswear, plum halter top and skinny jeans from SM Girls' Teen Wear, silver necklace from SM Accessories, and pointed black heels from Aldo.
Next is the white v-neck shirt. Investing in a good v-neck shirt is a must because washing it several times can stretch itscotton fabric. It's the easiest way to look fresh and get that skin rosy glow. A brooch or a piece of statement jewellery can instantly make this look party appropriate, too, especially when matched with a killer pair of heels and tailored bottoms.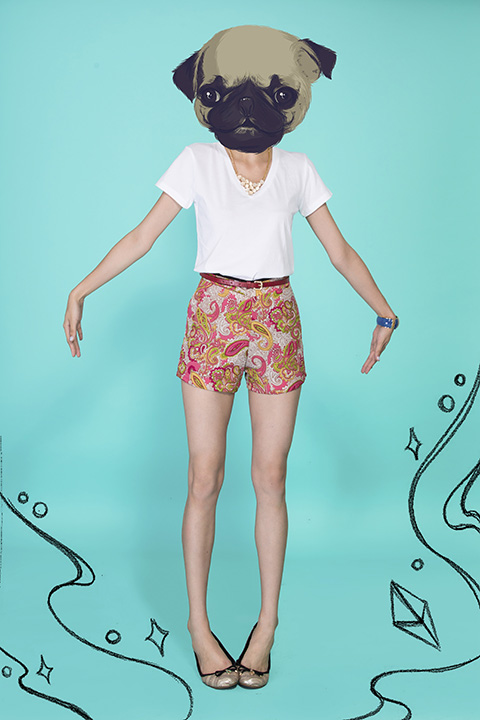 A white v-neck shirt can instantly make you look fresh and clean. If you aren't into t-shirts, a white button-down silk blouse would be a good alternative.
On Kelsey: Baleno white v-neck shirt and pink paisley printed shorts from SM Girls' Teen Wear, and gold ballerina flats from Aldo.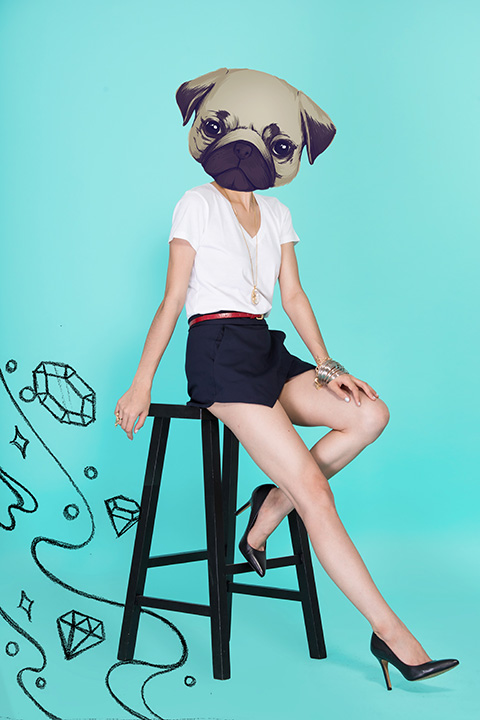 Wearing a white v-neck shirt with a tailored bottom is a good go-to part outfit. It doesn't only lengthen your neck, it also makes you a head-turner. The outfit wouldn't be complete without stacking lots of bling and wearing your trust black pumps.
On Kelsey: Baleno white v-neck Shirt from SM Girls' Teen Wear, navy blue skort from Forever 21, silver bangle from SM Accessories, and pointed black heels from Aldo.
The little black dress is probably the hardest must-have piece to look for. When looking for a go-to LBD, look at the fit and the length of the dress. It should make you look longer. To keep it classy, the length should end 2 inches above the knee, as well. It should also make you look leaner andthe tummy bulge should not be visible. The LBD isn't just for social events, though. To make it casual, wear it with simple ballerina flats,play with an oversized cardigan for a country sophisticate look, or wrap an oversized flannel around it for an instant grunge feel.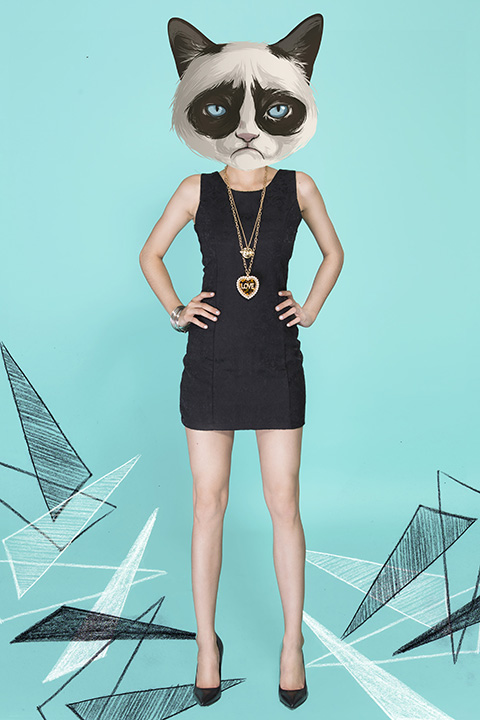 The little black dress is your go-to piece for black-tie events and cocktail parties. It's the single piece of formal clothing that will bring massive returns on investment.
On Kelsey: Black body-con dress from SM Girls' Teens Wear, accessories from Forever 21 and pointed black heels from Aldo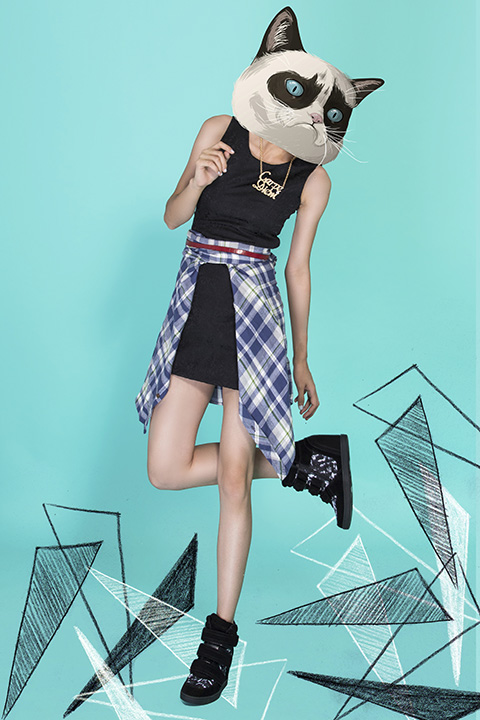 Aside from being a classic, though, the LBD is also the  most versatile piece you can have in terms of bending the rules and trying out different style cultures. For this look, just wrap a plaid flannel on the waist for casual grunge flair.
On Kelsey: Black body-con dress from SM Girls' Teen Wear, and accessories and plaid shirt from Forever 21.
The pencil skirt, on the other hand, is underestimated by a lot of women. It's not just for the corporate world. The pencil skirt can be your alternative to the body-con knee length skirt. You just need to pair it up with a top that is a bit more structured or loose to play against the boxy silhouette of the skirt.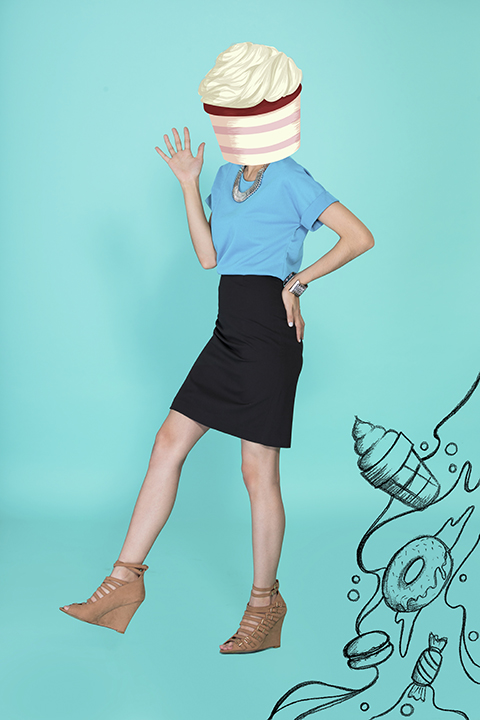 The pencil skirt is often boxed into the corporate world, but it's actually one of the most versatile pieces a woman could own. It gives easy access to a tailored-chic ensemble. Pair the skirt with a structured shirt to fully embrace its fierce lines.
On Kelsey: Blue structured blouse from SM Girls' Teen Wear, pencil skirt from Folio of SM Womenswear, accessories from SM Accessories and strappy wedge sandals from Forever 21.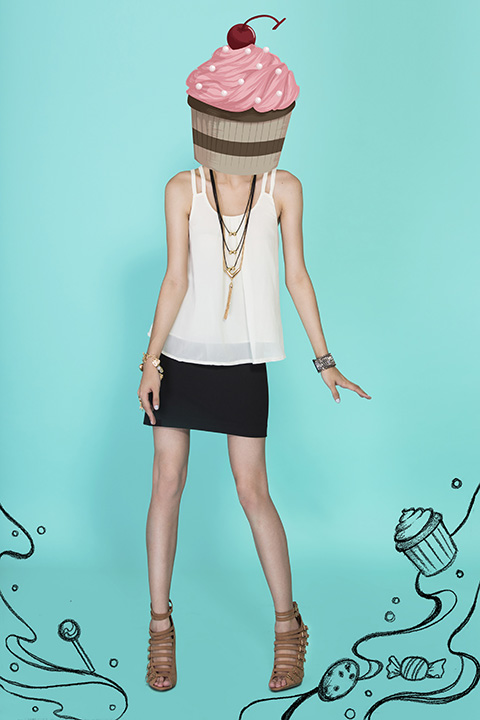 To update the pencil skirt for a night look, simply wear a loose bohemian top and long strands of necklaces. You can also hike up the skirt for more leg exposure, or simply stick to the long vertical line for an illusion of length.
On Kelsey: White slip blouse from SM Girls' Teen Wear, pencil skirt from Folio of SM Womenswear, accessories from SM Accessories, and stroppy wedge sandals from Forever 21.
In addition to the four cardinal pieces of clothing, a leather jacket, a well-tailored blazer, patent black pumps, nude strappy sandals, ballet flats, and a pair of sneakers are the next best investments every woman should have. Get the additional pieces in their simplest forms to make them work with other styles and fashion sub-genres with ease. You'll thank yourself at the end of the year because you won't have so much unnecessary clothes in your closet anymore!
Photographed by Dookie Ducay
Styled by Maureen Manuel
Illustrations by Mai Evangelista
Modeled by Kelsey Merritt