Carol Premacio
Audacious,vivacious and loquacious, Carol Premacio's greatest loves are, and always…
She walks into the room. Her personality as bright as the eye catching clothes that hang on the racks of her pop-up store located at the Green Sun Building Pasong Tamo Extension. Despite the fact that she won the prestigious Emerging Fashion Talent Award from Preview magazine, was chosen by the Department of Trade and Industry–Center for International Trade Expositions & Missions (DTI-CITEM) to showcase her work in Southeast Asia's biggest lifestyle event The Manila FAME, has showcased her work on London Fashion Week and was even featured on international news channel CNN, Tipay Caintic remains as grounded as can be.
She says hello in her usual jolly way, gives us a warm smile and sits down on one of the leather sofas available as we held our interview at the Green Sun Building. But exactly who is Tipay Caintic? Who is this young individual who dreams to carry the Philippine flag further internationally? Who is this brilliant mind that conceptualized unique fashion pieces such as her bestselling Lady Tentacles bags and eye catching Spike & Skulls jacket? We also wonder, who exactly is Lady Tentacles?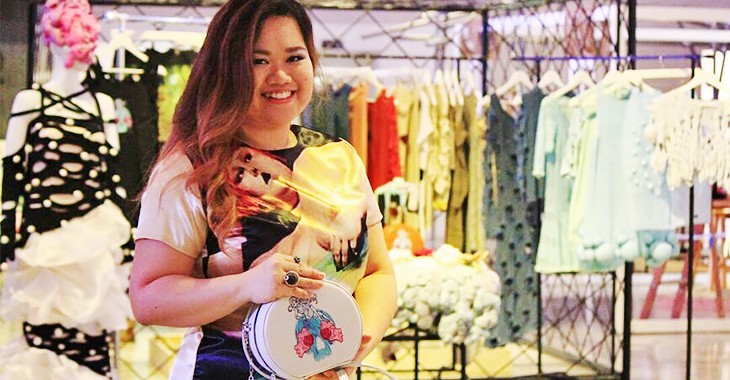 Fashionable Beginnings
For most people in the fashion industry, their love or interest in fashion is inherent. For some people, it is in their genes. But for some others like Tipay, it blooms from a young age and becomes the heart of ones dreams. Her aesthetic, we must note, is for individuals of an acquired taste. Tipay has described the Tipay Caintic woman as someone who knows how to appreciate handcrafted things but with humor, fashion and art. The Tacloban-born designer relates to Modern Filipina how her love for fashion started. "The fascination with dressing differently started with a chance trip to UP Fine Arts while jogging as a kid during one of the summers I was visiting Manila. I saw all these cool kids with a devil-may-care attitude who, to my five-year-old eyes, were just out of this world." 
When asked if she always wanted to be a fashion designer, she answered, "Yes, I have. It took a while to verbalize or formulate the idea, but I've always been artistic, and while growing up, clothes and how they make you feel, or how you express what you feel through clothes, was a constant in my life. I've always known I loved fashion, [it's] just that I did not think it was possible to be a designer. I did [eventually] get the courage to admit to myself that no, I don't want to pursue a career in advertising or be an artist, I love clothes and always had a dream to be part of that world."
Some of the challenges and situations she's faced in life has also contributed to Tipay's view of fashion. "The Spice Girls came along, and that just added fuel to the fire! Puberty hit, and the fluffy kid that I was didn't look good in the shirt-and-jeans combo all my friends were sporting, so I delved into trying different silhouettes, lengths, prints and colors!"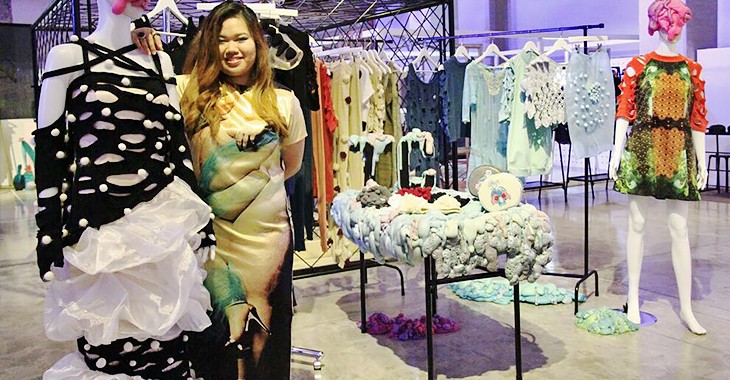 After graduating from the University of the Philippine's with a degree in Fine Arts, Tipay became a scholar for one of the country's top schools for design, the School of Fashion and the Arts Design Institute (SoFA). There, she met one of her mentors in design. "I consider my fashion illustrator professor in SoFA Design Institute, Danilo Franco as one of my fashion mentors. Ken Samudio, the internationally reknowned accessory designer is one of my closest friends in the industry and also somebody I respect and trust completely. He is actively mentoring and helping me and my business grow!"
Of course, everyone has his or her own idol or set of idol. The designer then spoke passionately about hers. "I idolize different fashion houses for different reasons. All these big houses are there standing for a reason. I like how Margiela always confuses people," she says of the fashion house popular for their avant-garde designs. "In a manner of speaking, I would like to emulate how Comme des Garcons is perceived by people." The fashion house is popular for its fun and quirky designs with a hint of the unexpected here and there. Observing Tipay's designs, we can attest to the fact that she has so far been successful in achieving this.
We asked about her fashion philosophy, she was straightforward: "Do whatever you like." We couldn't help but agree. After all, fashion is all about self expression.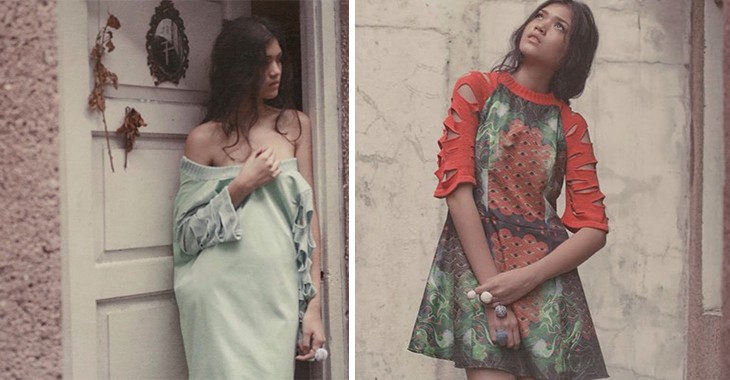 Building Her Brand
In order to have a successful brand, a designer must have a clear vision of what he or she wants to be known for. Well, Tipay Caintic the brand can be described this way: "Offbeat. Covertly Insubordinate. Unserious." Coming up with ideas for her designs is for Tipay a holistic experience. "I get inspiration from everything that I experience with my senses," she says. Indeed, she can find something beautiful even in the most unusual things. The skull that Lady Tentacles sits on, for example, was inspired by a catacomb she visited during a trip to Naples, Italy. Her entire Spring/Summer 2015 was inspired by her trip to Italy, particularly her visit to the Fontanelle Cemetery, which houses rows and rows of unidentified skulls.
The road to something great often comes with bumps here and there, and Tipays was no different. "My very first wedding was a disaster," she recalls. "I wasn't on top of my project and did not know how to leverage the relationship with the seamstress and me as a designer. I delivered in the nick of time with a lot of drama and stress to the bride and her family. The clothes' quality weren't at par with how I envisioned them to be. It was a humbling experience and a painful lesson on professionalism and trust." 
But the tough times didn't end there. "When I was invited to show in London Fashion Week, I wasn't at all ready for it! With the nearly impossible deadline and my then very limited production capabilities, it was sort of a miracle that I was able to create a collection. I learned that over and over again, there would be opportunities bigger than what we are capable of, but you just have to say yes to it, show up, do everything, give your all and a bit more, and things will work out on its own."
Fashion in and for the Philippines
Contrary to what some people may think, the fashion industry delivers more than just nice clothes and new trends. There is something deeper to this industry than meets the eye. The designer discusses with Modern Filipina what she thinks the Philippine fashion industry can do for our country.
'Traveling really broadens your perspective and understanding of how the world works and how it should be. There are 3 cities that I've been to for work—Hong Kong, London and Milan, in that order. When I went to Hong Kong, I was acutely jealous of how the entire city 'arranged' itself for fashion week, how the government put serious weight, investment and careful planning into their fashion industry."
In London, Tipay realized what kind of fashion council (a government authority for fashion) is needed to have a vision and produce results for the future of a fashion industry. In Milan, she learned just how big and how much bigger fashion is and can get. In all of these cities, it dawned on her how serious the words "fashion industry" are if you are talking about trade, money and economy.
[crp]
"Both in London and Milan, I felt overwhelming appreciation for our (Philippine designers') talent, our unique point of view. And in both countries, I saw how appreciation goes beyond empty praises and becomes bankable. Going back home, I acknowledge the endless possibilities the people, our nation, this little developing country, in a strategic location, with so many capable hands and rich resources have to offer. If we hone the potentials of the people, elevate them to artisans, they can do quality work and have skills that would enable them to have and keep jobs. If we responsibly use our local resources and readily available technologies, we wouldn't be so dependent on imported materials. If the government facilitates an environment that empowers small to middle sized businesses, it would strengthen a growing economy. And most importantly, if the mindset of consumers would be to support and buy local over imports, it would keep independent brands and designers afloat."
According to Tipay, collaborative efforts coming from designers and brands, from the work force, from the government and the purchasing power of buyers and individuals, would ultimately mean a healthy, thriving fashion industry that is inclusive and proudly Filipino.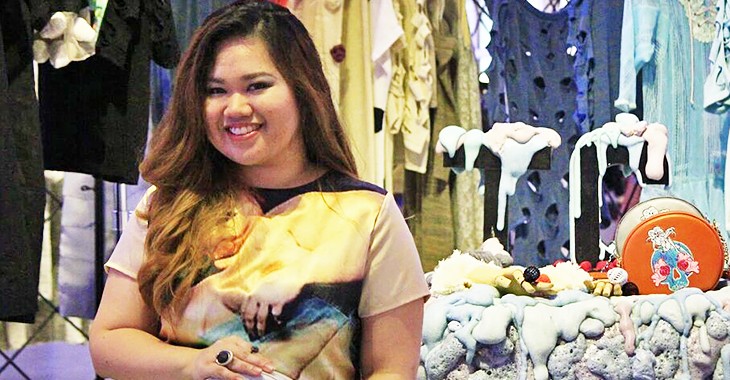 Moving Forward
With all the things she has achieved and all the places she has been, what's next for Tipay Caintic? "There are several local shows we are working on for the next months. A fashion show and exhibition this June with SM. Also this June, we would be officially launching and introducing Tipay Caintic to her hometown in Tacloban City in time for the annual fiesta celebration. We're holding an exhibit of the collection that was wrought from the super typhoon that hit the city, originally showcased in London."
Tipay also makes it a point to give back to her hometown. On July, she will initiate a livelihood project in Tacloban City that will train women in the community with handcrafting skills as a source of income. One of her long-term goals is to build a workshop in Tacloban to help generate more jobs, stability and faith into the city.
So now to end the mystery of who the interesting character embroidered on her bags and linen crop tops is. We finally asked Tipay, who is Lady Tentacles? She replied, "It's me, actually. That naked, curvy doll like thing with the wild hair, it's me. "
Carol Premacio
Audacious,vivacious and loquacious, Carol Premacio's greatest loves are, and always will be, fashion and writing. She enjoys writing and reading books,fashion magazines and lifestyle magazines. One of her aspirations in life aside from working in the fashion and publishing industries is to travel and be able to see the world in all its beauty.