Katrina Tankeh
Writes, eats, and dances with an incomparable vigor but is…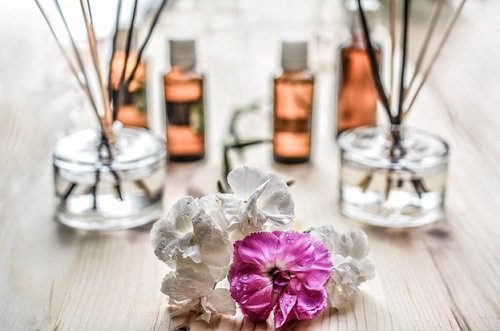 As a 22-year-old, it frustrates me to have back pains as bad as that of an old lady's. Painkillers and a little stretching used to do the trick, but I would have backaches that would last for days on end. So I figured a home massage service was just what I needed.
Aum Spa Devanagari is the dwelling-based spa business of John Ray Dela Cruz and Chinky Adriano. Aum, also Om, is both a sacred sound and a spiritual symbol in Hinduism that signifies the nature of the universe.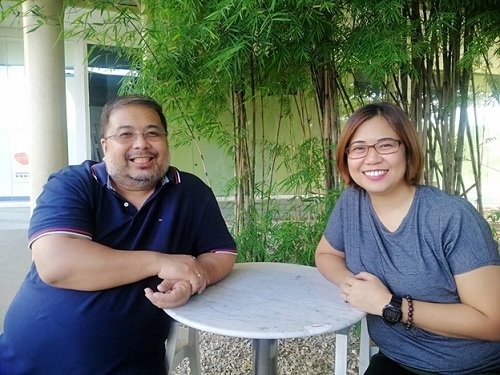 An Unexpected Partnership
John and Chinky met as colleagues in PSBank. John's exuberant personality broke through Chinky's tough exterior, bearing fruit to a long-lasting friendship.
A natural entrepreneur, John eventually left the corporate world and went on to pursue food businesses while teaching. Chinky, on the other hand, shone in the next companies she joined but decided not long after that becoming her own boss was something she saw herself doing in the long run.
Chinky knew of John's business plans and shared his vision of one day owning a spa. After losing contact for almost five years, Chinky decided to call John with one agenda in mind: to seek a partner in her venture.
And that's when AUM Spa was born.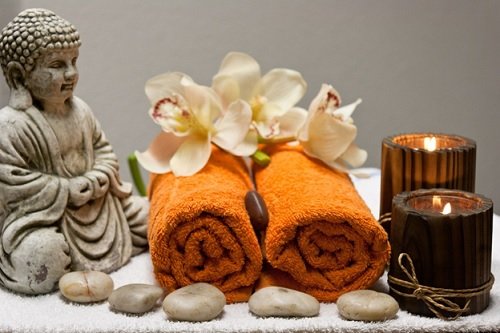 Just like many businesses, AUM Spa had a slow beginning. John and Chinky met several times before they finalized the details of their brainchild. They encountered a number of stumbling blocks, such as the location of their spa and hiring a team of physical therapists. Getting a solid base of customers was difficult at first, given their budget.
But none of those stopped them from giving the business their all. In just a couple of months and with less than a handful of therapists, they had over 200 happy customers.
"Starting small is the best way to start," said John.
Healing through Physical Therapy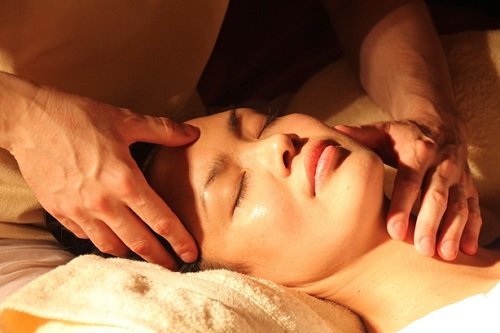 Both coming from a fast-paced corporate environment, John and Chinky knew how stressful an employee's life could be. With AUM Spa, they wanted to share the opportunity to "relax, take it easy, and enjoy life" with those who wanted a restful escape after a long, tiring day.
AUM Spa is all about restorative wellness and celebrating beauty, both inside and out. Their home services include:
Light Swedish (1 hr)
The standard massage technique that is perfect for an hour (or more) of relaxation.
Deep Kneading (1 hr)
A hard, deep-tissue massage style that is best for those with specific pain points they want to address.
Thai & Balinese (1 hr and 15 mins)
Their newest service, this is a mix of both Thai and Balinese massage techniques that both relax and invigorate the body. It involves simple aromatherapy massages and gentle strokes with light stretching routines.
Foot Reflexology (1 hr)
Foot Reflexology is a massage technique that hits reflex points on the foot for healing and relaxation.
Relaxation in the Comfort of Your Own Home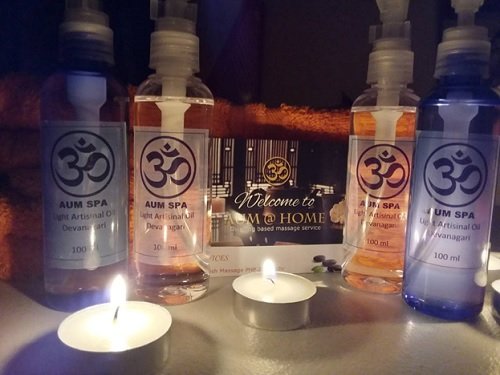 AUM Spa specializes in home massage services so all I needed to do was give them a call. They were pretty easy to talk to and once you've had your appointment scheduled, you're pretty much good to go.
I've had massages done before, but AUM Spa was the only one to take my blood pressure before the massage. They do so to recommend the right therapy that suits your needs since some massages might not be suitable for those with certain conditions, like hypertension.
I also noticed that right after the massage, I could barely smell the oil used on my body. AUM Spa uses organic and hypoallergenic oil that is not only gentle on the skin, it has a light scent, too.
Their physical therapists also bring hot pillows and warm towels for a session, so all you need to do is relax and enjoy the massage while they work their magic.
Inspired by holistic highlands mantra for centering and healing, AUM is a dwelling-based spa servicing the areas of Mandaluyong, Paranaque, BGC, Makati, Pasig, and Quezon City. Call them at 09178100514 or visit their Facebook page.
Katrina Tankeh
Writes, eats, and dances with an incomparable vigor but is only really good at one of those things.