Daphne Bual
A lover of stories, parks, animals, rainy days, and hot…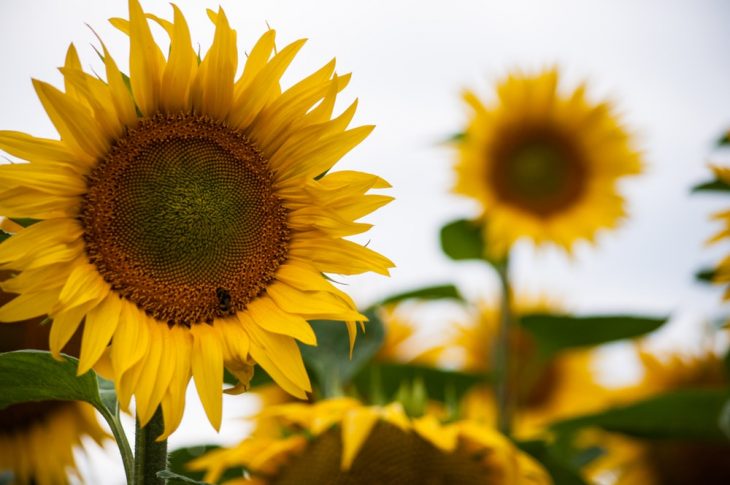 Oily skin has always been a problem for me, and I daresay for many Modern Filipinas as well. On my worst days, I'd rest my cheek or forehead on my palm, and it will feel sticky — you know how it goes. It is aggravating and a blow to my self-esteem.
I also struggled with having dehydrated skin, which leeches the color of my face. Not that I have fair, rosy skin to begin with, but when I spend 12-hour-days at the office, I end up looking sickly and more stressed than I actually feel.
Dehydrated and Oily Skin
Dehydrated skin (not dry) and oily skin is a contradiction, right? But here's the deal: when your skin is dehydrated, it compensates for the lack of moisture by producing more natural oil or sebum.
I realized that to get rid of oily skin, I have to hydrate my skin, too.
So apart from doing my best to drink eight glasses of water a day and using organic soap to keep my skin from drying out, I started looking for hydrating skincare products. I've heard about the amazing things coconut oil and tea tree oil can do, but I wanted to find something more budget-friendly.
Three months ago, I discovered sunflower oil.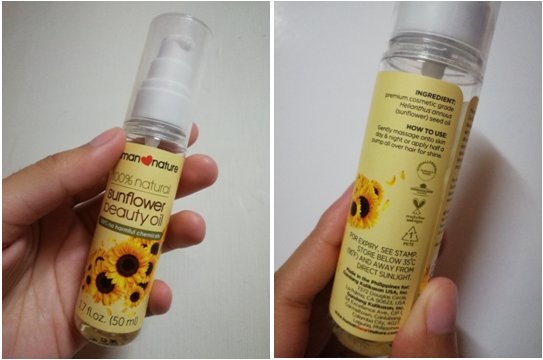 I use Human Nature's 100% Natural Sunflower Beauty Oil. I chose this because I trust the brand's all-natural claim and support its ethical business practices. Human Nature doesn't use chemicals on its products, doesn't test on animals, and uses locally grown organic ingredients from provinces in the Philippines. It also has a partnership with the Gawad Kalinga Enchanted Farm in Bulacan, which has become a home of sorts to many volunteers, foreign interns, and social entrepreneurs.
But let's talk about the product.
My Experience
At first, I was against applying any oil on my face. It's the one thing I want to avoid, after all. But I decided to try anyway and give sunflower oil a shot.
So far, I'm pleased with the results.
The oil feels light on my skin. It doesn't cake or feel greasy (except when I apply too much). Sure, it leaves behind a bit of shine, but a little face powder solves that.
I usually apply it in the morning after taking a shower and at night after cleansing. I love how it makes my cheeks feel soft and supple when I wake up.
A half pump is enough for me. Whenever I press the spray bottle too hard and end up with more oil than I need for my face, I apply the rest to my hair.
I should mention that I don't wear makeup. So I can't say if applying sunflower oil under your foundation has a noticeable effect. I do use an eyebrow pencil, though, and noticed that it glides more smoothly when I apply sunflower oil on my face. It's also easier to brush out the pencil strokes.
Sunflower Oil's Benefits for the Skin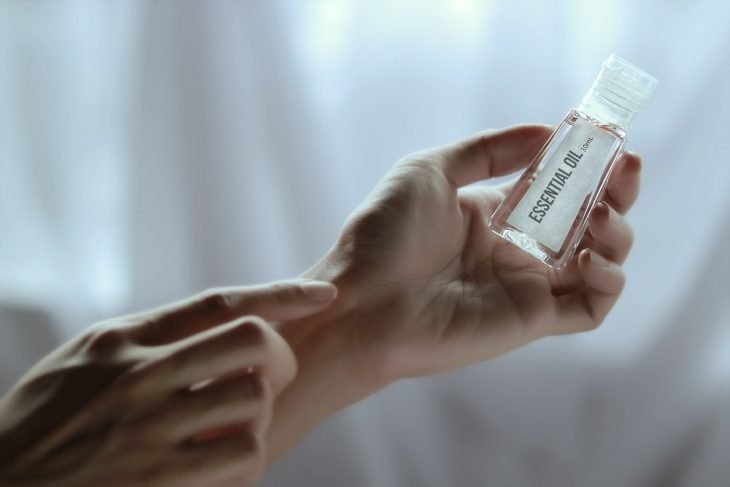 Just like coconut oil, sunflower oil is an emollient, which means it helps the skin retain moisture. It is rich in vitamin E and tocopherols, which act as antioxidants and help in skin cell regeneration.
Human Nature's label says sunflower oil also contains Vitamins A and D, both of which combat skin aging by repairing skin tissue. Both could also offer relief to people with psoriasis.
Many beauty websites claim that sunflower oil also lightens skin, but I've yet to see that outcome.
Final Tips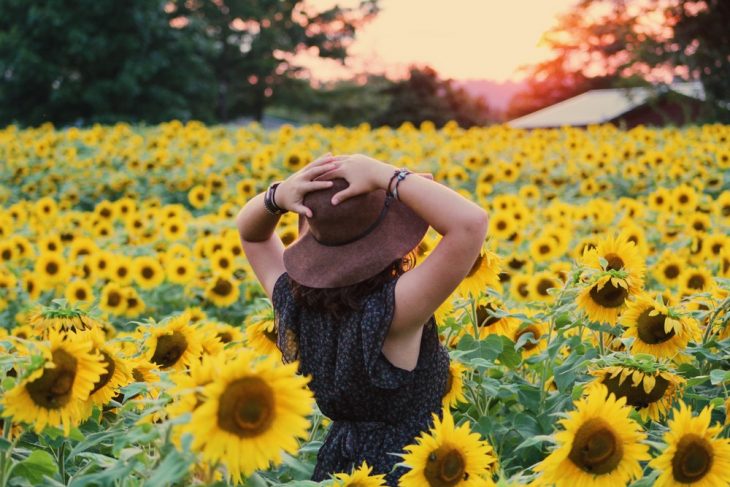 Based on product reviews, a few people had adverse reactions to sunflower oil and experienced pimple breakouts. I'd recommend trying it out once a day for a week to see if it's compatible with your skin. While it does work for some people, like me, you might not get the same results.
Here's a quick guide to using sunflower oil:
If you're staying outdoors all day, apply a small amount. You won't like it when the oil mixes in with your sweat
Gently massage the product on your skin using your fingertips. It's soothing, promotes blood circulation, and minimizes the shine on your face
Keep the bottle in a cool, dry place and away from sunlight
Wash and cleanse your face of the oil, every night, to prevent pimples
Summer can be brutal if you have oily skin like mine; you'll feel greasy most of the time. But with natural skincare products, you don't have to worry about shine control.
Daphne Bual
A lover of stories, parks, animals, rainy days, and hot chocolate, she believes that the best remedies for bad days are three servings of french fries and one whole rainbow cake.