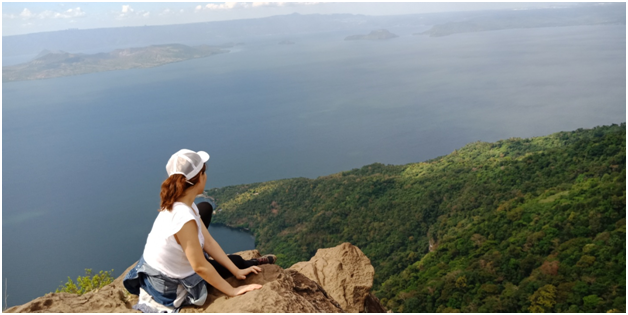 I'm not a big fan of strenuous activities, but I can't resist a good adventure. So when a friend suggested hiking for her birthday, I immediately said "yes" (I had no idea what I was signing up for).
Our destination: Mt. Maculot
Mt. Maculot is one of the several picturesque mountains surrounding the province. It's also one of the best places to see Taal Lake. This mountain has also been a mystery to many as local folklore stirs curiosity and fear among tourists and climbing enthusiasts. Despite the accidents recorded in the past, it has remained a favorite among climbers.
As a first-time climber, I had some reservations about the "long walk." I also underestimated a few things about hiking.
But at the end of the day, the trip proved to be worth it.
Prep for the Trip
Preparation is important, especially for active trips like this one. Apart from having the basics (e.g., water, hand towel, and pocket money), you must also prepare yourself physically. Warm-up and stretch your leg muscles before the hike. You'll be walking pretty much the entire time so stretch your legs, knees, thighs, and toes. Also, have a good breakfast so you won't run out of fuel on the trail.
Mt. Maculot: Basic Info & Logistics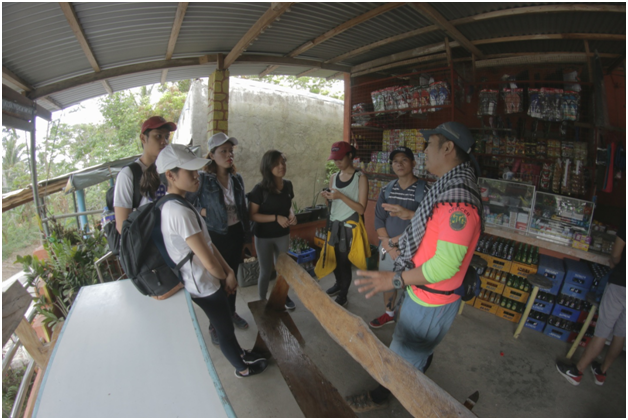 Location: Cuenca, Batangas
Height: Rockies (706 Masl), Summit (930 Masl)
Trail Class: 1-3 (easy hiking; well-established trail)
Difficulty: 4/9
Guide: Mandatory/Required
Guide Fees: (1 tour guide per 5 climbers)
Campsite and Rockies: Php400; Php50 per additional head
Traverse Rockies, Campsite, and Grotto: Php800; Php100 per additional head
Overnight, Campsite: Php800
From Campsite to Summit to Back trail: additional Php50 per head
From Overnight to Traverse: additional Php100 per head
From Overnight to summit trail: additional Php100 per head
To hire a tour guide before the trip, contact Jhaypee Malate (09269960145) or Jason Albert Briones (09163722649). You can also hire one on the spot.
The Trek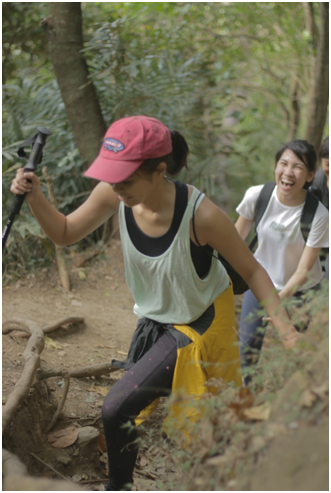 Our climb kicked off at 8 AM with a walk along Mt. Maculot's concrete Rocky Road. The trail gradually ascended until the very end. My friends and I were all sweating profusely after the 10-minute walk, and we were so happy when we reached the first resting camp. Once we were well-rested, we started walking and turned left off the main road.
But after the 20-meter flat trail, that was when the real ordeal began.
Kuya Cris, our tour guide, admitted that Mt. Maculot is a pretty difficult climb, even for seasoned climbers. At the back of my head, I was already screaming: are you kidding me?
He wasn't.
Before reaching the campsite, climbers will pass through 14 resting sites to catch their breath. Small stores wait in each site; climbers can freshen up, drink buko juice, and eat boiled eggs (yes, they were selling boiled eggs in each store) before they walk again.
As we ascended to greater heights, the path became steeper. It's not just about upper body strength anymore; your legs have to be strong enough to climb. By the 10th resting place, I was about ready to give up. But the promise of seeing Taal Lake's beauty kept me going.
We reached the campsite an hour later. Our group took a 30-minute rest before we started the trek toward the Summit.
Assaulting the Summit
Regular Mt. Maculot climbs start with the Rockies before the Summit. Our group had that option, too, but when we saw the number of people at the Rockies, we changed our mind (and it was a good decision. You'll find out later).
The first part of the trail is a flat surface surrounded by tall grass. It's perfect for those I'm-about-to-climb! photos with friends. After that, the trail becomes a combination of steep steps, uprooted trees blocking the way, and rocks (plenty of them).
The climb to the summit took an hour. There were a handful of people present when we arrived. While we waited for our turn to take photos by the edge of the summit, my friends and I enjoyed the view. Taal Lake looked so beautiful from where we stood.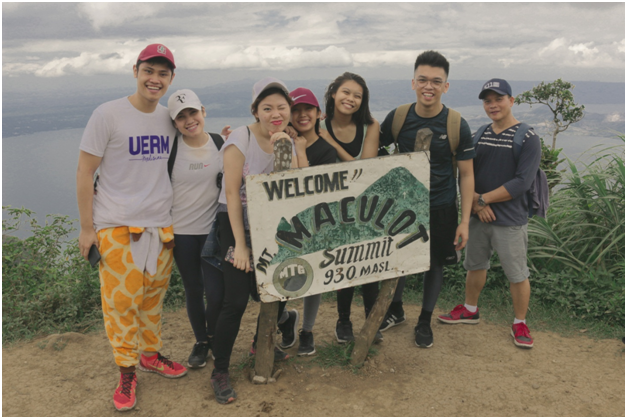 After taking the obligatory summit photos, we started the climb down to the camp site.
Let me tell you this: walking up a mountain is hard, but walking down is harder. Seriously. You'll need steady footing to maintain your balance.
We decided not to pass the Grotto anymore and just return to the campsite for a break. Originally, we were going to eat pancit canton and sit for 30 minutes. But we were so exhausted; we ended up sleeping for an hour before we got up and started the hike toward the Rockies.
Climbing the Rockies
Visiting the Rockies last was a good decision on our part. Majority of the climbers were headed to the Summit so we got the place to ourselves.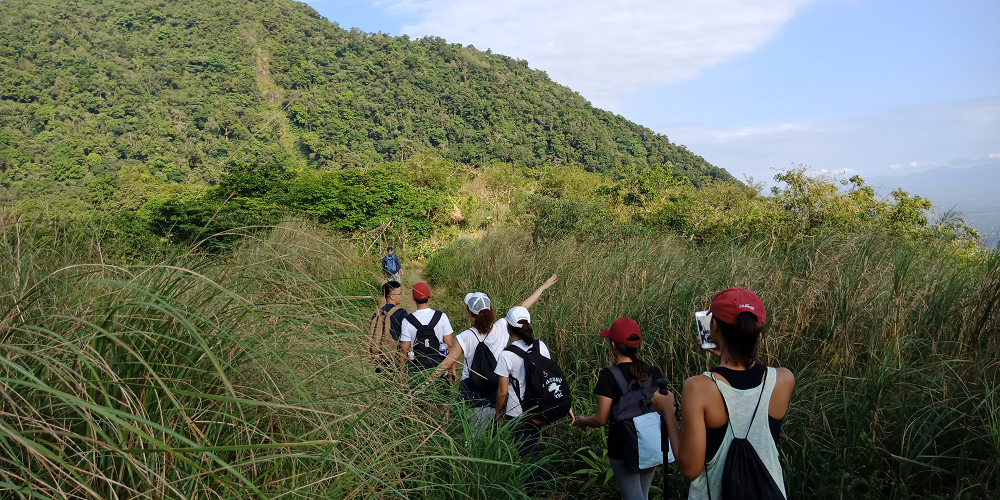 Its trail is a straight path along overgrown grass and a beautiful view of Taal Lake and the nearby valley. The trail was steeper compared to the Summit's. We had to hold on to the ropes until we reached the stable base of the Rockies.
This is where the inexperienced mountain climber in me became nervous. My mountain climbing skills were put to the test. Kuya Cris had to assist us one by one to ensure none of us hit our heads.
Once we reached the top, it was a walk in the park.
The Rockies is a beautiful place to see the rest of Batangas. Our guide led us to both sides of the place and helped us sit on the edge of the cliff, just so we can admire the marvel before us. Some of our friends stayed behind since they didn't like the height, but us adventurous ones took on the challenge and sat (or even stand) on the edge.
It was amazing. I can't even describe how beautiful everything looked.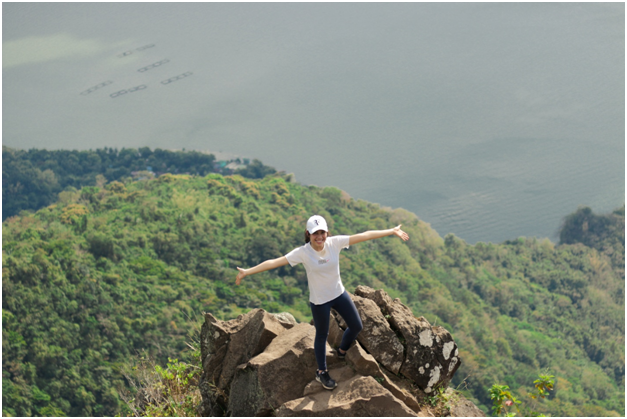 We arrived at the Rockies at 3:45 PM, so the weather wasn't that hot. It was just right. There weren't any people on top, so we spent more time admiring the view and taking photos.
Finally, it was time to go down.
Overall, the entire trip took us eight hours, minus the one-hour lunch break. We finished by 5:30 PM.
A Worthy Summer Adventure
I'm still not a big fan of climbing, but our Mt. Maculot adventure gave me a different perspective on summer trips. Sure, the beach is still the go-to place, but if you want something new, a climb is a good idea. It can be very tiring, but the sights you see are rewarding.
It also builds stronger bonds between friends. Despite being so exhausted, my friends and I have good memories of us whining, slipping, tripping, and singing during the climb.
If you're looking for a one-of-a-kind summer adventure with the crew, challenge yourselves by climbing Mt. Maculot.
Ashley Petallano
Ashley is an awkward potato in love with words, Kpop, and corgis. She spends her free time dancing like one of those balloon things you see in malls.