Sagada—that mystical, beautiful province some hours away from Baguio, and up in the mountains. Famous for its breathtaking views, delectable comfort food, as well as thrilling activities for adventure-seekers, the place especially caters to backpackers and those who don't mind foregoing some comfort and conveniences to make the most of their adventure. And nope, the place isn't just for the heartbroken. Sagada has after all, become famous as the last stop of Angelica Panganiban and JM De Guzman when they went on that famous journey in Antoinette Jadaone's film, That Thing Called Tadhana.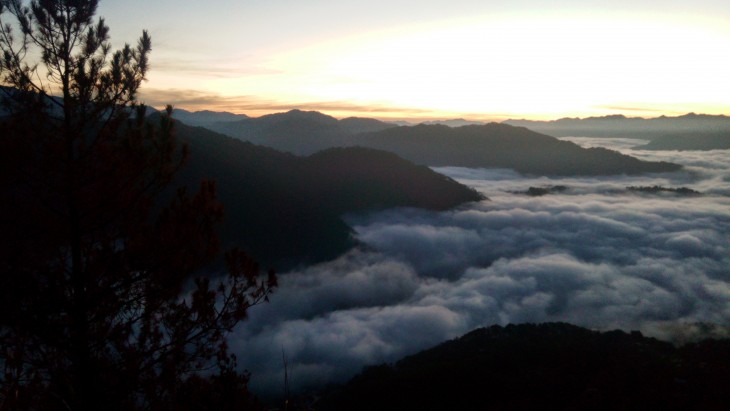 We recently went to the province and came back not just with some delicious pasalubong, but also a lifetime of experiences. Here are our five chosen activities for those who want to visit Sagada:
1. Take a hike and visit their famous waterfalls.
Sagada's most famous waterfall is Bomod-ok Falls. You will most probably take a jeepney or van from the town proper to get there. Get ready to get wet, not only from possible rainfall and swimming, but also with the mist that the falls creates, so carry a small umbrella and wear a cap and/or rainproof jacket. Wear your swimsuit underneath hiking clothes, even if you're not swimming, because you will most likely get wet or damp. Get ready to do lots of walking (almost two hours), especially uphill, so bring a water bottle. It's best if you're fit before you go on this hike, but even if you have a hard time hiking, the reward at the end and the overall experience are worth it.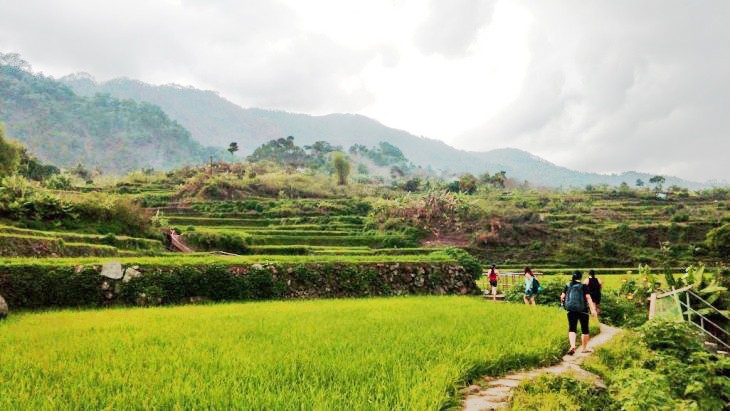 During our visit, Bomod-ok was closed since they occasionally have to use it for local practices associated with planting and harvesting seasons, so we went to Pongas Falls instead, which is beautiful as well. On the way to Pongas Falls, we encountered  Banga-an, the beautiful rice terraces of Sagada, passed by a local village, and had to do an arduous climb that included some literal rock climbing to get to the falls. Once you've reached the waterfalls, all the hard work is worth it, trust us. You can also swim in the cool waters, but have an advanced climber or your guide feel the depths of the water first, and see if it is safe for swimming.
2. See the famous sunrise at Kiltepan Viewpoint.
Before Kiltepan was made famous by Mace, or Angelica Panganiban's character in That Thing Called Tadhana, who screamed about how heartbroken she was here, the place has always been famous for its breathtaking views, especially at sunrise. The sea of clouds is worth the very early hour that you have to wake up, as well as the freezing weather you have to withstand in Sagada at that time. Get ready with your camera, and it might be better if you go down to get closer to the view of the clouds, since there are now more people going to the spot and they might be included in your photo. Aside from taking photos and videos, revel in watching the sunrise itself at such a picturesque place and enjoy the moment, since this is such a rare occasion. Also, there are times that the carpet of clouds might not show itself, especially when it's too foggy or if it's rainy, so the earlier part of the year may be the best time to go.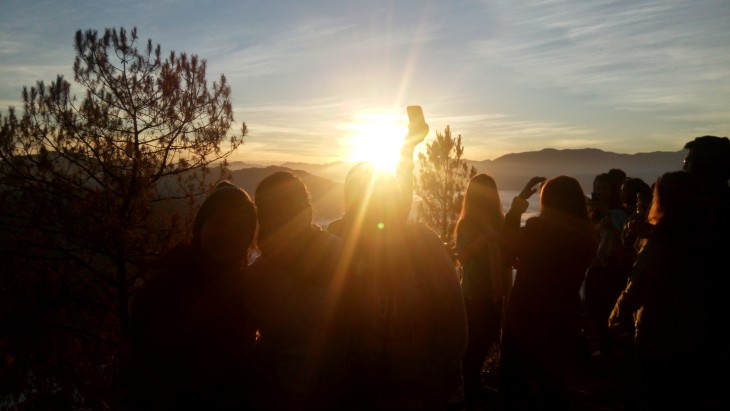 3. Go spelunking in Sumaguing Cave and Lumiang Cave.
Physically speaking, this may be the hardest part of your trip, though again, conquering them is a fulfilling experience. Before you start your caving experience, make sure you get trustworthy and physically capable guides. These amazing guys will help get you around the caves, and they will literally be your ladders whom you can step on at times and who will hold you if you need help and even boost you up as they carry you on their backs for an "elevator" experience (this can happen when you can't climb the rope). They will also be the ones to give you the caves' history, as well as scientific explanations (remember the difference between stalactites and stalagmites? No? Well, they'll remind you). Your guides will also hold the lights inside the caves, which usually are kerosene lamps, as well as carry whatever little stuff you brought, including your mobile and/or wallet, since you have to have to keep your hands free while inside.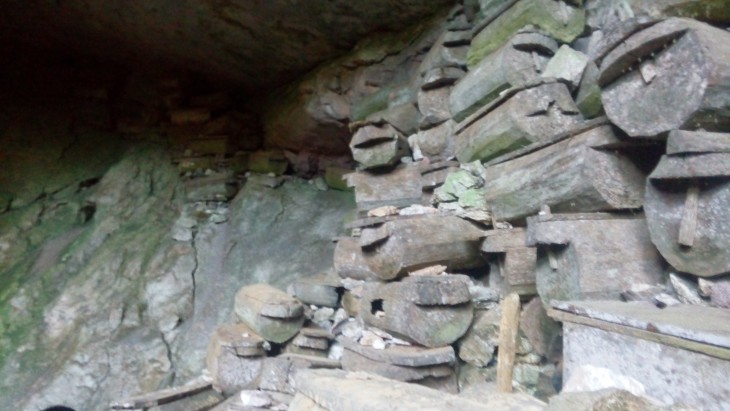 According to our travel group, Travel Factor, only 30 percent of Sagada tourists complete both caves, and this can take four hours. Lumiang Cave mostly consists of rock formations, and narrow spaces you have to squeeze yourself into; Sumaguing Cave, on the other hand, is more famous for its formations that look like shiny chocolate or caramel being poured over. There are also huge cave formations that look like life-size broccoli or mushrooms. The most famous of these is the "King and Queen's Curtain."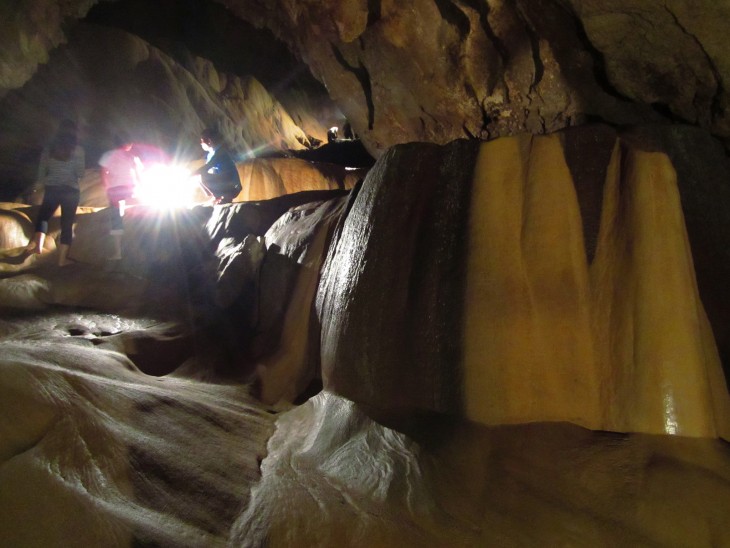 Upper body strength is needed for spelunking, as you will be rappelling, climbing rock formations, and clutching a thick rope as you go along. There are also parts where you need to remove your rubber slippers to get a better grip on the cave floors or formations. Be prepared to feel like you will be pushed to your limits, though you never know what you can do until you try and finally finish. Just remember to be careful, and aside from listening to your guides' instructions, make sure they have a first aid kit. The experience of being inside these literally cool caverns (your breath forms fog as you speak while inside) is something in itself, as even bats can be found clustered on the ceiling. You might even accidentally touch their droppings as you go up or down since you will be using a lot of rocks as grips as you go along. No matter how hard or tiring, the experience is amazing, and finishing it will not just warrant a legit spelunking certificate but belief in yourself that you can climb other formations or mountains, too (they say you can conquer Pulag if you complete both caves successfully).
4. Go food tripping with Sagada's local cuisine, including their famous coffee and desserts.
Sagada is famous for their sweet treats that are all-natural and use local ingredients. One of these is the yogurt at Yogurt House. While it may be too sour for some (it is all natural), you can order it with granola and fruit or honey. Others prefer the yogurt at Bana's Coffee House, which comes with unlimited honey. There is also the famous lemon pie from The Lemon Pie House, which is unique to the taste buds with its  cool, citrusy flavor. The hot chocolate at Salt and Pepper restaurant also got especially great reviews from our tour group.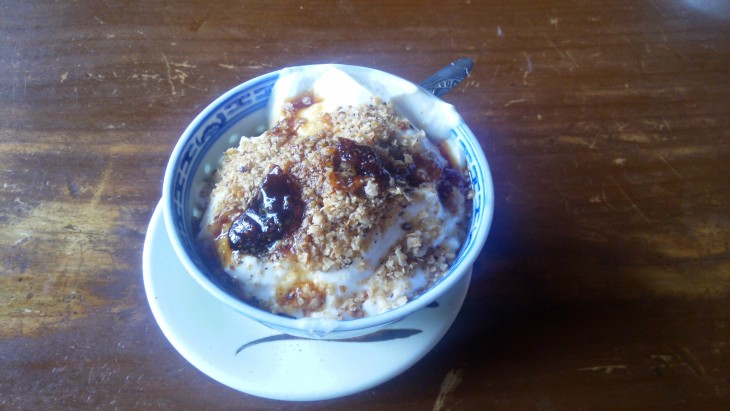 Coffee from Sagada is especially epic, starting with their simple brews that you can order at the aforementioned places for just around P20. This delicious coffee is also available in bean form, and is the usual pasalubong brought home. These restos are usually homey places with great ambience, so make sure to linger and relax here after a hard day of trekking or spelunking.
5. Go on a town tour and see St. Mary's Episcopal Church and the famous Hanging Coffins.
Ask a guide if he or she can give you a historical tour of St. Mary's Episcopal Church as well as the surrounding areas of interest. The non-Catholic church is quite unique, because even if they are Christian, they still recognize Mary, the Mother of Christ. One will never run out of photo ops here, from the church's exterior to the interior, thanks to the church's picturesque design amidst the beautiful pine trees reminiscent of Baguio.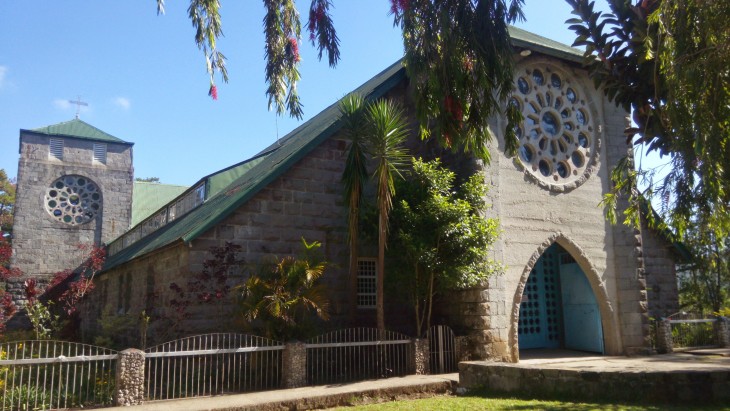 The area is also the prelude before the trek to the Hanging Coffins. Yes, you read that right. Trek. Don't do like what we did, and be unprepared, because we thought that the Hanging Coffins was just a short and easy walk away. Wear athletic wear or comfortable clothes, as well as rubber slippers or trekking shoes. A cap and/or a small umbrella would be great as well, as well as your sunblock and drinking water. You will be hiking uphill and downhill in Echo Valley, which isn't easy, especially if you're not fit, but again is worth all the efforts as you're repaid in spectacular views (yes, they named it such because it really does echo when you shout) as well as the experience itself.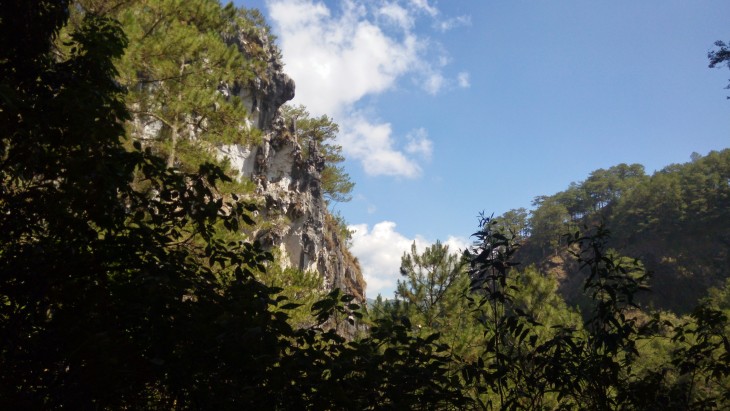 At the end of it all are the Hanging Coffins containing the bodies of ancestors of the Sagada people. Ask your guide about the site's history, and how and why the practice of hanging coffins on cliff walls came about. Afterward, the more athletic and adventurous can do some rock climbing or rappelling nearby.  Once you hike back to where you started, you can also walk to the Sagada weaving store and buy bags and other products.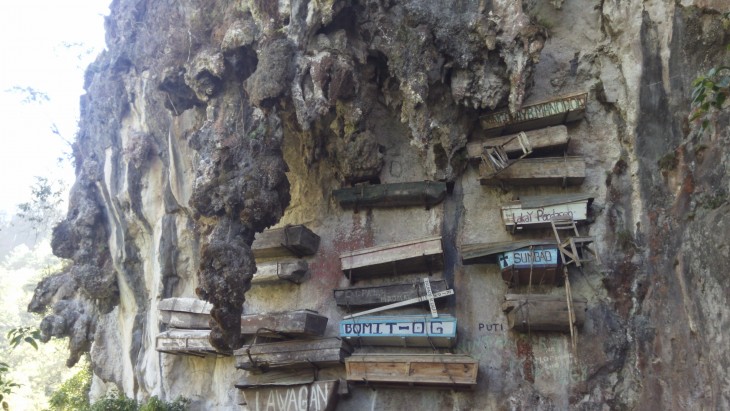 These are just a few of the things you can do in Sagada, and there are countless more adventures to be had in the surrounding areas, so why not start planning a trip?
We booked a package trip to Sagada via Travel Factor. To learn more about them, visit travelfactor.org or their Facebook page.
Melissa G. Bagamasbad
Dark chocolate, dogs, and adventure are just some of Mel's passions. Aside from doing her best to live life to the full, she plans on writing her own fiction one day.